If you love theater, chances are you have a favorite memory that involves PBS.
The now-legendary all-star Follies concert of 1985? Sondheim fans across America got to see it on Great Performances. Ditto Sweeney Todd, in acclaimed concerts starring Patti LuPone and, later, Emma Thompson as pie chef Mrs. Lovett. Live From Lincoln Center presentations of The Light in the Piazza and South Pacific — not to mention a treasure trove of opera, ballet, and classical music — have brought the best of the performing arts to several generations of home audiences.
"PBS has always had the mission of offering things our viewers can't find anywhere else," says Donald Thoms, vice president of programming and curator of the PBS Arts Fall Festival, which celebrates its fifth season on eight consecutive Fridays beginning October 9. "The fact that a person somewhere in Ohio or Oklahoma can see something from Broadway makes me very proud. And we've come up with programs for this year's festival that are really, really spectacular."
Hosted by superstar singer Gloria Estefan, whose musical journey with her husband, Emilio, is headed to Broadway's Marquis Theatre this fall in On Your Feet!, the 2015 PBS arts festival features five programs of special interest to theater fans: Show Boat in concert with the New York Philharmonic (October 16), Billy Elliot the Musical, filmed in London's West End (October 23), Chita Rivera: A Lot of Livin' to Do (November 6), Lincoln Center Theater's Tony-nominated production of Act One (November 13), and First You Dream: The Music of Kander & Ebb (November 20).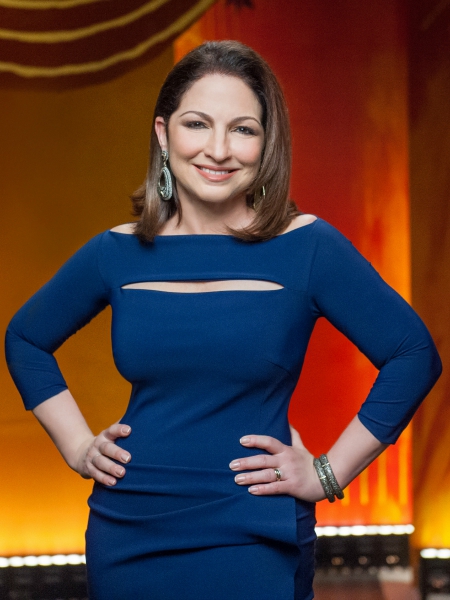 Music lovers can savor three additional concerts, filmed live: Unity: The Latin Tribute to Michael Jackson (October 9), Danny Elfman's Music from the Films of Tim Burton (October 30), and Andrea Bocelli: Cinema (November 27). "This lineup has something for everyone," says Thoms, "and Gloria Estefan is the perfect host for a festival filled with big performances and recognizable names."
At a time when the number of scripted TV shows has doubled in less than a decade — with a whopping 400 new series now available via networks and online services, according to The New York Times — fine arts programming has moved in the opposite direction. "When I started out, I sold shows to 17 companies," recalls Emmy-winning video producer Ellen Krass, whose credits include that famous Follies concert as well as Sondheim! The Birthday Concert, Company in Concert with Neil Patrick Harris, and many more. "Now, there are no other arts channels that will pay the money to produce these shows; every year it gets harder. Without PBS and Great Performances, I wouldn't have a career."
As Krass can attest, it takes time, patience, and a generous budget to capture a performance on video and preserve the excitement of seeing it live. "We don't just take a camera and shoot from the back of the hall," Thoms says with a laugh. "If we did, it might as well be on radio. Almost every program involves multiple cameras and shoot days," not to mention negotiations with a variety of performing arts unions.
A highlight of this year's arts festival is First You Dream, a concert tribute to 88-year-old composer John Kander (Chicago, Cabaret, Kiss of the Spider Woman) and his late writing partner, lyricist Fred Ebb. A staged version of the show premiered six years ago at Signature Theatre in Arlington, Virginia; artistic director Eric Schaeffer returned to the material this summer in Chicago with a cast of Broadway's finest: Norm Lewis, Kate Baldwin, Julia Murney, Heidi Blickenstaff, James Clow, and Matthew Scott.
"We filmed in front of a live audience, and it was great to have their energy," says Schaeffer, director of the Tony-nominated spring 2015 Broadway run of The Visit, Kander and Ebb's final collaboration. With First You Dream, he says, "picking the songs was the hardest. Kander and Ebb have written so many great ones, as well as forgotten gems, so we tried to get a balance of both. David Loud did amazing vocal arrangements of some of their classic songs, so it feels new and fresh. The film crew did a beautiful job capturing the spirit of what we created for the stage. It's the perfect concert to be preserved on TV."
Last year's fall festival reached more than 15 million viewers, many of whom have no other access to Broadway shows such as the Tony-winning musical Billy Elliot, featuring a rousing score by Elton John and Lee Hall, or Act One, James Lapine's lively adaptation of Moss Hart's classic autobiography. "When I was growing up in Baltimore, my parents never took my brother and me to Broadway," says Thoms, "but when my kids were young, I had the most fun going to shows with them." His daughter, Tracie, loved theater so much that she earned a drama degree at Juilliard and has appeared on Broadway in the plays Stick Fly and Drowning Crow and in the closing cast of Rent.
Thoms recently found himself chatting with Tracie's friend Norm Lewis, the first African American title star of Broadway's The Phantom of the Opera and a headliner in two of this year's festival specials, First You Dream and Show Boat. "There's a wonderful relationship between PBS and the Broadway world," Thoms says of Great Performances and Live From Lincoln Center, the latter set to celebrate its 40th anniversary next year.
Thanks to PBS and enterprising producers such as Ellen Krass, the music of theatrical masters is being saved for future audiences to enjoy. "My primary concern has been to preserve the work of Stephen Sondheim," Krass explains. "He is the most important lyricist and composer of my lifetime, and luckily, he believes in the work we do [on film]."
Before enjoying the fall arts premieres, viewers can catch up with theatrical treats such as Nathan Lane in The Nance and concerts from Norm Lewis, Audra McDonald, Kristin Chenoweth, and others online at pbs.org. You'll see why Thoms and his colleagues are dedicated to a simple goal: to create arts programming "that will make people say to their friends, 'Did you see that on PBS?' We strive to hit the right balance of great programs, great performances, and great diversity."
Top photo: Matthew Scott, Heidi Blickenstaff, Norm Lewis, Julia Murney, James Clow and Kate Baldwin perform the title song from First You Dream – The Music of Kander and Ebb. Credit: Michael Brosilow.
Inset photo: Gloria Estefan, host of the 2015 PBS Arts Fall Festival. Credit: Stephanie Berger.