The new musical Rocky boasts one of the most eye-popping final scenes ever staged on Broadway, in a boxing ring that seems to float over the orchestra section of the Winter Garden Theatre. But there's a lot more to Rocky than the climactic match between the title character and heavyweight champion Apollo Creed.
At the heart of the show is the romance between hard-luck fighter Rocky Balboa and shy pet-store clerk Adrian Pennino, created on screen in 1976 by Sylvester Stallone and Talia Shire.
Stepping into the starmaking roles of Rocky and Adrian — and winning great reviews for their chemistry — are Broadway regular Andy Karl (Jersey Boys, The Mystery of Edwin Drood, Legally Blonde) and newcomer Margo Seibert. Broadway Direct met this dynamic duo in Seibert's dressing room, where they laughed while discussing their dinner theater credits (both grew up near Baltimore), the demanding rehearsal process for Rocky, and why the musical is an ideal extension of the Oscar-winning movie.
Let's start with a basic question: Why does Rocky make a great musical?
Andy Karl: First of all, I think Sylvester Stallone had a lot of guts to take this baby of his and say, "Let's put it on stage." He wanted Rocky to become something bigger than the movie, and luckily he got the right team with [director] Alex Timbers, [lyricist and composer] Lynn Ahrens and Steve Flaherty, [librettist] Tom Meehan, and [choreographers] Steve Hoggett and Kelly Devine. The audience becomes part of our epic fight and gets to see Rocky's story in an exciting new way.
Margo Seibert: It's also a beautiful love story. You have these two broken people who blossom together. I hadn't seen the movie before I auditioned, and I was surprised by its clarity and simplicity. There are moments of silence in the film that warrant music. You get to hear what Adrian is thinking, and you get to see what a difficult time Rocky goes through when given the chance to fight Apollo. A lot of die-hard fans have said that our show enhanced their experience of the movie.
Karl: Adrian, especially, doesn't say much in the film, so we're able to go deeper into the heart of the character, and the same is true of Rocky. We're opening a window into their emotions through music.
Seibert: The audience response has been thrilling. I've never seen people react as if they're at a sporting event and a piece of theater. They're celebrating the intimacy of the quiet scenes as well as the spectacle. And it's not just dudes: It's women and families with kids dressed up in little boxing outfits, and everyone is screaming, "Rocky! Rocky!"
The preparation for this show must have been intense, especially for you, Andy.
Karl: Even before I got the job, I decided to go to the gym three times a week and get the guy who looks like Thor to train me! I didn't care how much pain I was in — and there was a lot of pain, because this was a whole new level of working out — I wanted to be able to go the distance physically and musically and emotionally. When you're playing Rocky, you've got to be able to rise to that challenge.
Seibert: During rehearsal, the entire cast would start the day doing stretches on yoga mats, then we'd do circuit training together. It hurt, but the guys were working so much harder. After circuit training, they would have another three hours of boxing! Now I do push-ups with the guys backstage before the show. Everybody's going the distance in our own way.
Did Sylvester Stallone offer any advice?
Karl: He is so intelligent, and it's fascinating to hear him speak about these characters. One thing I found helpful was when he told me he had the song "Smile, though your heart is breaking" in mind when he created Rocky.
Seibert: On opening night, he was saying that this is more of a modern-day Rocky and Adrian, although it's very true to 1976. He has been so generous with his input and also very humble when it comes to musical theater. He has a lot of respect for what we do, just as we have respect for him.
Do you see any similarities between yourselves and your characters?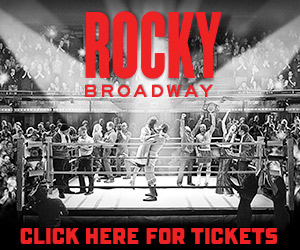 Seibert: When I first read the script, I thought, I love Adrian, but I'm not like her. I say what I mean, and I would never put up with stuff they way she does. But at the same time, I understand her social anxiety — we can all identify with feeling out of place or left out. I had a loss in my family during this process, and that made me feel even more connected to Adrian. In the end, she does find her power and her beauty as a woman.
Karl: I didn't grow up as broke as Rocky did, but I'm from a working class family and this story speaks to the challenges of living from paycheck to paycheck. Personally, I had the dream of acting on a Broadway stage, then I set even bigger goals and worked to make it to the next level. When Rocky gets the chance to fight Apollo and people are saying, "This is your big break," it strikes me every night. Given where I came from and where I am now, the song "Fight From the Heart" means so much. I am very appreciative of the opportunity to stand in front of 1,500 people and know that I'm telling the truth in a personal way.
Fun fact: The two of you got your start at the same dinner theater! Tell us about your early roles.
Seibert: We're both from outside Baltimore, and we worked at Toby's Dinner Theater in Columbia, Maryland, at different times, which is crazy. My shows there were Footloose, Grease, Ahrens and Flaherty's Seussical the Musical, Evita, and Annie.
Karl: I worked at several dinner theaters in the Baltimore area, but Toby's had eight shows a week, so it felt like we were doing this for a living. You could also wait tables and make a few bucks selling goblets of their "Razzle Dazzle" drink. I was in Shenandoah, The Reluctant Dragon, and Meet Me in St. Louis.
You two obviously enjoy working together. What's the secret to your chemistry in Rocky?
Karl: We have a similar sense of humor. At our first audition, I looked at her sideways and she looked at me sideways, and it was like, OK, let's do this! We've loved finding these characters together, and having a "homegirl" on stage with me is sort of like Rocky and Adrian. Margo is an adventurous soul, and I'm so happy to be working with her.
Seibert: I feel like I'm in such good hands when I'm on stage with Andy, which is not always the case. We may be performing these scenes for more than a thousand people, but it feels like it's just the two of us. I can see him listening, and it's a rare gift to find that with somebody — it's what honest, truthful storytelling is about. And his voice is delicious.
Karl: May we sing a thousand songs together!