"l'm really enjoying having a connection with a live audience," said James Franco during a talk-back session after a recent matinee performance of John Steinbeck's Of Mice and Men.
He was sitting on the stage of the Longacre Theatre, addressing the hundreds of teenagers who seemed to really be enjoying having a connection with him. They had just finished watching the actor and the rest of the 10-member cast — they whooped, they laughed, they clapped. Now they were invited to ask any questions they wanted.
The acclaimed Broadway revival of the John Steinbeck classic is proving to be a huge summer draw for parents and children alike. A major attraction is, of course, the star-studded cast: the multifaceted actor, director, writer, and celebrity James Franco; 2014 Tony nominee Chris O'Dowd (best known for the movie Bridesmaids); and the only female member of the cast, Gossip Girl star Leighton Meester.
"I found it surprising that this Steinbeck masterpiece had not been seen on a Broadway stage in over 40 years," says producer David Binder. "A story about loneliness and chasing the American dream is relatable to anyone, of any age, in this country, and to countless people around the globe. What makes me extremely proud about this production is that we see so many young people in the audience. It is really exciting because they respond to the play in just the most honest way. They literally stand there on the street after the show, because they've all taken a journey together. They come for Franco and Meester and O'Dowd, but they leave with Steinbeck and an experience they will never forget. To see them leaning into the experience of Steinbeck — that is just thrilling to watch."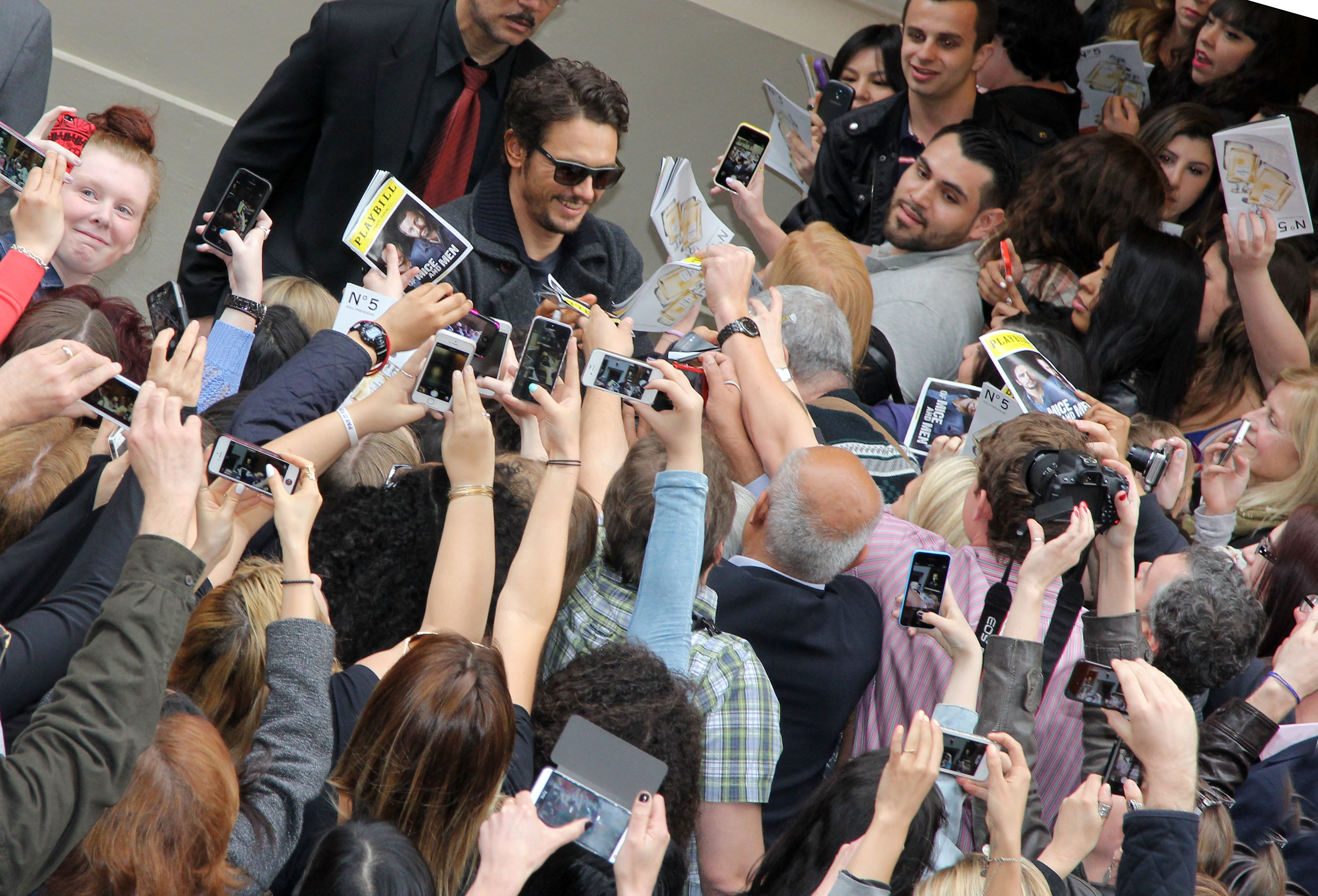 Among the high-schoolers in attendance at this particular matinee were some 40 students from Muncy Jr./Sr. High School who had boarded a bus in Muncy, Pennsylvania, at 6:30 that morning to get to the performance. It promised to be a long day, but a thrilling one.
"I'm just excited overall," said Alexandra Swank, age 17, waiting in the line outside before the play began. Elainah Pepper, 16, had a different reason to be excited: "Well, James Franco is in it." And 17-year-old Maggie Rymsza had yet another explanation for her enthusiasm: "It's one of my favorite books."
It was the first time many of the teenagers had the opportunity to see a book they'd actually read come to life on the stage, and by the end of the performance their glee was obvious. "I thought the ending was very powerful," Rymsza said afterward. "It's one thing to read about the loneliness of the characters, but the performers really drove home the emotion."
They had studied Steinbeck's 1937 novel as part of the standard curriculum in English teacher Jennifer Gotshall's 10th grade class, discussing the lives of the migrant workers in California during the Great Depression, and the relationship between the two main characters, George and Lennie, the itinerant ranch hands played by Franco and O'Dowd. "The students really enjoyed reading this story," Gotshall explained. "There is something timeless about the conflicts that exist for the characters." Ron Cephas Jones, who plays Crooks, the black stable hand, pointed out during the talk-back how much each of the characters have in common, although it might not seem so: "Everyone in the play has to escape the loneliness that was going on at the time."
During the talk-back, the students were full of questions about the actors and their work. One student asked Franco whether it was intimidating to do a story that's been presented so many times before — in the movies, on TV, and twice previously on Broadway. "You try to make it your own," Franco replied. "Ours is different than any others. I don't know if it's better; it doesn't matter. That's what keeps you going: having found your version of it."
Answering a question about how the actors prepared for their roles, Franco replied, "I observed someone I know in my own life. It was important to get that right." He then talked about how he recalled people he's been frustrated with in real life in order to play the opening scene where George explodes at Lennie for wanting ketchup with his beans. "It's frustrating not just because he wants ketchup. He had just almost killed somebody, and he doesn't understand that. He doesn't remember that. I'm trying to manage this person who can't manage himself."
Asked about whether it was difficult to remain still on stage after her death scene in the play, Meester told her young admirers that it was "one of the harder things" to do, especially if she ended up in an uncomfortable position.
Many of the students wanted to know about the difference between acting on stage and acting the movies, and asked Franco, who is making his Broadway debut, whether he was now going to focus on stage work. "I went into this project with the object of wanting to learn, and that's what happened," he replied. "You have to project your voice in a different way. There are different kinds of rhythms. On stage, the whole play depends on everybody's rhythm. If an actor is taking too long, the whole play is affected. The energy you get from a live audience is really great as a performer. I'm loving that. I'm gobbling it up. It's a new chapter in my life that I hope to visit some more."
When the actors talked to the audience, they also let them know how much their enthusiasm was appreciated on the other side of the footlights. "It's really wonderful to see audiences like you — young people — coming to the play," said Jim Ortlieb, who plays the boss on the farm where migrant workers George and Lennie work. O'Dowd probably summed up the young audiences best: "They don't necessarily know how to verbalize their excitement but they are with us for every second of the adventure."
Top photo by Richard Phibbs.