Features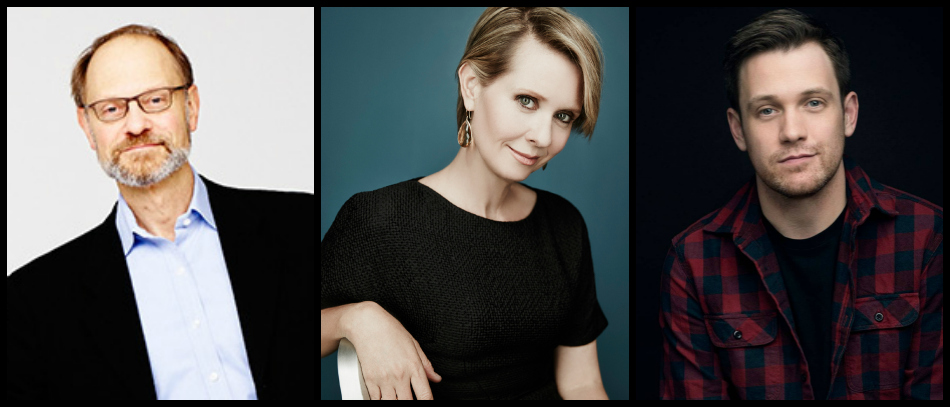 Actors as Directors
NOV 3, 2015
Several well-known actors are directing plays in New York this season, including Cynthia Nixon and Michael Arden.
Somebody first asked Cynthia Nixon to be a director when she was 22 years old. "I kind of laughed at them," she says. Although she had been acting on Broadway since the age of 14, "I was younger than the people asking me to direct their play," she says, "and I certainly would not have had any idea how to go about that."
More than a quarter century later, she changed her mind. The actress best known for her role as Miranda in Sex and the City is directing Steve, a new play at the New Group, her second directing job this year. She joins David Hyde Pierce (who is also directing his second play this year, an Off-Broadway production entitled Ripcord), Kathleen Turner (Would You Still Love Me If . . .), Douglas Hodge (the Broadway revival of Harold Pinter's Old Times), and Michael Arden.
"I don't think it's a coincidence," says Arden of this apparent surge in moonlighting actors. "I think people are starting to acknowledge artists for their full potential." Arden, who is probably best known for his costarring role with Charlie Sheen in the FX TV series Anger Management, has made a spectacular debut as a Broadway director helming the widely acclaimed Deaf West production of Spring Awakening.
Unlike Nixon, Arden had long wanted to be a director, but nobody would hire him. "Just think of the numbers. You may need 20 actors for a play, but you only need one director. People would look at my résumé and say, 'Oh, you're an actor; it's nice you want to direct.' I realized the only way I was going to be seen as a director is if I did it myself, so I started up a theater company in Los Angeles, directed a small production, and then raised the money from Kickstarter to direct this production of Spring Awakening." The show began in a small theatre and made its way to Broadway.
"Actors are always saying, 'I've always wanted to be a director,' so it's no surprise to me that it's happening," says Mario Cantone, who was a colleague of Nixon's on Sex and the City, and is now in the cast of the show she's directing. "Cynthia has always had a commanding personality and very strong opinions, and she's very smart, sharp, and precise in her acting. That's the way she directs also."
The Birth of the Director
The profession of actor goes back thousands of years, but the professional director is a relatively modern phenomenon, dating only to the late 19th century. The Ancient Greek playwrights probably staged their own plays, and "actor-managers" were in charge during Shakespeare's era.
"I sometimes feel like I'm an actor-manager, partially because I am an actor myself," says Arden. As a director, "I feel like I'm working with my peers. I know how important it is to have respect for actors,- and communicate openly with them, as opposed to being a voice from the back of the auditorium like in A Chorus Line." As Nixon puts it: "There are some directors who don't even think of actors as fully evolved intelligent beings. We seem to them like a conduit through which they pour the play."
But some of Broadway's best known and most praised directors began as actors. Elia Kazan, who performed in some dozen Broadway shows as a member of the famed Group Theater, went on to direct the original productions of numerous now-classic American plays, including Arthur Miller's Death of a Salesman and Tennessee Williams's A Streetcar Named Desire. Although not as well known, Martin Ritt followed a similar trajectory. "It might have been their acting background that made them so earthy," Miller said about both of them, believing they feared "making actors think too much at the expense of instinctively sniffing out the role and situation."
Joe Mantello made his Broadway debut as the star of the Pulitzer Prize–winning play by Tony Kushner Angels in America, for which he was nominated for a Tony. He has gone on to become a two-time Tony-winning director of more than two dozen Broadway productions, including Wicked. Mantello returned to acting briefly to star in the Broadway production of The Normal Heart in 2011 — for which he was nominated for yet another Tony Award — and then went right back to directing.
"So many people find their way into show business as actors, whether on a professional level or as an amateur," Nixon explains. "Being an actor is the most visible occupation in the theater; that's what everybody is drawn to. Oftentimes people stay as actors, but once we're in the theater we all learn about what else it offers, and so some become directors, writers, lighting designers, stage managers."
Nixon became interested in directing more than a decade ago, but it was her association with the New Group theater company and its artistic director, Scott Elliott, that made it happen. "I was in an all-star reading that Scott was doing as a fundraiser for the New Group, and I guess I had all of these opinions about the speed of the reading or something — I kept expressing my opinion. He said, 'Well I guess you will be directing this reading next year because you're already directing it.' I thought he was kidding. But six months later, he called and said, 'Well, what are you going to do for the reading?'" By that time, she says, "I had a lot of experience watching a lot of directors close up. Some actors really like the actor to stay out of their way. I've always really liked a ton of direction." She was ready — almost. "Scott held my hand every step of the way."
Finding a Balance
Earlier this year, Nixon tried her hand at directing her first full production, also for the New Group: Rasheeda Speaking, a new play by Joel Drake Johnson, starring Dianne Wiest and Tonya Pinkins as office workers who start as friends and wind up as enemies. "It was very fascinating because we were talking about these very painful intimate topics that had to do with race and friendship and betrayal of friendship and office politics."
Her second directing job, Steve, by Mark Gerrard, is in marked contrast to her first. The comedy about a group of middle-aged friends focuses on Steven, a failed Broadway chorus boy, and Stephen, his partner of 14 years. "Rasheeda was about claustrophobia and subtext and tension. Most of the characters in Steve are performers, and they're outright witty and funny," Nixon says. "There are a lot of hijinks in rehearsal, a lot of high spirits."
There is also music. "It's not a musical, but the characters sing a lot of show tunes. Even though I am not a musical performer, my favorite kind of theater is musical theater, so that is really fun to be around." Would she ever direct an actual musical? "I think you have to be musical to direct a musical. Maybe not."
Although she only started directing in earnest this year, she already sees the influence it has had on her acting. "I have always been pretty willing to try things, but I think I'm even more willing to try things now that I have been on the other side of it, spending time negotiating with actors. 'If you hate it, you do not have to do it, but let's try it rather than spend 20 minutes talking about whether we are going to try it.'"
As for the future, neither Nixon nor Arden is sure what the balance will be between acting and directing. "It's like going to the gym," says Arden. "I've been working on my directing muscles, and I'd like to continue without neglecting my acting muscles. I think that it's going to be an interesting sort of tightrope."
Nixon has come to understand the upsides and downsides of her new career. "As a director, I have so much more of a feeling of responsibility, so I'm constantly thinking about it. But the nice thing about being a director is you don't have to learn any lines."
The Lion Kin...
The Wicked Wide A...