Features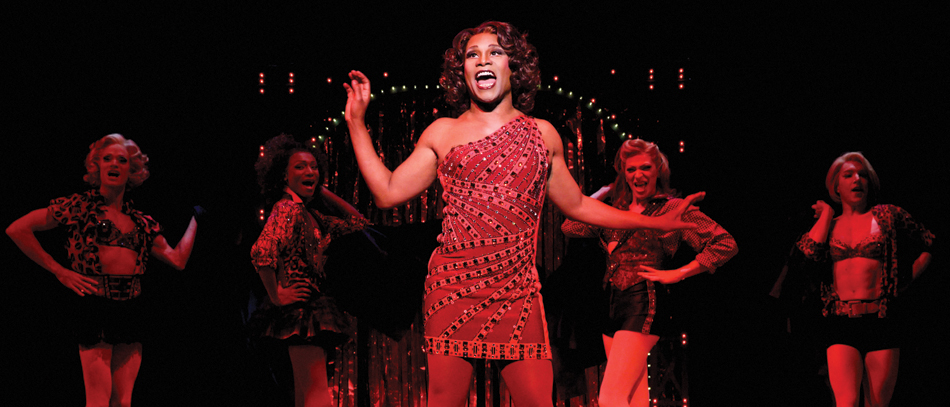 Billy Porter gets his dream role in Kinky Boots
JUL 26, 2013
Memorable in thigh-high platform stiletto boots, Billy Porter is giving the performance of his career in the smash Broadway hit Kinky Boots, playing at the Al Hirschfeld Theatre.
For his star turn as Lola, the fierce cross-dressing entertainer who turns footwear designer, in the Tony Award-winning musical written by Cyndi Lauper and Harvey Fierstein, Porter has received accolades from the Outer Critics Circle, the Drama Desk and, last month, the Tony Award for Best Actor in a Musical. "I have been waiting my entire life for the opportunity to embrace a character and a role like this," declares the 43-year-old actor. "Lola is a complete human being," Porter explains. "She masquerades initially as a very flamboyant, over-the-top, clown-like character but you very soon realize that she's a fully developed three-dimensional person – that's what's so attractive about it."
The story of Kinky Boots, based on true-life incidents and inspired by a 2005 British movie of the same name, is set in an industrial town in the English Midlands. A chance encounter with the London-based drag artiste Lola, gives shoe factory-owner Charlie (played by Stark Sands) a fresh concept to save his failing family-owned business: flashy women's footwear for men. Before the new enterprise can flourish however, everyone involved must adjust their pre-conceived notions and both Charlie and Lola must come to terms with the fact that they have not lived up to their fathers' expectations.
Porter says he feels a deep personal connection to the character he plays on stage: "I relate to Lola in a lot of ways because as an African-American, out, gay, Christian person in this world I have very often felt like there wasn't a place for me at first, and have had to find the courage to live inside my own truth, even when there wasn't much support for that. I find Lola very empowering in that she is also trying to live in her own truth, which just happens to be wearing a dress." Porter's own relationship with both his biological father and his step-father was "strained at best," he explains. "They are both gone now, without me ever having real closure in our relationships. So what I love about the journey of this character is that I get to have a conversation with them in abstract. There is a healing energy with being able to play out the forgiveness in this character on a daily basis."
As Porter recalled when accepting the Tony Award for his performance in Kinky Boots, it was another Tony Award night just over thirty years before when, at age 11, he watched Jennifer Holliday perform a show-stopper from Dreamgirls on television and got bitten by the theater bug. "By that time, I had done my first musical in middle school – Babes in Arms – and I enjoyed myself, but it just didn't occur to me that people made a living at that. You see, I grew up in the Pentecostal Church," the Pittsburgh native explains. "If you were from where I come from and you had any sort of talent, and people perceived any specialness about you, you were immediately pushed into the direction of being a preacher. That's all we knew. Then I stumbled across the Tony Awards that night and it changed everything. I realized that my ministry was, in fact, something else. The theater and the Pentecostal Church are very similar," he adds with a chuckle; "Just in terms of the theatricality of it – the pomp and circumstance of what happens in a charismatic church service."
After graduating from Carnegie Mellon University, Porter landed the showy role of Teen Angel in the 1994 Broadway revival of Grease. "I played my trump card," he says, referring to his then very specific coloratura-like singing style, "but that very quickly pigeon-holed me as a singer in a way that was uncomfortable for me." Just getting noticed wasn't enough, he explains. "I never had a problem being flamboyant and fun and being the center of attention. The point is that those characters – up to now – were always people who came in the middle of the second act and stopped the show and then you never saw them again. I wanted to tell stories through characters who were three-dimensional and human."
Disenchanted with the quality of the roles he was being offered, Porter sought his personal development away from the New York stage; he recorded a song album, wrote and performed a one-man show, studied screenwriting and directed various productions across the country. His dry spell as a New York actor lasted about 13 years. Then he heard about the Signature Theatre Company's 2010 Off-Broadway revival of Angels in America and campaigned hard for the role of Belize, a gay, Christian, African American, former drag queen who ends up ministering to the dying Roy Cohn. The role was particularly fitting for his return to the limelight. The original 1994 Broadway production of Tony Kushner's epic play was "the show that changed my life and set me on this path to begin with," he recalls. "Now, all of a sudden, I was returning in this way that people had never seen me before."
"I have always been an actor first, but the point was no one saw me as an actor until I did the work to make people see me as an actor," notes Porter. The huge success of Kinky Boots, he believes, has also got something to do with the right timing. "I think we are in a place where the subject matter and the issues that are dealt with in the show is what we are dealing with in society today – which is acceptance of people for who they are, even if you don't understand what that is. You can believe that I am going to hell, you can disagree with who I am, that's all good, but I am still a human being and you still need to respect me as such. That's what this show is about."
In the meantime, of course, there is the sheer pleasure of bringing Lola to life every night. "I am very grateful and thrilled about the Tony and all the accolades, but for me it is all about staying focused, staying present and staying healthy, because I want to be there to make sure this story is told in the best way possible," says Porter. "Patti LuPone came to the show and afterwards she said, 'I want a part like that!'" he reports gleefully. "I mean Patti LuPone saying that to you!" And, though there is certainly hard work involved – just take a look at his hair, make-up, figure-hugging costumes and of course, those killer kinky boots – he affirms, "it's a joy to be able to show up and play a part like this. This is completely fulfilling."
Click here to purchase tickets to Kinky Boots on Broadway.
The Jimmy Aw...
Kenneth Cole on K...
You might also like: