In 2017, truth wasn't just stranger than fiction; it was defined in sometimes conflicting terms. Theater's ability to bring people of different opinions and beliefs together — for entertainment, illumination, sheer communion — has never seemed more vital, and both new works and revivals carried an added resonance for audiences.
A couple of high-profile productions acknowledged the current state of our union directly: Michael Moore's one-man show, The Terms of My Surrender, and Netflix's House of Cards creator Beau Willimon's The Parisian Woman, starring Uma Thurman as an unexpectedly complex Washington wife whose lawyer husband is hoping for a prime appointment from President Trump.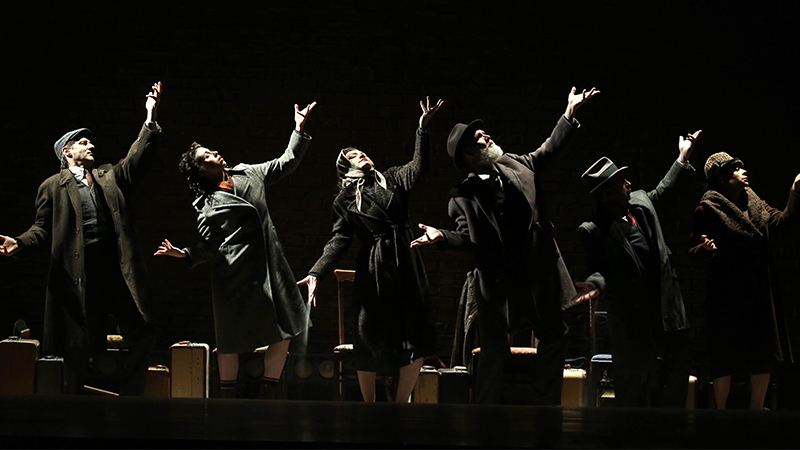 But new works crafted before last year's election, among them several Off-Broadway transfers, also seemed especially topical. Lynn Nottage's Pulitzer Prize–winning Sweat is set in 2000 and 2008, but its account of how the fraught camaraderie between white, black, and Latino characters is tested by socioeconomic factors — with tragic results, in this case — reminded us of how current struggles build on previous ones. The same could be said for the year's Tony Award–winning play, J.T. Rogers' Oslo, which revisits the turbulent back-channel negotiations that established a fragile peace between Israel and the Palestinian Liberation Organization in 1993. And Paula Vogel's Indecent reaches back further to trace anti-Semitism, homophobia, and a general fear of outsiders — including artists — over the first half of the 20th century.
Ayad Akhtar's Junk, which arrived in the fall, found fresh relevance in the merciless go-go capitalism of the 1980s, and a revival of David Henry Hwang's Tony-winning M. Butterfly, helmed by Julie Taymor and starring Clive Owen, posed timely questions about cultural and gender identity. New productions of Arthur Miller's The Price and August Wilson's Jitney reinforced how those playwrights, working in very different but both distinctly American milieus, tackled with dignity and compassion social and moral conflicts that endure to this day.
Lucas Hnath's A Doll's House, Part 2 expanded on a protofeminist classic by another iconic playwright, while in other revivals, of Lillian Hellman's The Little Foxes and John Guare's Six Degrees of Separation, race, class, and gender figured into portraits of American life that also felt sharply contemporary in their biting humor and poignance. A U.K.-based stage adaptation of George Orwell's totalitarian nightmare 1984 had its Broadway debut, with Olivia Wilde and Tom Sturridge in the cast, and another London import, Lucy Kirkwood's The Children, follows aging scientists in the wake of a natural disaster, posing questions about mortality and personal responsibility in a postnuclear world.
The millennial generation did not go unacknowledged, particularly in a few Off-Broadway transfers. In Joshua Harmon's Significant Other, a young gay man watches his female friends find love as he pines for it, tapping into social media in his comically bittersweet quest.
The fall brought The Band's Visit, based on the 2007 film that follows Egyptian musicians scheduled to perform at an Arab arts center in Israel as they end up in the wrong town. Politics provide subtext in director David Cromer's exquisitely intimate staging, and Itamar Moses's book and David Yazbek's score focus on the human struggle and longing that bind the villagers and visitors.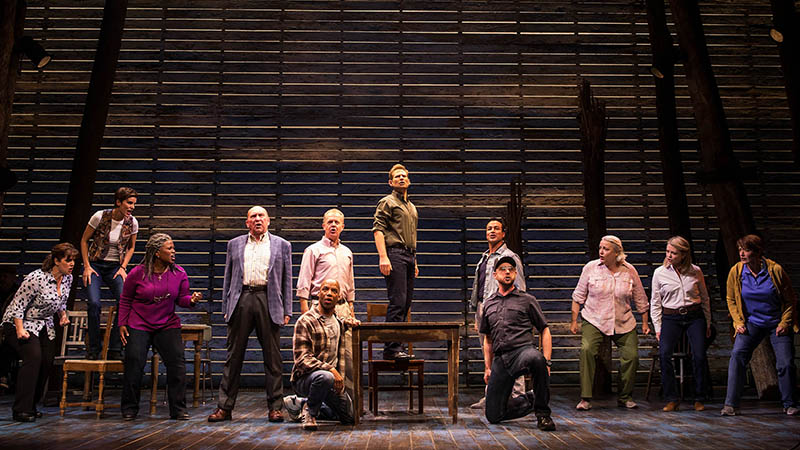 The spring's hit musical Come From Away also shows how a sense of community can be formed among strangers, in this case an eclectic group of travelers grounded in a Canadian town after the September 11 attacks and the locals who welcomed them. Lynn Ahrens and Stephen Flaherty's enchanting Once on This Island, which finally made its Broadway premiere, brings an orphaned island girl and a young man of privilege into a love story that acknowledges bigotry while transcending it.
The new musical War Paint cast two of Broadway's most formidable women, Patti LuPone and Christine Ebersole, as pioneering female entrepreneurs of the early-middle 20th century, while a revival of Miss Saigon stressed the sexism and racism women still faced even later, along with the ravages of war. The summer arrival Prince of Broadway showcased the beloved and daring musicals of Jerome Robbins, a director and producer who has always been ahead of his time in terms of both style and social consciousness.
Even exuberant new musicals such as Anastasia and Bandstand have nodded to war and oppression; in the latter, veterans form a musical bond with a friend's grieving widow. Music also plays a healing role for Mark Rylance's depressed monarch in the recent British import Farinelli and the King. (Revivals of Time and the Conways and Marvin's Room respectively followed English and American families of different classes grappling with traumatic change and disappointment.)
For anyone seeking pure, blissful escapism in 2017, there was another London-based offering, the gut-busting farce The Play That Goes Wrong, and a whimsical musical adaptation of the film Amelie, as well as the glorious (and affecting) revivals of Hello, Dolly! and Noel Coward's Present Laughter that brought Bette Midler and Kevin Kline back to Broadway, earning both Tonys. And Willy Wonka returned, via the forever charming Christian Borle, in Charlie and the Chocolate Factory: The New Musical, to carry us to "a world of pure imagination" — for a few hours, at least.