What are the best theater books of the year? What should I give my theater-loving friends this holiday? What should I buy myself as a treat, in case all I get are socks, ties, or cheap perfume from the kids? Obviously, the answers to all these questions are the same: You should browse our list of the best new books below, mixed in with our favorite picks from the past year. Your shopping and personal-care needs will be met!
Remember, theater isn't available 24 hours a day, so you need some books to keep you company until the curtain rises again. Enjoy.
---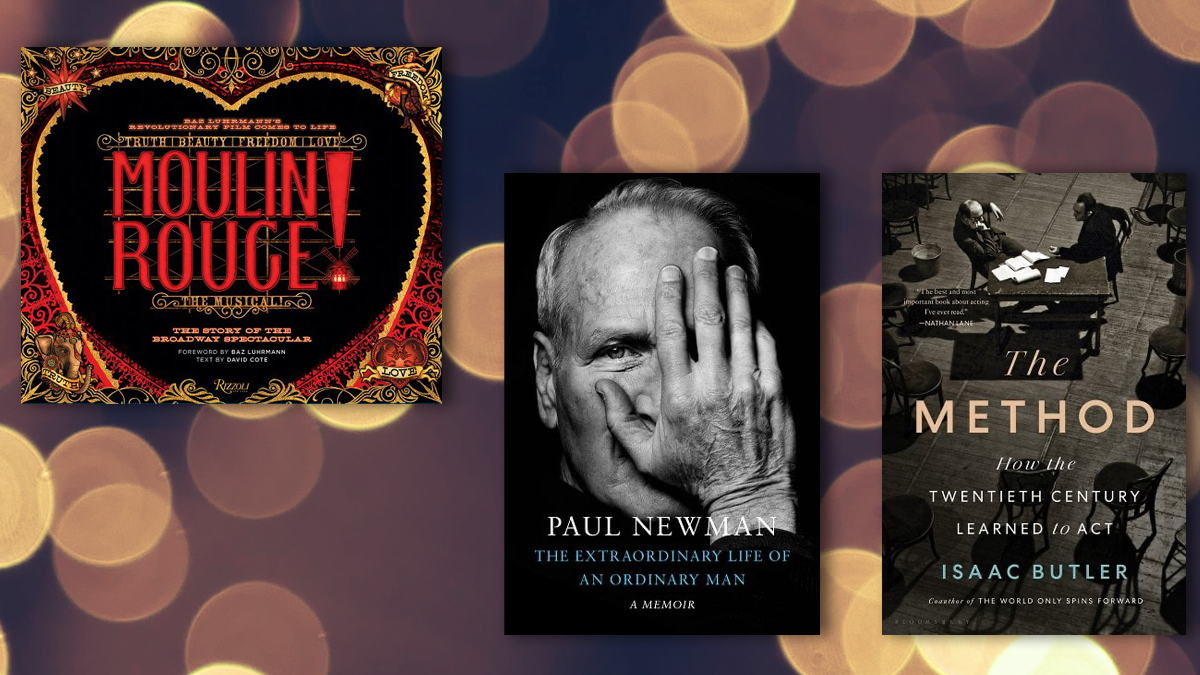 Moulin Rouge! the Musical: The Story of the Broadway Spectacular
By David Cote
$55, Universe Publishing
The Extraordinary Life of an Ordinary Man: A Memoir
By Paul Newman
$32, Knopf Publishing Group
The Method: How the Twentieth Century Learned to Act
By Isaac Butler
$30, Bloomsbury Publishing
You were expecting something modest and discreet? As if. Moulin Rouge! is about more, more, MORE, and this lavish coffee-table book pays homage in kind. It's big. It's beautiful. And it shares the journey of Baz Luhrmann's film from screen to stage with all the style and pizzazz you'd expect.
Oscar winner Paul Newman spent several years being interviewed by his close friend Stewart Stern (the screenwriter of Rebel Without a Cause) for a memoir. He also got Stern to talk with family, friends, and coworkers, urging everyone to be completely candid. The result is a memoir dominated by Newman's funny, caustic analysis of his own failings, balanced by the perspectives of everyone around him. From a failed marriage to the death of his son, Newman is brutally honest about himself. And the highs are here too. His big break came in the Broadway play Picnic, where he met Joanne Woodward, the love of his life. And it was Woodward who helped Newman return to Broadway for his late career triumph as the Stage Manager in Our Town. It turns out Hollywood's ideal marriage was a work in progress. His story will reshape and deepen your appreciation for one of the greats.
Author Isaac Butler explores the history of Method acting, how it began as the System, how creator Konstantin Stanislavski (and others!) talked about, argued about, and fretted over acting and how to act and how to teach acting — and changed theater in the process. The details of its origins in Russia are engrossing, but Butler doesn't stop there. He follows the System to America, where it became the Method and revolutionized theater acting yet again, and then invaded Hollywood and came back to theater — all the while destroying friendships and lives and linking itself to people who never even studied the Method, much less embraced it. The Method is rollicking, contentious, opinionated, and balanced in its treatment of the major players. Not to be missed.
---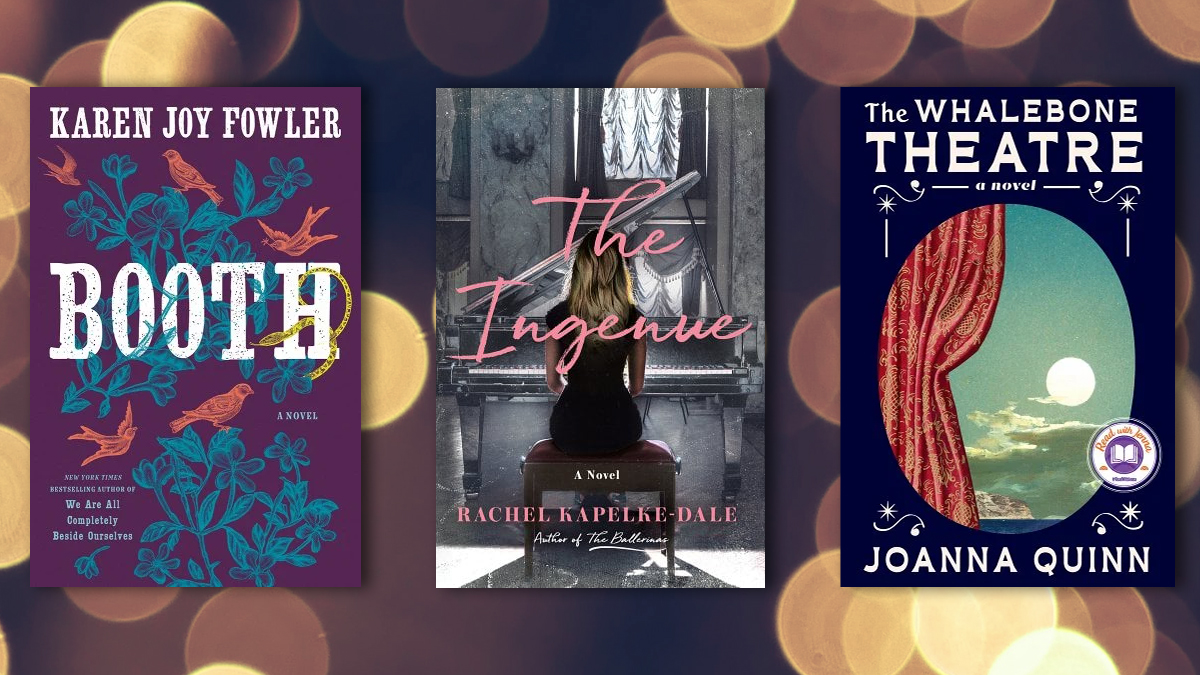 Booth
By Karen Joy Fowler
$28, G.P. Putnam's Sons
The Ingenue
By Rachel Kapelke-Dale
$27.99, St. Martin's Press
Out December 6
The Whalebone Theatre
By Joanna Quinn
$29, Knopf Publishing Group
In Booth, Karen Joy Fowler (of The Jane Austen Book Club fame) returns with this historical fiction focusing on the famed acting clan of the Booths. The patriarch, Junius Booth, is an acclaimed Shakespearean performer when he decamps to a cabin in 1822. There, Booth sires 10 children, then takes his brood and reconquers the stage. Yet Booth never quite controls the instability he exhibits or the vainglorious prophecy the family lives under. Booth's middle name? Brutus. And Booth's ninth child? John Wilkes.
Author Rachel Kapelke-Dale is a hot property for fans of the arts. In 2021, she made waves with The Ballerinas. Now she's returned with The Ingenue, the story of a piano prodigy who grapples with a dark past when her mother dies. Apparently you can go home again, but it doesn't mean home will welcome you, as she battles for control of her heritage.
The Whalebone Theatre is a debut novel that begins in the world of theater and leads right into World War II and undercover work, where the stakes are considerably higher: It's dying on stage versus actually dying. The story begins in 1928 with a whale washing up on shore from the English Channel. A little orphan girl rallies her brother and everyone else in sight to stage plays amid the skeletal remains. That training comes in handy 11 years later when war strikes. The sister and brother — now young adults — are recruited for dangerous, separate missions in Occupied France. Read it now so you can argue over who should be cast in the inevitable film or miniseries adaptation.
---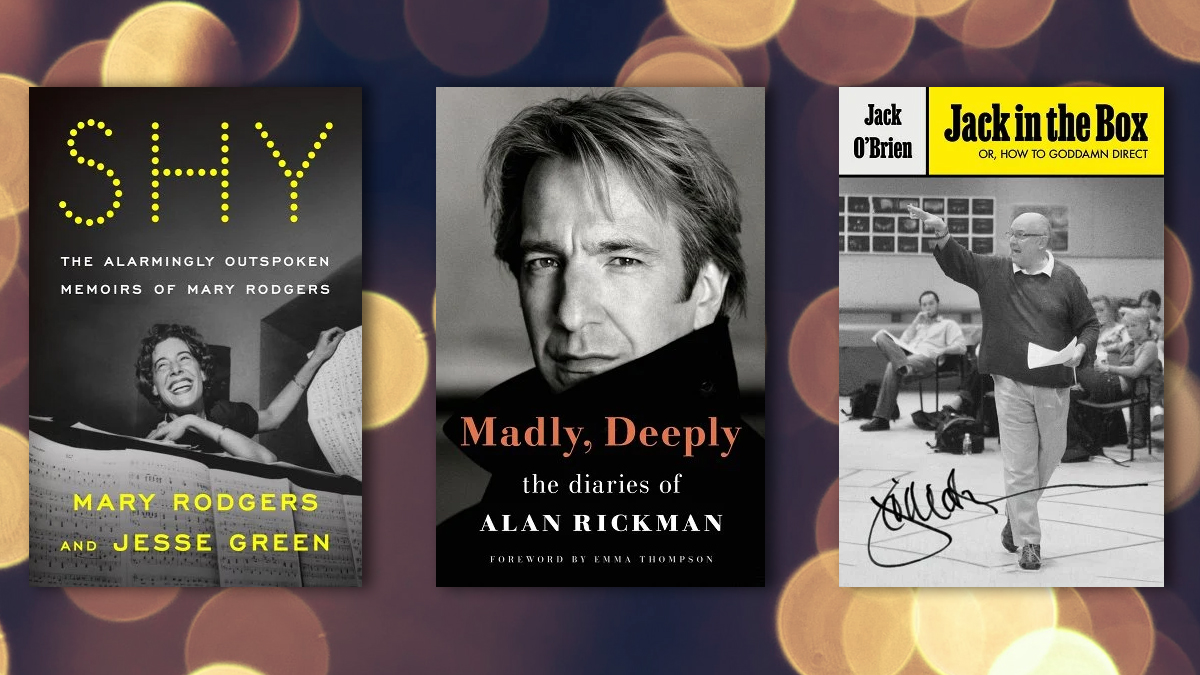 Shy: The Alarmingly Outspoken Memoirs of Mary Rodgers
By Mary Rodgers and Jesse Green
$35, Farrar, Straus and Giroux
Madly, Deeply: The Diaries of Alan Rickman
By Alan Rickman
$32, Henry Holt & Company
Jack in the Box: Or, How to Goddamn Direct
By Jack O'Brien
$28, Farrar, Straus and Giroux
Mary Rodgers offers it all, from daddy issues to an abusive husband to the jaw-dropping revelation that she and Stephen Sondheim had a trial marriage. (Apparently, Rodgers loved him as much as everyone else on Broadway.) And Jesse Green does yeoman's work every step of the way. But Rodgers is no slouch on her own. From Once Upon a Mattress to the novel Freaky Friday to the Marlo Thomas project Free to Be … You and Me, she's done it all creatively. And from her father, Richard Rodgers, to her son, Adam Guettel, Mary Rodgers literally is theater history. Not since Elaine Stritch strode on stage in At Liberty has a Broadway baby dished this well and this craftily, in every sense of the word.
It's a good year for dishy, bitchy memoirs by theater folk, and here come the diaries of actor Alan Rickman. He surged to fame in 1985 with the Royal Shakespeare Company's Les Liaisons Dangereuses, which took him to Broadway and a Tony nomination in 1987. That led right into an over-the-top turn as the villain in Die Hard. Rickman spent the rest of his life alternating between acclaimed stage performances (Private Lives) and films like Truly Madly Deeply and Love Actually and. of course, the Harry Potter films. If you sensed Rickman did not suffer fools gladly, well, you're absolutely right. His diaries are not crafted for the ages — Rickman jots down the doings of the day and who said what to whom and his impressions of others. But oh, is he bitchy! You'll skim the entries and just about decide to put it down when yet another naughty, nasty little jibe makes you laugh and keeps you reading. Great fun.
Another great memoir, and this one actually illuminates what a director does. That director is triple Tony winner Jack O'Brien, and you won't be surprised to see actors lining up to praise this book. Nathan Lane, Ethan Hawke, and John Lithgow are just three of the bold-faced names singing its praises. O'Brien shares stories from his remarkable career, including landmark shows such as the musical Hairspray and plays like The Piano Lesson and The Coast of Utopia. Every step of the way, O'Brien tells stories about the creative process, sharing what happens backstage when things go right — and wrong. (O'Brien is just as insightful sharing war stories about the flops as he is the hits.) It's not just a memoir but a guide for anyone who wants to work in the theater or appreciate it from the audience. Read this and you'll be happy to be sitting in your seat instead of backstage sweating it out.
---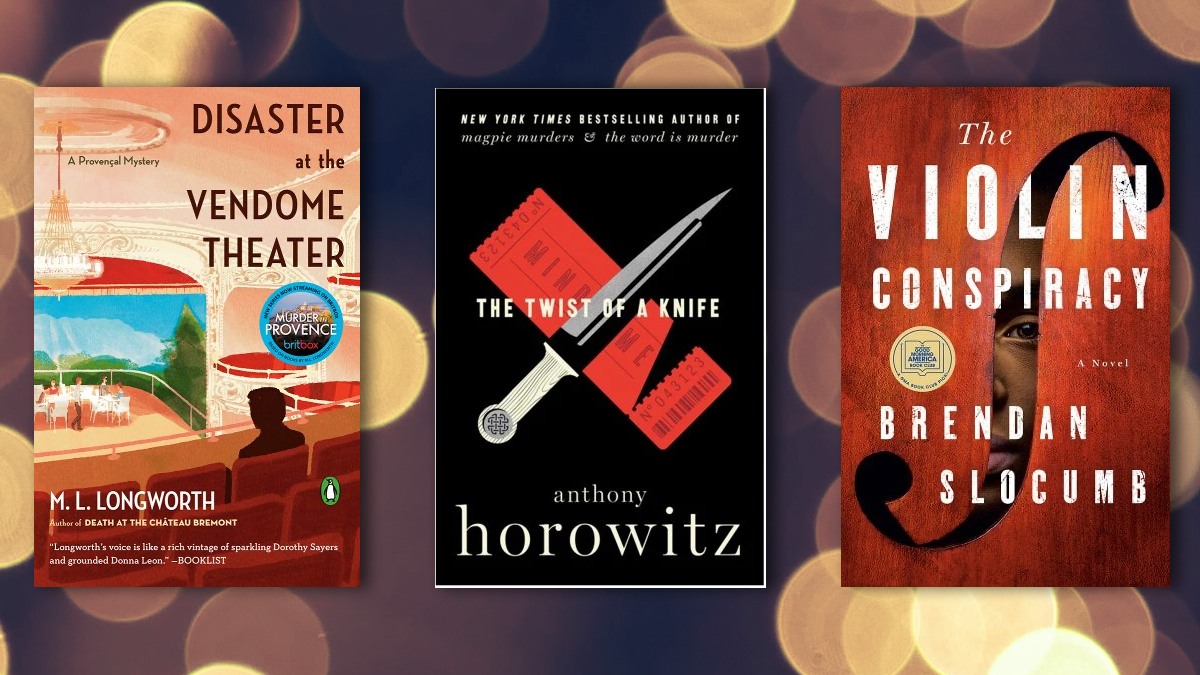 Disaster at the Vendome Theater
By M.L. Longworth
$17, Penguin Books
The Twist of a Knife
By Anthony Horowitz
$29.99, Harper
The Violin Conspiracy
By Brendan Slocumb
$28, Anchor
Maybe you watch the British mystery series Murder in Provence (available in the United States on BritBox). Maybe you enjoy the novels it's based on by M.L. Longworth, 10 volumes and growing in the Provençal Mystery series. Maybe this is the first time you're hearing about it. If so, Disaster at the Vendome Theater is the perfect place to start. Lawyer Jean-Marc Sauvet takes a small role in a summer-stock production as a lark. When he discovers a grand dame of the French stage will be the lead, Sauvet is shocked and thrilled. You know what happens next: murder! And in swoop Sauvet's friends the magistrate Antoine Verlaque and police commissioner Bruno Paulik to puzzle it all out.
Writer Anthony Horowitz has done it again. First he conquered kids' books with his James Bond–like teen hero Alex Rider. Then he delivered one of TV's great mystery shows with Foyle's War. And now he's in the midst of a marvelous Agatha Christie–like series of novels that are meta and magical at the same time. In his fourth whodunit, Horowitz himself is the prime suspect in a murder. The only person who can clear his name? Ex-detective Daniel Hawthorne, the person Horowitz just broke with professionally. Wait, what? Yes, the main character is called Anthony Horowitz and works as a writer, just like the author. Horowitz the character is opening a new play in the West End called Mindgame. It's savaged by a critic, and when said critic is stabbed to death, naturally the spotlight turns to Horowitz. The book is great fun, and if it means theater becomes the next medium Horowitz the author tackles, we will be very happy indeed.
It's no wonder ABC's Good Morning, America made The Violin Conspiracy a book club pick. It's got the cutthroat world of the Tchaikovsky Competition for a backdrop, a family history darkened by slavery, a talented young man determined to fulfill the promise of his musical skill, and a stolen Stradivarius as the spark to set this plot aflame. In other words, it's got everything.
---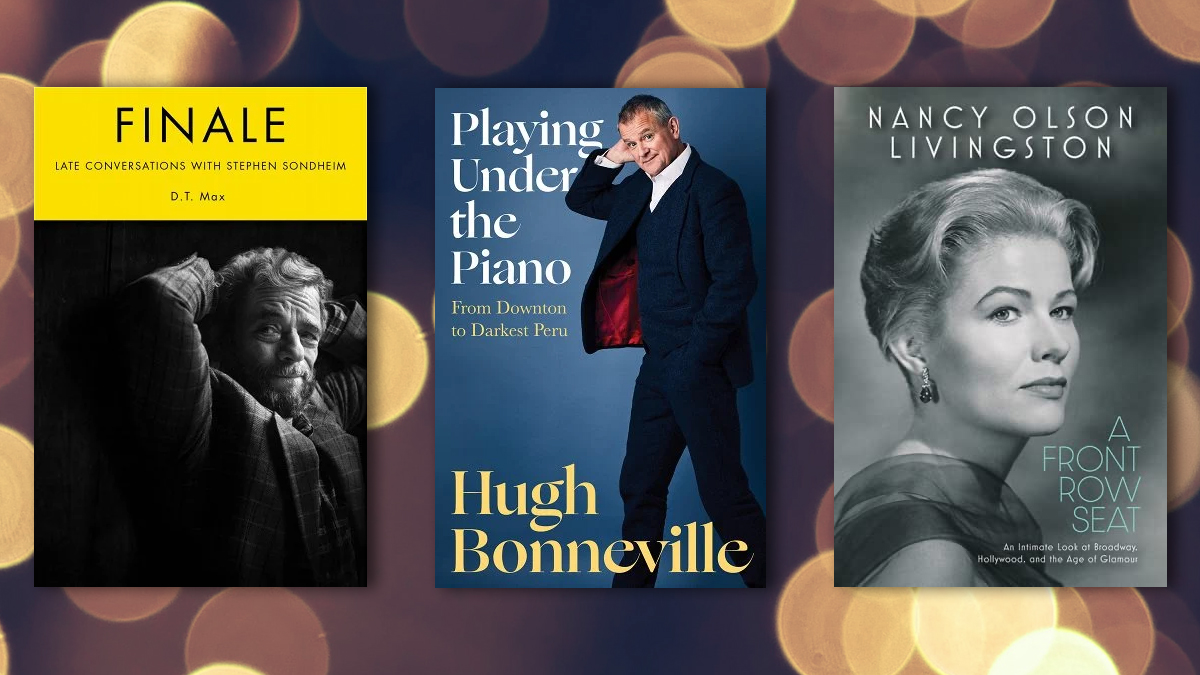 Finale: Late Conversations with Stephen Sondheim
By D.T. Max
$20.99, Harper
Playing Under the Piano: From Downton to Darkest Peru
By Hugh Bonneville
$28.99, Other Press
A Front Row Seat: An Intimate Look at Broadway, Hollywood, and the Age of Glamour
By Nancy Olson Livingston
$34.95, University Press of Kentucky
The New Yorker famously gives its writers an extraordinary amount of time to work on certain features. So it's no surprise D.T. Max had the chance to interview Stephen Sondheim repeatedly over a number of years while the composer worked on a new musical project. But COVID and creative challenges stymied that show until the curtain fell on Sondheim's life. Now Max offers up those wide-ranging talks into a late-in-life profile of Broadway's greatest.
Hugh Bonneville will be forever known as the patriarch on Downton Abbey and the dad in the Paddington movies. But his career is wide-ranging and fun, starting on the stage, thank you very much. Bonneville is an endearing storyteller with no desire to settle scores. But he did have a ringside seat to the tart brilliance of Maggie Smith's last hurrah on the show. And his stories about her puckish dominance of the now-iconic series are a treat for theater buffs. (And really, the Paddington movies are genius too.)
Actress Nancy Olson Livingston received an Oscar nomination for her supporting turn in Sunset Boulevard. She also appeared on Broadway, hosted the Beatles in her home, married Alan Jay Lerner, and had My Fair Lady dedicated to her! My Fair Lady! The greatest musical of them all! Clearly, her life is worth hearing about, and Olson shares her story with the same glamour of the 1950s and 1960s she experienced firsthand.
---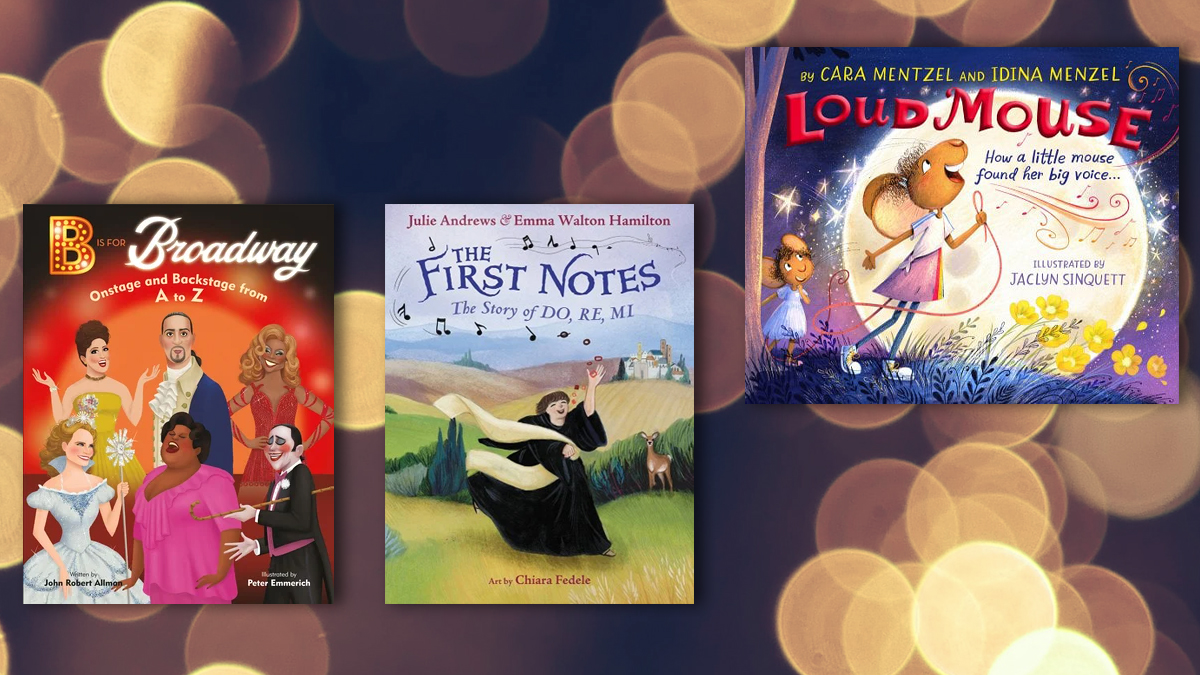 B Is for Broadway: Onstage and Backstage from A to Z
By John Robert Allman; illustrations by Peter Emmerich
$18.99, Doubleday Books for Young Readers
The First Notes: The Story of Do, Re, Mi
By Julie Andrews & Emma Walton Hamilton; art by Chiara Fidele
$18.98, Little, Brown Books for Young Readers
Loud Mouse
By Cara Mentzel and Idina Menzel; illustrated by Jaclyn Sinquett
$17.99, Disney-Hyperion
It's never too early to share your love of theater with kids or kids at heart looking for an offbeat coffee-table book.
B Is for Broadway is the picture book follow-up to A Is for Audra, and lovers of plays and musicals will not be disappointed. It's another dive into an alphabetical appreciation for the art form we love most, this time celebrating everything from Auditions to Ziegfeld. Next year, perhaps they can do shows and call it C Is for Chicago!
No, we can't resist Julie Andrews and don't ask us to try. She and her daughter Emma Walton Hamilton deliver their latest project in a long string of bestsellers. This one is doubly delicious: It's a picture book about the Italian monk who invented the musical scale incorporating one word for each note. Perhaps you've heard of them? Do, re, mi? Exactly. Who better than Julie Andrews to bring this story to life? Because when you know the notes to sing …
Idina Menzel collaborates with her sister, Cara, and artist Jaclyn Sinquett on a new picture book. It's called Loud Mouse, and anyone who loves the iron-lunged Menzel and her blow-the-roof-off vocals in Wicked and the film Frozen and so many other shows can guess the plot. It's about a little mouse named Dee who sings for her own pleasure. Then she really surprises her classmates and teacher when she finally sings for everyone else. Perfect for adult fans or kids who like to stand out in a crowd, or who just like musical theater.
---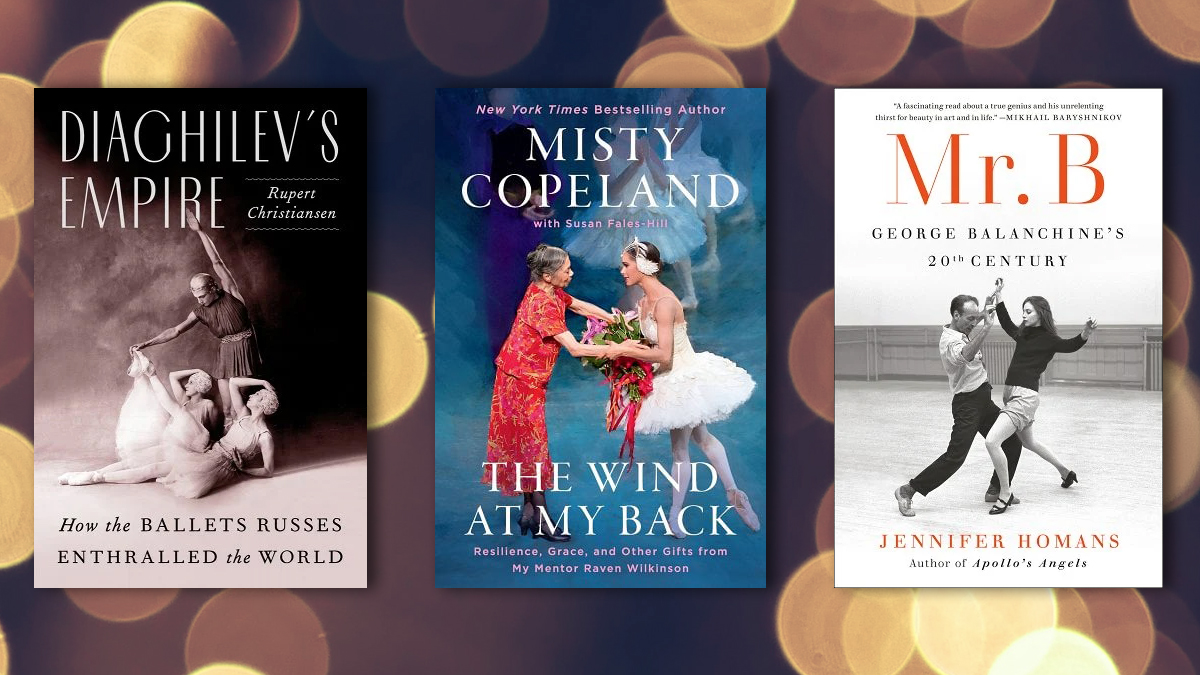 Diaghilev's Empire: How the Ballets Russes Enthralled the World
By Rupert Christiansen
$35; Farrar, Straus and Giroux
The Wind at My Back: Resilience, Grace, and Other Gifts from My Mentor, Raven Wilkinson
By Misty Copeland
$29, Grand Central Publishing
Mr. B: George Balanchine's 20th Century
By Jennifer Homans
$40, Random House
Three essential books for lovers of dance.
Sergei Diaghilev essentially invented modern ballet. Dance critic Rupert Christiansen captures the impresario as well as the tumultuous times in which he was working. Everyone from Pablo Picasso to Anna Pavlova makes an appearance, not to mention the Russian Revolution and world war. High drama? Oh, yes.
Misty Copeland is the most famous ballet dancer working today. The Wind at My Back is a memoir, a tribute to her mentor, Raven Wilkinson, a celebration of Wilkinson's groundbreaking career as a woman of color in dance, and an inspirational text for anyone striving to be their best. We could all use some resilience and grace, and who better than Copeland to share how she strives for them too?
If Diaghilev invented modern ballet, George Balanchine helped perfect it. A titan of choreography, his work is celebrated in what is touted as the first major biography of this signal figure. Jennifer Homans, the dance critic for The New Yorker, offers up a thorough and impressive look at Mr. B in all his complexity and brilliance.
---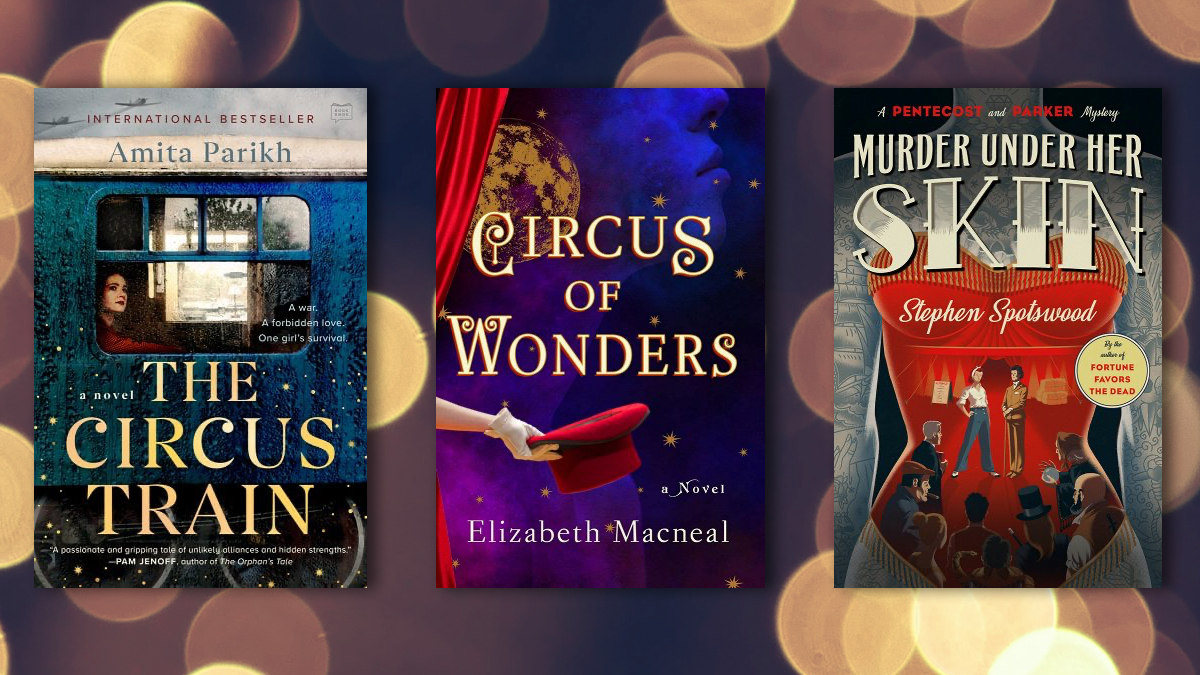 The Circus Train
By Amita Parikh
$17, GP. Putnam's Sons
Circus of Wonders
By Elizabeth Macneal
$27.99, Atria/Emily Bestler Books
Murder Under Her Skin: A Pentecost and Parker Mystery
By Stephen Spotswood
$27, Doubleday
Ahh, the circus. What child enamored of performing doesn't dream of running away and joining the circus? But it's not all peanuts and applause under the Big Top.
In The Circus Train, it's 1938 and Lena is restricted more by society's ideas of what a girl should do than the wheelchair she uses to get around. Her life in a traveling circus becomes much more interesting when an appealing young man joins up and becomes an apprentice to her father, the leading illusionist. But war interferes when the two men are captured by Nazis and forced to perform in a town dedicated to the lie that Jews are being well-treated. Suddenly, Lena must rely on herself because the people she loves need her more than ever.
Author Elizabeth Macneal follows her period debut, The Doll Factory, with this bold tale of a traveling circus in 1860s England. A little girl is sold as a freak to the troupe's impresario because her spotted skin makes her an ideal freak show performer as "Leopard Girl." But Nell finds herself and her strength when she's rebranded as the Queen of the Moon and Stars. The outcast becomes world famous, and suddenly this caged attraction realizes she has the power to free herself after all … if she dares.
Playwright and journalist Stephen Spotswood delivers his second period mystery featuring Pentecost and Parker with Murder Under Her Skin. It's 1946 and Will Parker hears dreadful news: A friend from her circus days has been stabbed in the back, and Parker's knife-throwing mentor is — perhaps understandably — the prime suspect. Before you know it, Parker and her boss, the internationally known detective Lillian Pentecost, catch up with the seedy Hart and Halloway's Traveling Circus and Sideshow. It's the greatest show on earth … as long as you don't become dinner for the lions before uncovering the real killer.
---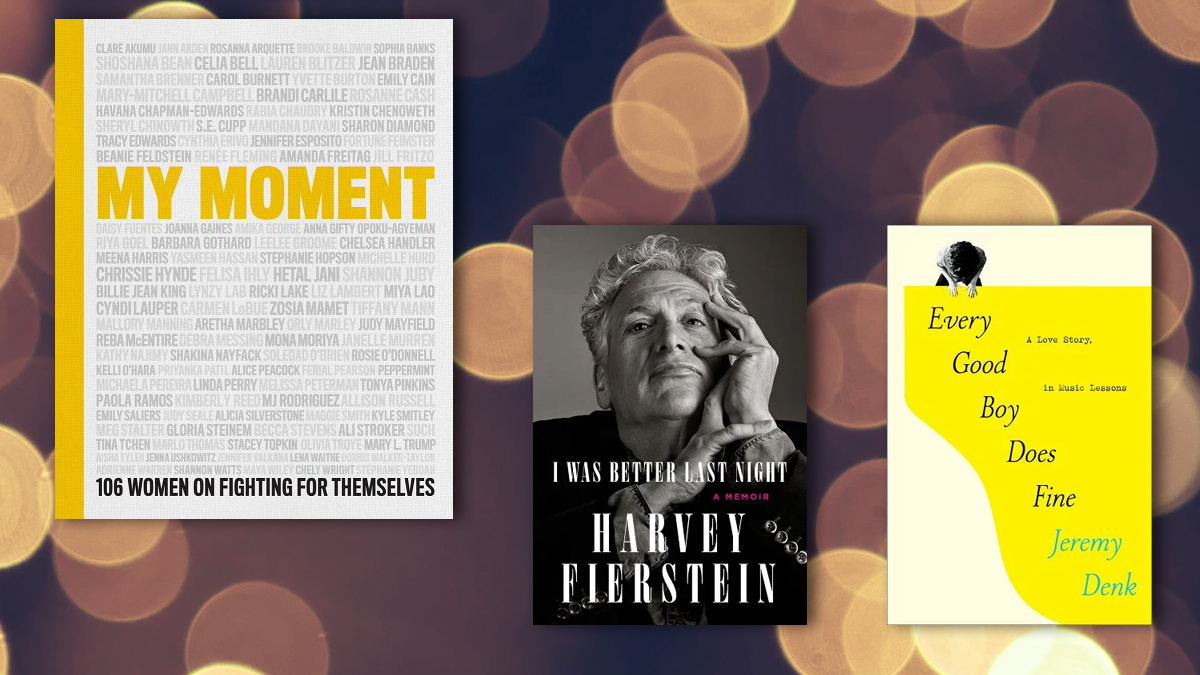 My Moment: 106 Women on Fighting for Themselves
Compiled by Kristen Chenoweth, et al
$27.99, Gallery Books
I Was Better Last Night: A Memoir
By Harvey Fierstein
$30, Knopf Publishing Group
Every Good Boy Does Fine: A Love Story, in Music Lessons
By Jeremy Denk
$28.99, Random House
Broadway legend Kristen Chenoweth and others reached out to women from all walks of life to share their stories about fighting for themselves. The result is My Moment, an inspiring collection of essays from Billie Jean King, Brandi Carlile, Gloria Steinem, and theater folk including Beanie Feldstein and Cynthia Erivo, to name just a few.
For the first third of I Was Better Last Night, Tony winner Harvey Fierstein focuses on the "before." His childhood, his struggles with being heavy and having "man boobs," making friends, finding a home at La Mama, Stonewall, sex, crossing paths with Andy Warhol … It's funny, fascinating, revealing, and very engaging. This section climaxes with the making of his masterpiece Torch Song Trilogy. If Fierstein expanded on those days and stopped right there, he would have an absolute gem. But who's going to stop Harvey, especially when he has so many good stories to tell? The rest of the book includes a lot of "And then I made …," but it's never less than fun. And when those stories include multiple stints in Fiddler on the Roof or the time he was juggling work on creating Newsies, the play Casa Valentina, and Kinky Boots, it's a treat for theater buffs.
Malcolm Gladwell was wrong: 10,000 hours of practice is just the start. Read classical pianist and MacArthur "genius" grant winner Jeremy Denk. His memoir dives into classical pieces he loves and why they work. But most of all, Denk brings to life the routine, monotonous, daily hard work that goes into mastering an instrument and staying on top of it all your life. In Every Good Boy Does Fine, he talks about teachers, baffling advice, rehearsals with others, and practice practice practice. Denk shows how deeply rewarding it can be, so anyone in the arts should take comfort and spine-stiffening resolve from this acclaimed work.
---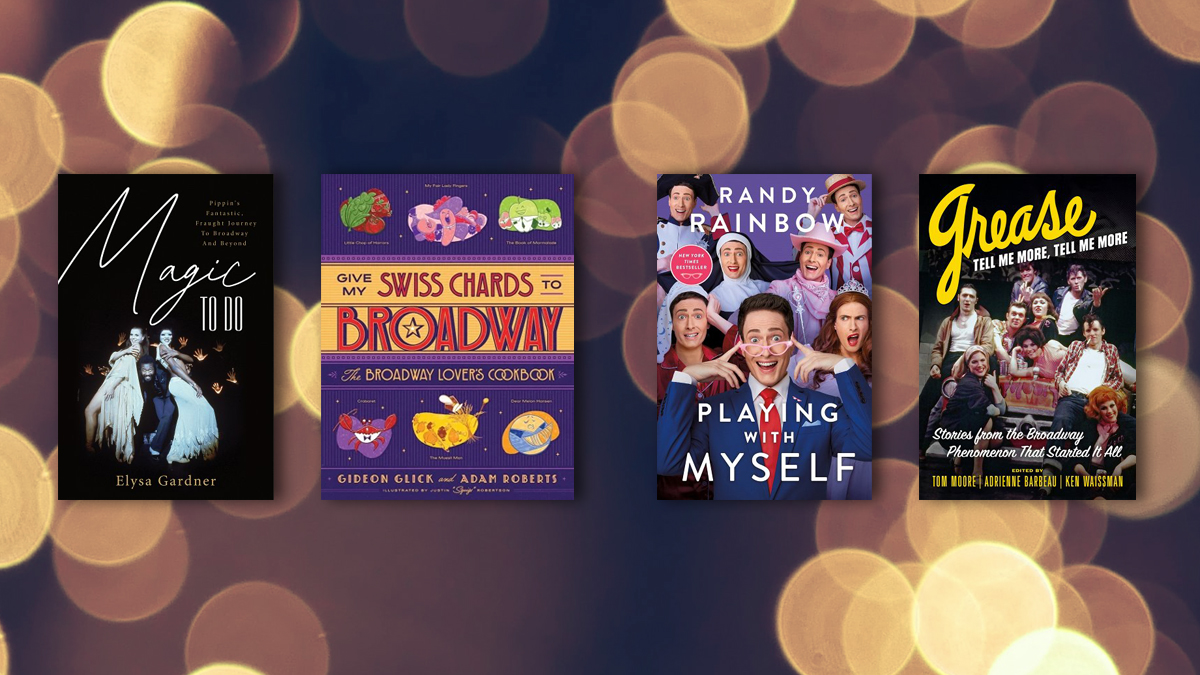 Magic to Do: Pippin's Fantastic, Fraught Journey to Broadway and Beyond
By Elysa Gardner
$26.95, Applause Books
Give My Swiss Chards to Broadway: The Broadway Lover's Cookbook
By Gideon Glick and Adam Roberts
Illustrations by Justin Robertson
$26, Countryman's Press
Playing with Myself
By Randy Rainbow
$28.99, St. Martin's Press
Grease, Tell Me More, Tell Me More: Stories from the Broadway Phenomenon That Started It All
Edited by Tom Moore, Adrienne Barbeau, and Ken Waissman
$30, Chicago Review Press
The most beloved Broadway shows just want to share a little sunshine, and few have done that as consistently and joyfully as Pippin, which is celebrating the 50th anniversary of its Broadway debut this year. Theater critic and journalist Elysa Gardner — currently contributing to The New York Sun and New York Stage Review — does a deep dive into the turbulent making of the show that proved a key hit for director/choreographer Bob Fosse and bright-eyed new kid on the block Stephen Schwartz, the composer and lyricist. Ben Vereen's magnetic central performance as the Leading Player made clear they were on the right track, and, of course, it came together in a triumph. Gardner reveals the battles and creative breakthroughs that made it all happen with the sharp analysis of a critic and the passion of a fan.
A cookbook for theater fans? Why of course! But don't worry: It's far more appetizing than the menu offered in Sweeney Todd. Tony nominee Gideon Glick and food maven Adam Roberts pair up with illustrator Justin Robertson to deliver all the silliness you'd expect from such a project. Yam Yankees, Dear Melon Hansen, and Yolklahoma! are on offer after all. But they're tasty too. If you know a Broadway buff who loves to cook, your holiday shopping is officially done.
As any theater fan knows, Randy Rainbow combined his love for theater with withering critiques of D.C. into a string of hilarious online skits that put the viral in video. After several successful albums, this triple threat adds memoirist to his list of talents, making the actor/singer/songwriter a book writer to boot. Watch out, Sondheim! Rainbow describes taking a purse to second grade class, getting his first job on Broadway (at Hooters), and generally not fitting in. Then the whole world discovered his talent and suddenly Randy Rainbow fits in everywhere, but especially in the theater world. Sondheim was a fan, actually, as are Patti Lupone and Carol Burnett (which … duh!) — and us too, in case you hadn't guessed.
Grease: Tell Me More, Tell Me More is an oral history of sorts, collecting stories from anyone and everyone connected to the original show and its many incarnations. Overseen by the original Broadway director, Tom Moore, star Adrienne Barbeau (the original Rizzo), and Ken Waissman (an original producer), this book is a grab bag of memories and anecdotes from anyone who crossed paths with it. The names involved or dropped here include Barry Bostwick, John Travolta, Marilu Henner, Peter Gallagher, directors Walter Bobbie and Jerry Zaks, and many, many more. Catnip for fans and a testament to how an enduring work can shape and influence so many careers and lives decades after it first began.
---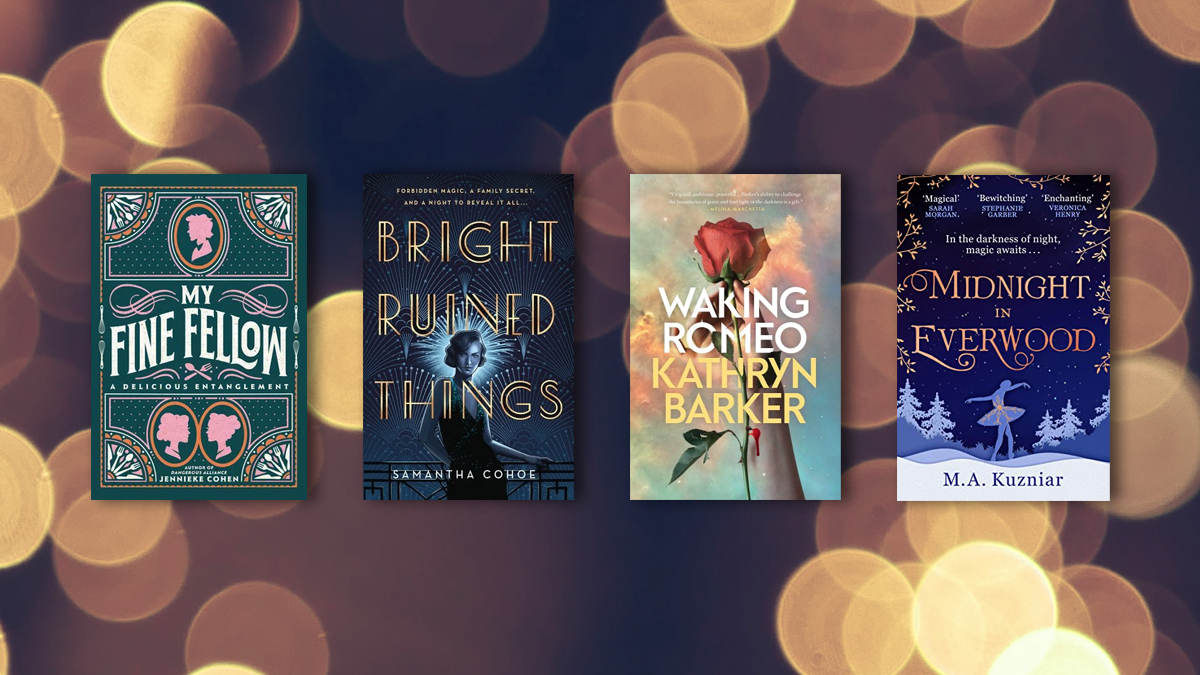 My Fine Fellow
By Jennieke Cohen
$17.99, HarperTeen
Bright Ruined Things
By Samantha Cohoe
$18.99, Wednesday Books
Waking Romeo
By Kathryn Barker
$18.99, Flatiron Books
Midnight in Everwood
By M.A. Kuzniar
$26.99, HQ
Classic tales — especially ones in the public domain, of course — are an endless source of plots that can be rethought and reimagined. Here are three young-adult novels (and one pitched to adults) that are perfect for budding theater fans.
My Fine Fellow takes My Fair Lady and flips the genders and the focus from flowers to food. Elijah is a Jewish lad in 1800s London with a flair for pasties; Helena Higgins has the training Elijah sorely lacks, and Penelope Pickering is determined to introduce the English palate to Filipino fare. Hilarity and romance ensue.
Bright Ruined Things takes The Tempest and plops it down into a 1920s fantasy where the Prospers rule a magical island and the power they've tapped has transformed the world. But the spirits of the island are dying and its fate may be entangled with that of Mae, a seemingly powerless and unimportant young woman yearning for acceptance. Maybe she should just learn to accept herself?
No surprise that Waking Romeo is toying with the plot of Romeo & Juliet, surely the Shakespeare play that's been adapted and transformed more than any other work he created. This time it's 2083, the world is dying, people can time travel (but only into the future), and Jules is rebelling against everyone in her life by refusing to jump forward so she can remain near Romeo, hoping beyond hope he'll come out of a coma.
Finally, Midnight in Everwood begins with The Nutcracker and spins out a dark tale set in 1902 involving a young woman, her last performance as a ballerina, and some dark magic. Actually, this is YA author M.A. Kuzniar's first book geared to adults, but any teen who loves ballet or dance in general will be eager to dive in too.
---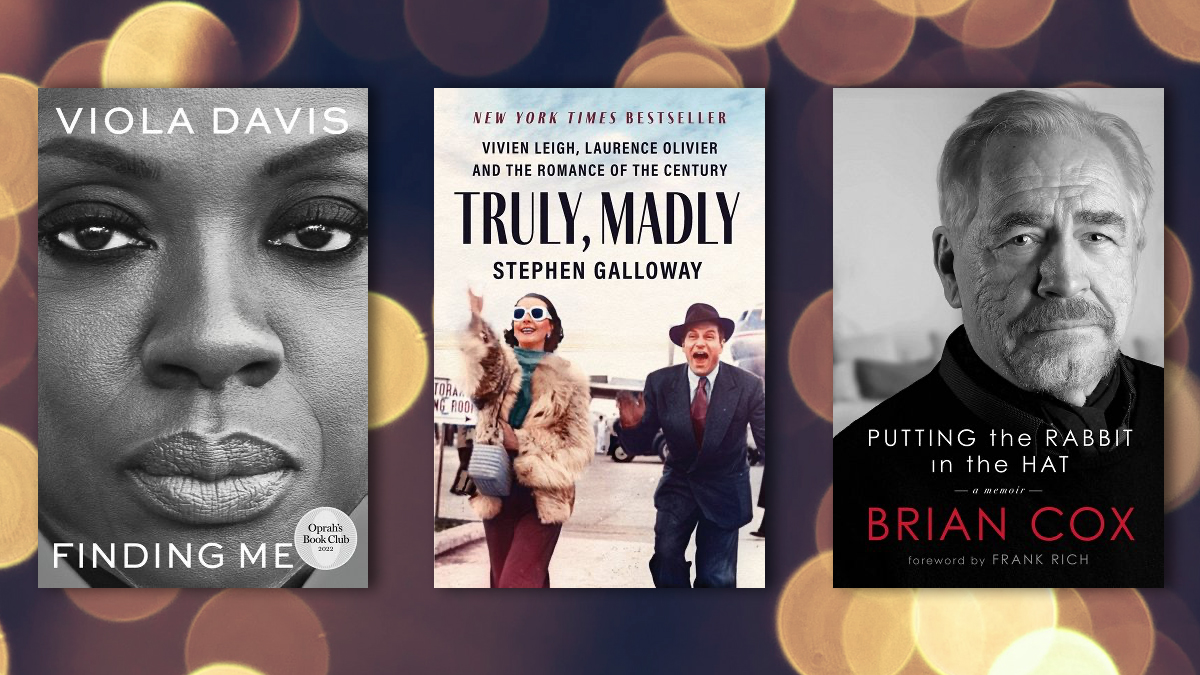 Finding Me: A Memoir
By Viola Davis
$28.99, HarperOne
Truly, Madly: Vivien Leigh, Laurence Olivier, and the Romance of the Century
By Stephen Galloway
$30, Grand Central Publishing
Putting the Rabbit in the Hat
By Brian Cox
$29, Grand Central Publishing
Three books by and about theater legends.
Viola Davis is a two-time Tony winner, the only African American to win the Triple Crown of acting (the Oscar, the Tony, and the Emmy), and — as we soon discover in Finding Me — a terrific writer. She delivers a beautiful and unsparing memoir about her tough childhood and a bone-deep refusal to accept anything less than success on her own terms.
The tumultuous romance between two of the greatest actors of all time comes to life in Truly, Madly, the story of Laurence Olivier and Vivien Leigh. Leigh and Olivier's romance began when she saw him acting on stage in 1934 and immediately told a friend he was the man she was going to marry. The fact that they were both already married to other people? A mere detail. It's the perfect beginning to one of the maddest romances showbiz ever witnessed.
Actor Brian Cox is riding high with his work in the HBO drama Succession. That's just the latest and biggest triumph of a career that includes being the first Hannibal Lecter in the creepy film Manhunter, the Bourne franchise, and Rushmore, to name just a few. But theater fans know Cox is a two-time Olivier award winner for his stage work. Cox has published two great books about his theatrical work, Salem to Moscow and The Lear Diaries. That makes his first full autobiography, Putting the Rabbit in the Hat, an absolute must. Here's hoping his success in yet another field won't keep him away from the stage any longer than necessary.
---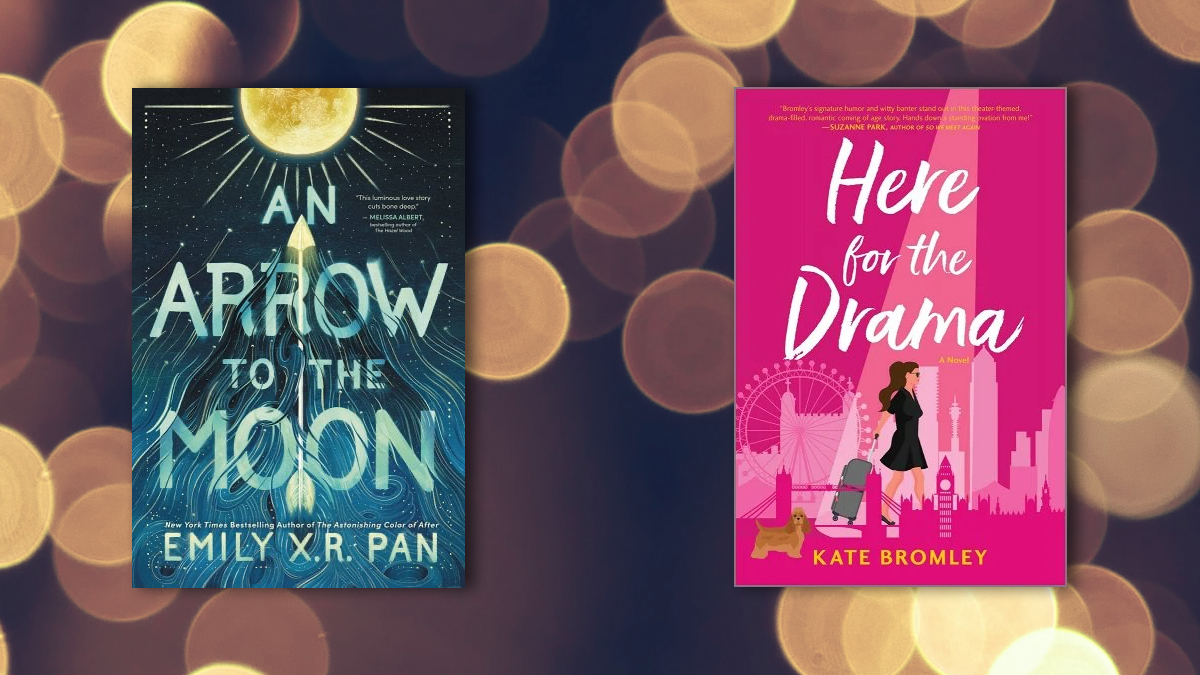 An Arrow to the Moon
By Emily X.R. Pan
$18.99, Little, Brown Books For Younger Readers
Here for the Drama
By Kate Bromley
$15.99, Graydon House
Hunter Yee certainly isn't embarrassed by his skills with a bow and arrow. He's remarkably good at it and that's worth a lot among his friends. But it's not enough to win over the parents of Luna Chang, the amazing girl who just transferred to his high school. In this rewrite of Romeo & Juliet, the two star-crossed lovers discover a bow and arrow is no more use than a sword or poison back in Verona when it comes to making the course of true love run smooth. (Yeah, yeah, that's from A Midsummer Night's Dream, but it still fits.)
Dealing with a missing diamond or some bland music seems like small potatoes to Winnie, the assistant to a very high-maintenance playwright named Juliette Brassard. Winnie follows the famed feminist writer to London for a production of one of the genius's greatest works. But when the director and writer clash terribly, it's Winnie who must keep the peace, all while trying to convince Juliette to at least look at her own stab at playwriting. And must Juliette's nephew Liam be quite so delightfully foppish and charming and all that?
---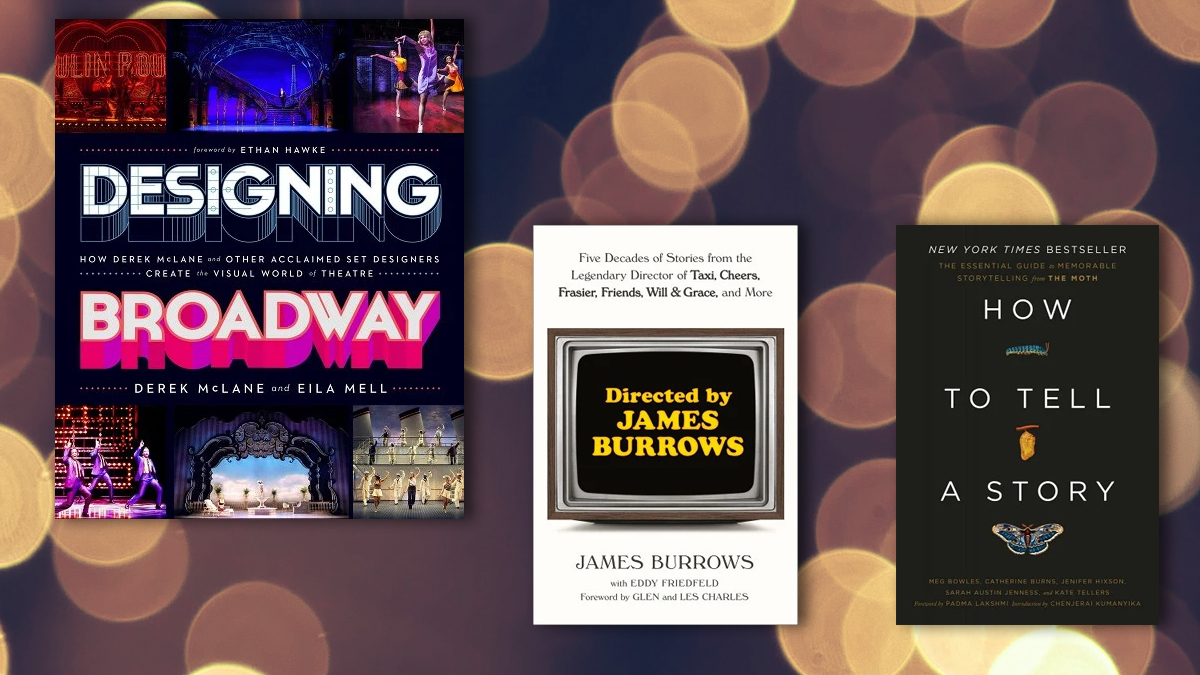 Designing Broadway
By Derek McLane and Elia Mell
$45, Running Press
Directed by James Burrows
By James Burrows with Eddy Friedfeld
$28.99, Ballantine Books
How to Tell a Story
By The Moth
$28, Crown
Whether you're a fan or a theater major or just pitching in on a school play, Designing Broadway is a great introduction to the art and craft of set design. Derek McLane is the Tony- and Emmy-winning set designer who worked on more than 350 plays, musicals, TV specials, operas, and more, from Broadway to the Kennedy Center and around the world. His spectacle Moulin Rouge! continues to dazzle audiences in New York. But this isn't just an overview of his storied career. McLane and journalist Elia Mell talk with McLane's contemporaries, from fellow set designers such as John Lee Beatty to directors including Moisés Kaufmann and actors like Wallace Shawn and Ethan Hawke. They dive into the process that led to the dazzling sets for shows including Hamilton, Beautiful, Hadestown, Moulin Rouge! (of course), and many more. Gorgeously illustrated, informative, and entertaining.
The credits of director James Burrows are legendary, from terrific work on shows that didn't quite click (The Associates, Best of the West) to classics including The Mary Tyler Moore Show and The Bob Newhart Show, and then the hits he truly left his stamp on: Taxi, Cheers, Frasier, and Will & Grace. Burrows had a gift for helming pilots that helped many other shows find their voice right away. Directed by James Burrows isn't quite a how-to, but anyone who is thinking of a career in TV will find nuggets here. And since classic TV sitcoms of the sort he worked on are essentially mini-plays (Frasier in particular was often a perfect farce), lovers of theater should dive in as well.
Perhaps every performer starts this way: At dinner, their grade-school lunchroom, or riding in a car somewhere, they tell a story. A funny story, a sad story, who knows, but simply a story. That's a performance right there, and it isn't long before the people who love to tell them are writing them down or setting them to music or getting up on stage and performing other people's stories. The famed venue The Moth celebrates professional storytellers and the bold folk who aren't but get up on stage anyway to expose themselves. In How to Tell a Story, the folks from The Moth share tips and advice on how to do it well.
---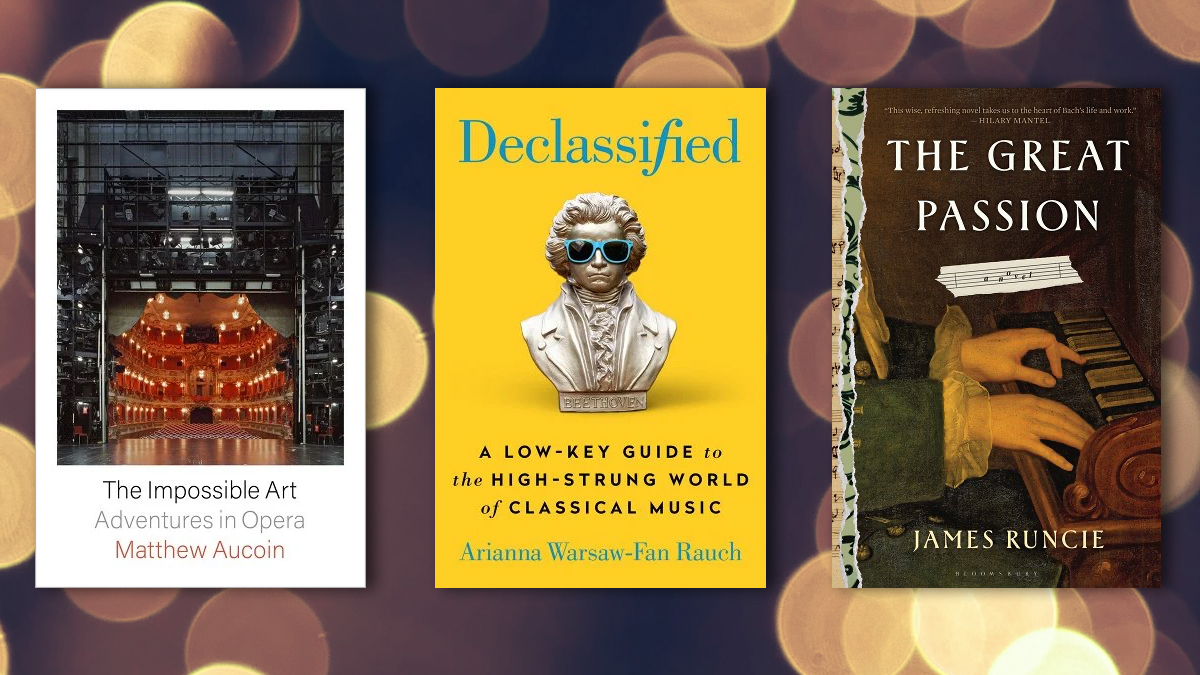 The Impossible Art: Adventures in Opera
By Matthew Aucoin
$28, Farrar, Straus and Giroux
Declassified: A Low-Key Guide to the High-Strung World of Classical Music
By Arianna Warsaw-Fan Rauch
$27, G.P. Putnam's Sons
The Great Passion
By James Runcie
$28, Bloomsbury Publishing
Composer Matthew Aucoin is a star in the world of opera. He makes the most inaccessible of art forms (the ticket prices! the rarified language! the snootiness!) great fun for any theater buff looking to head uptown in every sense of the word (especially if you live in NYC where the Metropolitan Opera is about 10 to 20 blocks above Broadway). His new book The Impossible Art is a memoir, a history of opera, his critical take on the major works, and a diary of the making of his new work Eurydice for the Met. In other words, it's got everything.
Classical music can be daunting to the newcomer. But Arianna Warsaw-Fan Rauch is here to dazzle you with her name and then turn classical music into your new best friend. She demystifies, deconstructs, delights in, and, yes, declassifies all the info you need to dive into symphonies and concertos with a fearless heart and open ears. Don't be scared: She's got you.
Finally, we head way back to the 1700s, where 13-year-old Stefan is sent off to far-away Leipzig after his mother dies. The distraught boy catches the eye — or rather, the ear — of the school's cantor, Johann Sebastian Bach, thanks to a beautiful voice. In James Runcie's acclaimed novel, we watch the twin struggles of people dealing with grief and the creation of a moving masterpiece that transcends it.
---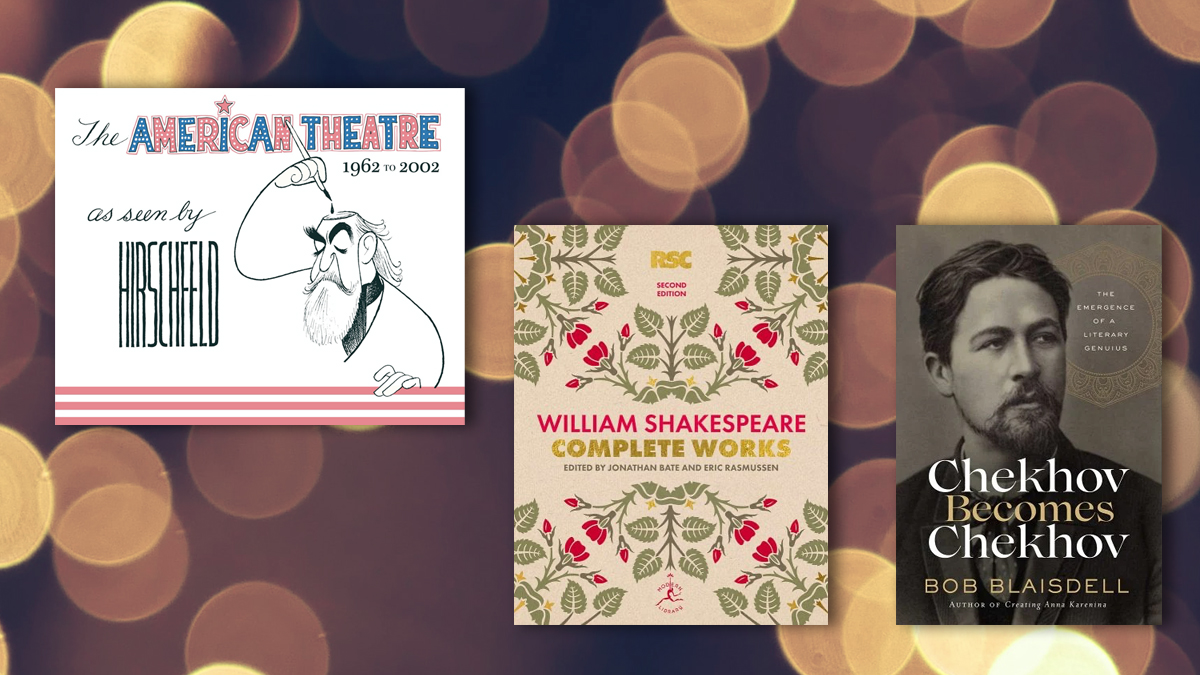 The American Theatre as seen by Hirschfeld 1962-2002
By Al Hirschfeld; edited by David Leopold
$60, Al Hirschfeld Foundation
William Shakespeare Complete Works Second Edition
By William Shakespeare; edited by Jonathan Bate and Eric Rasmussen
$85, Modern Library
Chekhov Becomes Chekhov
By Bob Blaisdell
$29.95, Pegasus Books
Out December 6
The distinctive artwork of Al Hirschfeld defines Broadway as much as the bright lights and the songs of Rodgers & Hammerstein do. This newly edited collection of Hirschfeld's caricatures is a treat for any theater fan and an ideal way to celebrate 40 years of his insight, wit, and appreciation for the art form we love best.
Good old Bill S. is back! The handsome Modern Library's second edition of the complete works of William Shakespeare is edited by Jonathan Bate and Eric Rasmussen, endorsed by the Royal Shakespeare Company, and belongs on the shelf of any theater lover. It's always a welcome gift.
Writer Bob Blaisdell follows his acclaimed work Becoming Anna Karenina with another look at an artist in transition. In this case it's Anton Chekhov, arguably the greatest short-story writer and the greatest playwright of his time, if not all time. Blaisdell focuses in on 1886, when Chekhov was a working physician and writing everything from humor pieces to short stories that received praise he found a little overwhelming. Again and again, Blaisdell demonstrates how the travails in Chekhov's personal life were reflected in the work he created. Sometimes early and easy acclaim can be even more damaging to a young talent than criticism or indifference. Chekhov managed to burrow down and become an even better artist — indeed, a great artist — and Blaisdell captures that moment with care and insight.
---
Michael Giltz is the cohost of the weekly entertainment podcast Showbiz Sandbox. He has covered all areas of entertainment as a journalist, critic, feature writer, and analyst, contributing to numerous outlets, including the New York Daily News, New York Post, New York Magazine, the Los Angeles Times, Huffington Post, Entertainment Weekly, and The Advocate. When Michael's not attending the theater, he's reading about it.