A quarter century ago, when memories of the Vietnam War were fresh, Alain Boublil and Claude-Michel Schönberg began work on a contemporary retelling of Madama Butterfly. Inspired by a wrenching news photo of a crying child headed to America to join the father she had never met, they created the now-classic musical Miss Saigon, which returns to Broadway in March 2017 in an acclaimed new production.
When Boublil met Schönberg in 1968, Boublil was working at a music publishing company in Paris, and his future composing partner was a fledgling songwriter there. Their collaboration kicked off five years later with a sung-through show about the French Revolution, which Boublil later called "a very naive work, but a good draft for Les Misérables." Les Miz, of course, now reigns as the world's most popular musical, but Miss Saigon, the story of an ill-fated romance between a Vietnamese bar girl and an American GI, boasts its own fervent fan base. The charmingly low-key lyricist, now 75, spoke about the show and his celebrated career by telephone from the Paris home he shares with his wife, actress Marie Zamora (Cosette in the 1980 French premiere of Les Miz).
Miss Saigon is headed back to New York this spring in its original home, the Broadway Theatre. How does that feel?
It's not something that I expected to happen in my lifetime. But I must tell you: Having just seen the cinematic version [filmed in London on the show's 25th anniversary], I feel like this is a new creation. I am intending to attend every day of rehearsal because when I see this production, I don't feel that it is a revival. We have rewritten some of the lyrics, with a new song for [American wife] Ellen, and we have an amazing cast. I have been discussing it with many musical-theater creators, and they say that an experience like this rarely happens. We are blessed.
With the controversy over immigration in America and the tragic plight of refugees worldwide, Miss Saigon feels as timely as when it premiered more than 25 years ago.
Maybe more timely today, because when it came out, some people saw it as part of the fashion of that time for Vietnam movies, like Platoon. When we started writing Miss Saigon in 1985, this movie had not been released. Our original idea was to adapt the Madama Butterfly opera, and we found that the story of a misunderstanding between two people [before the fall of Saigon] related to the misunderstanding between two countries. Once we had these parameters, I found that I could identify with Kim and her plight. It was heartbreaking to write about a young girl hoping for something better, and sometimes the "better" never happens. Shamefully, this story remains completely relevant to the times.
Give us a preview of the new production, directed by Laurence Connor, director of the Broadway revival of Les Misérables and School of Rock.
It is very edgy, very raw. The physical production — the sets, the amazing lighting, everything — has gone back to basics. It's presented in spaces that really look like things as they were at that time in Saigon, so it's more realistic in a theatrical sense. As far as the direction and the interpretation of the characters, again, it's more realistic and edgy, and it uses more of the essence of the music and lyrics to get to the flesh and bone of the story. What Laurence Connor has achieved as a director is [making] every character interesting, beyond having their "moment" in the show.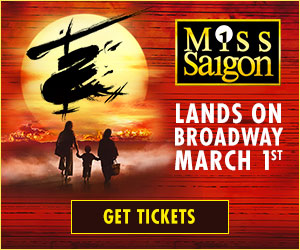 What was the impetus to revise certain elements for this production?
We've been reworking the show even while it was very successful the first time around. We changed the finale twice; we had already changed the song for Ellen once. When Cameron Mackintosh decided to produce a new version, he was very, very insistent, again, that Ellen's song was not expressing exactly what we had always wanted to express — that the heart of this American woman is torn apart between her love for this man and discovering he had a past in which he had loved another woman. I had been working on an American adaptation of our very first musical with Michael Mahler, a young Chicago-based writer, and asked him to do some tiny rewrites. Obviously my big collaborator on the lyric-writing of Miss Saigon was Richard Maltby Jr., the extraordinary American lyricist.
Can you describe what it's like to work on lyrics in both French and English?
At the beginning, I understood perfectly what it meant to have a left brain and a right brain. It took a long time and a lot of patience from my American and English collaborators, because the English rhyme and the French rhyme are so different. But now it feels natural to think in two languages. Sometimes I even dream in English. When I'm speaking to you, I don't think in French at all, but in a minute, I'm going to have lunch with my wife and speak in French.
Does it feel as if almost 50 years have gone by since you began your collaboration with Claude-Michel Schönberg?
For us, I don't feel that. We are not tired of working together or finding ourselves in the same places. We've even been on a cruise this summer together, with our wives. The big key, which we decided without even saying it, is that when we disagree, no one makes a tantrum about "You don't understand the genius of what I've done." If Claude-Michel doesn't like an idea or something I've written, or if I think the music he's done is wrong, we tell each other, and a half hour later we are rewriting or recomposing. If one of us doesn't like something, it must not be good enough.
It must be so satisfying to know that you have written two of the most popular musicals of the 20th century. What a legacy!
I cannot speak about "legacy" at this stage. We are working hard on rewriting [the 1996 musical] Martin Guerre and turning it into an opera, the next step for the third work of ours that people respect, and one I think we can improve. I'll be working on that this afternoon, in fact.
What do you hope Broadway audiences in 2017 will experience at Miss Saigon?
I hope they will see how relevant it is to modern times. And I hope that a whole new audience of young people, like in London, will come and discover it. You know how close we are with Lin-Manuel [Miranda], because he declares everywhere that Les Miz was his first inspiration. I just hope that some of the people who love Hamilton — and I am one of them — will come and see Miss Saigon.