You know that top button on your shirt, the one that can sometimes take 12 seconds to cinch?
In the uproarious musical A Gentleman's Guide to Love & Murder, now playing at the Walter Kerr Theatre, Jefferson Mays changes his entire outfit in that amount of time – complete with new hair and sometimes even a custom-fitted set of new teeth. Of course, he has more help than you probably do.
"There's a full crew of six people back there who basically don't stop," says Rob Bevenger, the wardrobe supervisor at Gentleman's Guide, in which the chameleonic Mays plays no fewer than eight members of the doomed D'Ysquith family.
To be fair, half of that six-member crew is typically working on the rest of the ensemble; with all the comic goings-on – characters are constantly being forced to change into mourning clothes – nearly every cast member has a handful of quick changes they need to execute. When all is said and done, Gentleman's Guide features a staggering 111 costume changes.
The most impressive of these invariably fall upon Mays, who plays everyone from a do-gooder dowager to a mustachioed fop to an overripe stage actress to a bright-eyed beekeeper.  Mays has already talked to Broadway Direct about playing eight deliciously doomed characters in the show.  Each of these has an elaborate costume, and his wardrobe requirements break down as follows:
Eight hats
Three mustaches
Two wigs
One monocle
One pince-nez
One set of false teeth
Rather surprisingly, just one pair of shoes
The one consistent point is that they all need to be gotten into and out of fast. That takes a lot of practice. "I saw it in San Diego," Bevenger says of the show's pre-Broadway run, "and there were a couple of times when Jefferson would come in closing his vest or fixing his tie. Our goal was that that would never happen on Broadway.
"And so far, knock wood, he hasn't entered not dressed."
Keeping it that way involves an elaborate set of choreography that both Bevenger and Brian Rardin, one of the show's stage managers, compare to a dance number. "It looks effortless out front, as it should, but it's a marathon every night backstage," Rardin says.
Rardin is in charge of the offstage area in stage right where Mays does nearly all of his costume changes. That area includes a quick-change booth also known as the "clubhouse," which is where the three crew members dedicated to Mays – two dressers and one hair/makeup person – wait for him.
In one particularly time-sensitive instance, however, the dressers actually come to him. The minute an onstage curtain goes down on Mays, the three of them spring onto the set with an entirely new outfit (including those teeth!), then vanish before the curtain goes back up.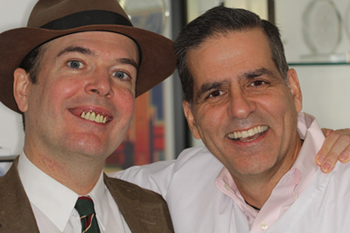 New York City based dentist, Dr. Marc Beshar has been making his patients smile for decades—especially when they are watching Jefferson Mays on stage. Jefferson called upon Marc to make him a dental prosthetic for his addled priest that would immediately convey the outrageousness of the character while still maintaining his credibility. "Whether on the stage or on the street, people form opinions of others based on teeth," says Dr. Beshar. "With one look and a simple pose, a great actor like Jefferson can communicate an enormous amount of information about the background of a character in an instant." Since every second counts in A Gentleman's Guide to Love & Murder, Jefferson says a mouthful.
How can he do all this eight times a week? "Well, for one thing, he still has pants on, even when he plays the ladies," admits Rardin, who began working out the specifics during the original Gentleman's Guide run in Hartford, Connecticut. And only one of his three mustaches is glued on to Mays's face. (One of them is painted on, and the third is actually attached to the chin strap on his hat.) Still, that leaves plenty of bosoms, petticoats, hats and wigs.
"We're constantly making adjustments," Bevenger says. "Maybe a hook would help here, or a snap could become a magnet there. A lot of the time, we're thinking ahead to what could shave a few seconds but could also keep the costumes in good shape."
That's right – 12 seconds might not be quite quick enough. "Rehearsals were about constantly making it tighter and tighter," Rardin says, "because the faster it is, the funnier it will be."
But while both men have received ample praise for Mays's quick-change act, Rardin says perhaps the best compliment of all was one of total confusion. "I've had a few friends who came to see it and didn't catch on for the first few changes that it's the same person."