Tony Award–winning director Walter Bobbie (Chicago) doesn't mince words when he talks about what it's been like to bring the musical Bright Star — currently winding down an engagement at the John F. Kennedy Center Washington, D.C., and slated to open on Broadway in March — to the stage. He says excitedly that it has been "one of the most fulfilling creative experiences I've had, period. It's been remarkable."
Bobbie has been involved with the show — with music co-composed by Grammy winners Steve Martin and Edie Brickell, lyrics by Brickell, and a book by Martin — since its earliest days. This director, associated with light fare such as Footloose as well as darker material including Venus in Fur and Chicago (for which he won his Tony), happened to be talking with a mutual friend he shares with Martin: Barry Edelstein, artistic director of the Old Globe Theatre in San Diego.
Edelstein suggested Bobbie to Martin as a possible director for the budding tuner, and soon Martin had hand-delivered an early draft of the script to Bobbie. The director read it quickly and he distinctly remembers his response: "I thought it had amazing potential. You could see how much talent was there."
Bobbie didn't only see promise in the show, which takes place in North Carolina during both the 1920s and 1940s. He also saw an almost once-in-a-lifetime opportunity: the chance to shepherd an entirely new American musical to the stage. As he says, "I think few of us have the opportunity. You know we're always doing something based on something."
The director wasn't at all unaware that such a chance does come with more than a few challenges. It's not at all, he says, like working on an adaptation. In these instances, he notes, the creators can say, "I know who the characters are and I probably know what they should sing." But with a new musical, "you don't even know what the story is."
So Bobbie, Martin, Brickell and company set out to "find out about the story and let that drive you to the music."
To dive in to the show that Martin describes as being about "a woman who discovers an amazing secret about her past," the team embarked on a series of readings and workshops as well as a production in San Diego at the Old Globe in September 2014. It was through these presentations that the show began to take shape in to what audiences are seeing right now in D.C.
Bobbie says, "I would say that, from the script I was first handed, before we did the reading at New York Stage and Film [in July 2013], I think that there are only three songs left. And even those have been remarkably repurposed because some songs that remain have been handed to other characters and were given new contexts."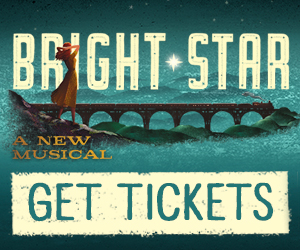 Martin, who has written plays such as the award-winning Picasso at the Lapin Agile, was prepared for and undaunted by the idea of having to overhaul what he had originally written. "When I had finished the first draft of the script, I gave it to Edie and said, 'Edie, this script has no bearing on what it will ultimately be,'" he says. "Knowing my experiences in rewriting, it was just a place to start."
In fact, Martin says, "if you compared [our current] script to the first script, you wouldn't recognize it. The script became, I believe, more structurally sound, especially after San Diego."
Brickell agrees that the show has become stronger in the past couple of years and lauds her collaborator and their director, "whose imagination and leadership would inspire 'Aha!' moments for the script." It was thanks to Bobbie, she says, that they were able to "keep moving forward and keep getting cleaner and stronger. I was really impressed and amazed by his ability to guide us toward a better story every time we got together."
It's a process that Martin describes as being like "a little puzzle that you unassemble and reassemble," and Bobbie says that both Martin and Brickell are so "delighted to be doing a musical [that] they can't wait to sit down and write new things. So it has been a delight and a very, very fluid collaboration."
Carmen Cusack, the actress who is making her Broadway debut in the show playing the central role of Alice, a highly successful editor of the Asheville Southern Journal, has been part of the company since the musical was presented in 2013, witnessed the changes and how the director and writers work together.
She has also had some input. "If Steve has rewritten a line and I look at it and he can see a question mark go up on my face, he'll come up very quietly to me and say, 'How does that feel, Carmen?' And we talk about it because he is so incredibly sensitive, and so is Edie."
Beyond refining both the book and the score, Bobbie says that he has also had the challenge of "figuring out how [Bright Star] was going to behave as a musical." Choreographer Josh Rhodes, whose recent credits include Rodgers + Hammerstein's Cinderella and It Shoulda Been You, came on board to create the dances, but Bobbie sensed that the show might need more. "I find Bright Star to be sort of a singing novella," he explains, and he was hesitant about "trying to stuff choreographic ideas into this show which were not suitable to the material or to the tone."
Working with scenic designer Eugene Lee, the man who created the environments for such iconic shows as Sweeney Todd and Wicked, the team began to find other ways to make the show move when dancing was not center stage. "[Lee is] a very skillful master. And we just started playing around with how we could make the set dance."
Bobbie says that through his work with Rhodes and Lee, as well as lighting designer Japhy Weidman, "we have found a wonderful way to move the show. I think that Josh's work is just beautiful. And the lighting just dances. There are no blackouts. . . . And Eugene has created a wonderful environment that keeps the piece totally exposed at all times, and we have embraced that idea."
It's this collective process that has made the experience "joyous," according to Bobbie, as well as Martin and Brickell. Bobbie goes on to enthuse about his work on Bright Star, saying, "It's a joy to be in the middle of a gathering of great artists, telling a soulful story that touches me."