"It was seven minutes after midnight. The dog was lying on the grass in the middle of the lawn in front of Mrs. Shears's house."
Broadway's most endearing new hero is a 15-year-old math whiz who sets out to write a detective novel about the killing of his neighbor's dog. The magical journey of Christopher John Francis Boone made Mark Haddon's novel The Curious Incident of the Dog in the Night-Time an internationally acclaimed bestseller in 2003 — and this resourceful teen is equally at home on stage, thanks to Simon Stephens's thrilling play adaptation, which took home seven Olivier Awards for its London debut.
Two years later, The Curious Incident of the Dog in the Night-Time has opened at the Ethel Barrymore Theatre, and American critics and audiences are embracing Christopher, his flawed parents, and the people of Swindon, a town 80 miles west of London. "It's such an English story, but when we put it in front of the [Broadway] preview audience, I've never seen any audience respond the way they did," Stephens says with delight. "They were engaged and enrapt; they listened so carefully and responded so warmly. I was really astonished."
On stage, the adventures of Christopher (played by recent Juilliard graduate Alex Sharp in a universally lauded Broadway debut) are narrated by his teacher (Francesca Faridany, also excellent). "He is asked by his teacher to write a book about his experiences, but dramatists deal with behavior, not thoughts," Stephens explains. "I realized that by building the play around the student/teacher relationship, it would honor Mark's vision in a way audiences could relate to. Even people who hated school have a favorite teacher."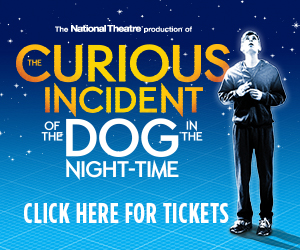 It helped that Stephens could rely on the "incredible theatrical imagination" of Curious Incident director Marianne Elliott, a Tony winner for another visionary stage event, War Horse. "Her ambition is to make theater astonishing," he says. "She's the only director who could have done this." Christopher's private world comes to life in a boxlike set designed to resemble graph paper. He interacts with his parents and neighbors (an ensemble cast juggles numerous roles), attends school, and embarks on a life-changing journey in response to the secrets he unearths. Projections and electronic sound effects reflect our young hero's racing brain as he confronts unhappy truths about his family.
"It's a play about bravery," says Stephens, noting that when Christopher declares, "I find people confusing," audiences relate, "because it's true — people are confusing! Christopher has a unique way of relating to others, and he is a tremendously brave boy — I think that's what American audiences are responding to. One of the founding ideals of the United States is that individuals faced with difficult circumstances have the capacity to achieve remarkable things if they're determined and they're brave. The way Christopher sees the world is magical, and his spirit galvanized our creative process. All of us were determined to tell his story as well as we possibly could."
The 43-year-old Stephens is well known in his native Britain as the author of 25 plays, winning Olivier Awards for Curious Incident and his 2005 multigenerational drama On the Shore of the Wide World. He adapted Ibsen's A Doll's House (which had a sold-out run at the Brooklyn Academ of Music in March) and recently completed an adaptation of his favorite play, Chekhov's The Cherry Orchard, now running at London's Young Vic. Off-Broadway, Stephens's Harper Regan won raves in a 2012 production at Atlantic Theater Company, and Punk Rock, a 2009 drama about school violence, begins performances at MCC Theater on October 29.
"All of a sudden, several things are happening for me at once in New York, which is exciting because it's a city I grew up with in my imagination," Stephens says in the northern English accent of his hometown, Stockport (near Manchester), where many of his plays are set. "I learned to read with Spider-man comics, so from the earliest possible age, the very notion of fiction was inextricably connected with New York. I love the city and feel very, very lucky to be working here."
Like his idol, Chekhov, Stephens specializes in exploring the undercurrents of family life, a gift that made him the perfect match for Curious Incident. "I was fortunate to be part of an extraordinary generation of playwrights coming out of the U.K., like Sarah Kane and Mark Ravenhill and Anthony Neilson, but none of them really wrote about families," he reflects. "That was my main interest when I started writing, and becoming a father made me understand humanity in a much deeper way. I couldn't have written the plays I've written in the past 15 years if I wasn't a dad."
Stephens and his wife, Polly, live in East London with their three children, ages 7, 12, and 16. The eldest two have seen Curious Incident, and the playwright expects to take his youngest to see it next year. "Somebody wrote that parents should be warned: Children who see this show will develop a love of theater for the rest of their lives," he says with a laugh. "Kids love it, and parents appreciate the story of how difficult it is to raise a child, regardless of medical background. I've got three lively, intelligent children I'm tremendously proud of, but sometimes I want to tear my hair out."
The most meaningful response to Curious Incident comes from families with a child like Christopher. "One woman told a cast member about seeing the play with her daughter, who turned to her at the end and said, 'Mom, that's how I see the world.' The play allowed this mother to know her daughter a little bit better. People get very emotional about this story, and hearing from families who have been touched by it is immensely humbling and inspiring."
Buy tickets to The Curious Incident of the Dog in the Night-Time.