Tony Award-winning American Repertory Theater Artistic Director Diane Paulus has a knack for developing works that make it to Broadway. Finding Neverland, Pippin, and The Gershwins' Porgy and Bess all premiered under her keen stewardship in Cambridge, Massachusetts before heading to Manhattan.
That track record did indeed bode well for Paulus' next transplant. Her new musical adaptation of the indie film Waitress is slated to hit the boards in New York at the Brooks Atkinson Theatre this spring, with previews beginning March 25.
The director and her creative team have had a lot to say about the production's bittersweet journey from the cinema to the stage.
In an interview Paulus admitted she didn't see the film Waitress when it first came out in 2007, but a few years ago, legendary Broadway producers Fran and Barry Weissler told Paulus they thought it could make a great play.
"Full confession, the DVD sat on my desk for about a year before I found the time to watch it," Paulus recalled, "and as soon as I did I knew this show had the heartbeat of a musical."
For Paulus, Waitress has all the right ingredients. Take Jenna, the main character. She waits tables at a diner, is stuck in a stifling, abusive marriage and yearns for a better life.
Then she learns she's pregnant. Paulus finds the fictional Jenna's situation riveting, and very real.
"This is the story of a waitress struggling with these issues," she said, adding, "and yet when I saw the film I thought of all kinds of people I know — girlfriends of mine — who have also struggled with the kinds of issues that this character struggles with."
In the movie Jenna pours her churning emotions into creatively named pies she bakes each day for the diner. They're a form of therapy — and escape — from her controlling husband, Earl.
Actress Keri Russell plays Jenna in the film and in an early scene tells her friends at the diner about her latest crusty concoction: "I Don't Want Earl's Baby Pie."
One friend jokes, "I don't think we can put that on the menu board."
Paulus called the film version of Waitress dark, but also quirky and funny, and said Jenna's character is complicated and vulnerable.
"For me that translated into, you know, 'who the heck can write this score?'" she remembered.
Paulus found her composer/lyricist outside the musical theater world in Grammy-nominated singer-songwriter Sara Bareilles. She topped the Billboard charts with hits such as, "Love Song."
At their first meeting, Paulus asked Bareilles to watch Waitress hoping the musician would connect with the main character, Jenna — and offered up some advice.
"Don't worry about, 'how should this be adapted? What is the outline for the musical?' Just go with your heart, your inspiration, see where it takes you," Paulus told her.
"The door felt like it opened," Bareilles said looking back on that pivotal conversation, "I felt like I really began a relationship with this character."
During our interview, standing at an upright piano in a rehearsal room, Bareilles sang the first song she wrote after watching the movie. It's called, "She Used to Be Mine."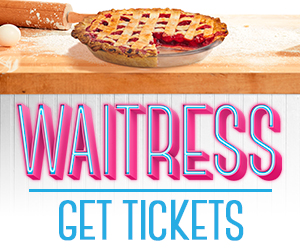 Some of the heart-wrenching lyrics include, "It's not simple to say…most days I don't recognize me…these shoes and this apron…that place and its patrons…have taken more than I gave them."
Now "She Used to Be Mine" is the centerpiece in the new Broadway musical.
Another critical ingredient in this stage adaptation of the movie is actress Jessie Mueller who plays Jenna, the waitress. She won a Tony Award in 2014 for her role as Carole King in another Broadway musical, Beautiful.
Speaking about her role in Waitress Mueller mused, "Poor Jenna Hunterson never had therapy. If she had it would be a very different play."
Instead Jenna's therapy are pies. So many pies. In the film her visually playful, revealing pie-making moments are captured through monologue, dialogue and intimate camera work. Actress Jessie Mueller elaborated.
"You get a beautiful close up on Keri Russell's eyes, and you know what's going on in her head — well you can't do that on stage, but you can have the character sing their inner thoughts," Mueller said, adding, "The music is where you get to hear the inner-workings of all these characters."
The Waitress screen-to-stage recipe has been tweaked over the course of its multi-year development, and the plot line had to be restructured. Jessie Nelson joined the team to write the dialogue, or "book," as it's known in the business.
"If you're too loyal to the movie, it won't become a musical," she reflected, "so it's this delicate dance of both honoring the spirit but allowing it to really live and breathe in another medium."
Writer Nelson and the rest of the Waitress team were also sensitive about honoring the spirit of the movie's creator Adrienne Shelly. In 2006 Shelly – who wrote, directed and had a role in Waitress — was murdered soon after finishing her film. Nelson told me she never had the chance to meet Shelly, but said she knows her work and her family well. Nelson also said Shelly's screenplay was always on her mind.
"When I was writing I really carefully went through it and tried to bring her voice into it whenever I could," Nelson said, "as if she was another collaborator in the room."
Producer Michael Roiff of Night and Day Pictures was close friends with Adrienne Shelly and retained stage rights for their film after selling it to Fox Pictures at the Sundance Film Festival in 2006. He's been part of the Waitress musical adaptation team, too.
"In a lot of ways that's been my role in the development. I'm the guy who says, 'well, this wasn't really what our intention was.'"
When asked about the emotional challenges of re-working Shelly's screenplay Roiff said, "The hardest thing on this journey has been knowing that she's not sitting there next to me. And there's a bittersweet quality to all of this. But I just hope she somehow knows — and is happy about all of it."
Roiff likes to think Shelly would be pleased with how her movie is being re-imagined as a musical for the stage. Waitress the musical takes on real-life issues such as true friendship and love, domestic abuse and the joys and fears that come with the prospect of motherhood, while being entertaining at the same time. Plus, it's packed full of Jenna's beautiful pies.
Andrea Shea is the Arts & Culture Reporter for WBUR, Boston's NPR news station, and WBUR's blog The ARTery, where this story first appeared.