Two-time OBIE award–winning artist Dave Malloy is certainly a jack of musical theater trades — and really a master of them all. The composer/book writer/lyricist/orchestrator/actor is currently represented on Broadway with the new hit show Natasha, Pierre & the Great Comet of 1812. NY1 entertainment reporter Frank DiLella recently caught up with Malloy to chat about bringing Leo Tolstoy's historic epic War and Peace into the musical spotlight.
First off, I have to say congratulations! This is your first show on Broadway, and — BAM! — you're a hit.
Thank you. It's sort of surreal. It's been a joy to see it succeed and have all my friends come with me on this journey — that's been the coolest part.
I also need to point out that you're giving celebrated recording artist Josh Groban his Broadway debut with this piece. I understand he fell in love with this show years ago Off-Broadway.
I sadly wasn't there the night he came to the show Off-Broadway, but he loved it. He asked the stage managers to be let backstage at intermission just so he could go backstage and "freak out" to people. So, yeah, he loved it. He took a photo with the cast and then tweeted about it.  For him it was love at first sight, which is so incredible; we were looking for him at the same time he was looking at us for a show.
Take me back to the drawing board: How? Why?! A section of War and Peace as material for a musical? Where did you get this idea?
I read the book while working on a cruise ship about eight years ago, and this particular section of the book just immediately sang out to me as a perfectly formed musical. Like Tolstoy laid out the perfect outline. We had the two stories that ran in parallel — like Natasha and Anatole, the love story. And then a lot of times musicals have a second couple, but in Tolstoy it's Pierre and his existential life crisis. And Pierre is like a comic clown character in some ways, a very sad and depressed one. So I loved that structure of having a typical romantic Broadway couple and then this philosophical and existential character. And I love the way the two stories intersect at the very end, and they both have this transformative moment. And the final moment in Tolstoy where our show ends — I can't read it without crying. So I immediately thought, This is the perfect musical!
Can you talk about the music vocabulary for your show?
I definitely was listening to a lot of classical Russian music and Russian folk music and also Russian rock and pop music from the '60s and '70s. But at the same time, my general musical taste is pretty eclectic. Like, I like different styles of music, and that influences the way I compose. When I compose I don't try to write in a particular style, I just go, OK, I have a billion things available to me; which will help tell the story the best? A lot of my music is character-driven, like Sonya's solo. When I read that text, I was like, This is a beautiful indie-rock song — this should be a folksy indie-rock song. And when Anatole is bragging about how wonderful he is, his electricity and sensuality said techno music to me.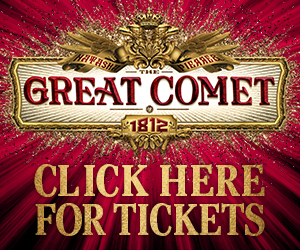 Let's talk about the growth of this piece. The Great Comet originally had its world premiere at the tiny Off-Broadway space Ars Nova in the fall of 2012. And since its debut, the musical has grown a great deal. How much has the show changed over the years?
I think for me, the coolest addition of the piece has been the growth of the ensemble. We started out where the 10 leads were the only actors on stage. When we transferred to Off-Broadway, we added a six-person chorus, and then that changed to 12 people at the American Repertory Theater in Cambridge, Massachusetts. And now we're over 20 with ensemble members on stage on Broadway. So someone in the audience is always close to a performer.
Were you ever hesitant to take this show to Broadway due to its atmospheric nature?
Not really, honestly. When I was writing the show, I come from an experimental-theater background, so the experiment for this, for me, was to see if I could write a Broadway-style musical. So Les Misérables was the template for my show. I never thought Broadway would happen, but that's what I wanted to do. And as far as the staging goes, when the idea of Broadway started to get thrown around, I think [director] Rachel Chavkin and I were adamant about doing Broadway but on our terms. Like, we're not going to turn this into a proscenium-style show — we need to keep the design of this show intact — and if we could figure out a way to do that on Broadway, we will. And luckily, our producers agreed with us, and it took us a while to get there, but we're here.
You're giving a lot of folks their Broadway debuts with this musical.
That has been the coolest part: to bring along all my friends on this ride, especially people who have been with this show since Ars Nova. A lot of them were not theater performers. Brittain Ashford has been a singer/songwriter I've known for years. Gelsey Bell works in experimental music and opera. So the fact that I asked them to be in this little weird show at Ars Nova four or five years ago and that has resulted in them being in a Broadway show is incredible!
And it was recently announced that you will be making your Broadway stage debut in your show in the spring.
I'm so excited, I mean, what's the phrase? I can have my cake and eat it too? [Laughs.] I get to go in and do 10 shows! I just wanted to do it a handful of times just to say that I had done it, and again doing it with all my friends.
Who are your musical-theater idols?
Sondheim, for sure. Also, Claude-Michel Schönberg and Alain Boublil, because I grew up on Les Misérables and Miss Saigon. Those two shows are etched into my brain. And I think of a lot of older things, like West Side Story and The Music Man. I just saw Fiddler on the Roof and loved it so much.
I understand you're working on musicalizing another classic text for your next musical-theater project?
I'm doing Moby Dick next, and I think similar to War and Peace, what attracted me to both of those novels is the epic scope of the novels. In the content and in the form, both of those books are very strange books. Moby Dick has the narrative going on but then there are all these chapters about whaling, and one chapter is an encyclopedia, and I love that idea of playing with form. So I try to apply that to theater as well.
What is the timeline for Moby Dick?
In February we're doing a big workshop at Berkeley Rep, which hopefully will lead me to a complete show, and we'll take it from there.
The Great Comet is just a section of War and Peace. Do you have any plans to create a part 2?
Totally. Rachel and I have joked about that! But we've talked about if we did do another section, we would want to do a "war section," because The Great Comet is a peace section. And we thought about doing a grand-scale war section, like, on Governors Island — like an outdoor battlefield–type event.