In the chaos that followed the 9/11 attacks, the tiny town of Gander, Newfoundland, found itself playing host to almost 7,000 strangers stranded after 38 international flights were diverted to its airport. The generosity extended to those frightened passengers comes to life anew on stage in the heartwarming musical Come From Away.
The title of this acclaimed original show, which begins performances on February 18, 2017, at Broadway's Gerald Schoenfeld Theatre, refers to visitors who "come from away" to Newfoundland, the easternmost point in North America. Once prominent as a refueling stop on transatlantic flights, Gander's airport had seen its traffic dwindle by 2001, but the 9,000 townspeople leaped into action when American airspace closed that September 11. Soon, every home, gymnasium, and public space was packed with air mattresses and sleeping bags as locals took care of people desperate to get home, forming relationships that continue more than 15 years later.
"It's an inspirational story about how one small town responded to a huge event," says David Hein, coauthor of Come From Away's music, lyrics, and book with his wife, Irene Sankoff. As Canadians, the couple had heard about Gander's post-9/11 role and traveled there on the 10th anniversary of the attacks to conduct interviews for a possible oral history–style theater piece. But it quickly became clear that the area's Celtic musical heritage would need to play a central role.
"Newfoundland is this rock in the Atlantic Ocean, with some of the worst winters in the world," says Hein. "For hundreds of years, people there have survived by gathering in their kitchens and in pubs to sing, dance, tell stories, and play instruments. It's a wonderful culture in which music creates community." Having grown up listening to Newfoundland bands, Hein was excited to transform the experiences of the people he and Sankoff met into songs fueled by hand drums (bodhrans), fiddles, pipes, accordions, "and something called an ugly stick, which is basically a mop screwed into a boot with bottle caps on the side. It's a traditional sound you've never heard on Broadway."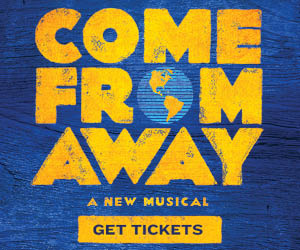 Over the course of 100 minutes, the show's ensemble of 12 actors juggles five to 10 roles apiece, with split-second switches between the Ganderites (and their distinctive accent) and "come from aways" of multiple nationalities. "I was amazed by the generosity of the women of Gander and how much they took on," says Sankoff, citing Bonnie Harris, manager of the local SPCA, who systematically searched every plane's cargo hold for animals and then provided round-the-clock care. Beulah Cooper housed five people in her small home and accompanied American mom Hannah O'Rourke to church every day to pray for O'Rourke's son, a New York City firefighter. "There were thousands of Beulahs," Sankoff says, "and we came back wanting to tell their stories."
One of the musical's most striking characters is Beverley Bass, American Airlines' first female pilot, who sings of her lifelong obsession with flying in "Me and the Sky" — and her bittersweet realization that "the one thing I loved more than anything was used as a bomb." A happier tale is that of an English oil executive who met, fell in love with, and later married a divorced woman from Texas. Says Hein, "Every story we heard was distinctive, and it was a gift to be able to write from the grounded place of people's own words and memories."
Christopher Ashley, Come From Away's two-time Tony-nominated director, envisioned the show as a "tapestry of storytelling" tracing the bonds that developed in Gander. "The actions of that week kind of blow your mind," he says. "These folks stopped their lives to house and feed and entertain and emotionally care for thousands of traumatized people coming off planes. This was not casual generosity; this was profound kindness."
Come From Away arrives on Broadway in a postelection period of national soul-searching. "We're living in a time of so much anger," notes Ashley, "and it feels right to tell a story about community and caring." In four record-breaking pre-Broadway mountings of the show, the reaction of theatregoers never varied. "From the first performance in La Jolla [California], it was clear that the audience had a strong emotional connection to the material," Ashley says. "They were scrolling through their own memories and feelings while watching our story of the events in Newfoundland."
"We've seen the show a million times, and it's still this incredible theatrical magic trick," Hein says of the dynamic staging and performances. "People ask us why we are telling a 9/11 story now, and we tell them that it's really a 9/12 story, about how this town responded to a larger event. Audiences are eager for stories about people being nice to each other. The show resonates with every age group; people who have seen it want to share it with their parents or their children."
Of course, no audience mattered more to the cast and creative team of Come From Away than the people of Gander, who were treated to two emotion-packed benefit performances in late October. Five thousand spectators packed the local hockey rink and gave the show a raucous standing ovation, laughing at jokes about Screech (a strong local rum) and the tradition of kissing a cod in order to become an honorary Newfoundlander. "The waves of appreciation and joy we felt from those audiences was unlike anything I've experienced," says Ashley, a 20-year theater veteran.
Looking back at the response of Ganderites, Sankoff says, "the people there insist that anyone would have done what they did. But that's what's extraordinary about it: the fact that they think it's ordinary." Their experience in Gander continues to inspire the Come From Away creators, all the way down to Hein and Sankoff's 3-year-old daughter, Molly, who refers to the cast as "my people." Says Hein, "It's a perfect story to share with our daughter on the importance of being compassionate."
Agrees Ashley, "Everyone involved with this show poured their heart and soul into it. It really matters to us to honor the experiences of the real people who inspired it, and to tell a story that brings hope into the world."