In a Broadway career spanning more than 25 years, Rebecca Luker has earned three Tony Award nominations for playing classic musical heroines in Show Boat, The Music Man, and Mary Poppins, plus starring roles in The Phantom of the Opera, The Secret Garden, The Sound of Music, and more. Now, the Alabama-born soprano is getting set to take on a very different type of matriarch in the Tony Award–winning hit musical Fun Home, and she couldn't be more excited.
"This is such a moving show, terrifically funny and relatable," says Luker, who will play Helen Bechdel for a limited engagement through May 22 while Judy Kuhn, Fun Home's Tony-nominated original star, recovers from hip surgery. "It's the kind of show you can see again and again and find new things every time."
Based on Alison Bechdel's graphic memoir, Fun Home looks back at a young lesbian artist's coming of age near the funeral home run by her father, a closeted high school teacher in rural Pennsylvania. Alison is portrayed by three actresses of different ages, including Tony nominee Beth Malone as the adult narrator, with 2015 Tony Award winner Michael Cerveris as Bruce Bechdel and Luker as his once-idealistic wife, whose dreams have curdled in the face of her husband's secret life.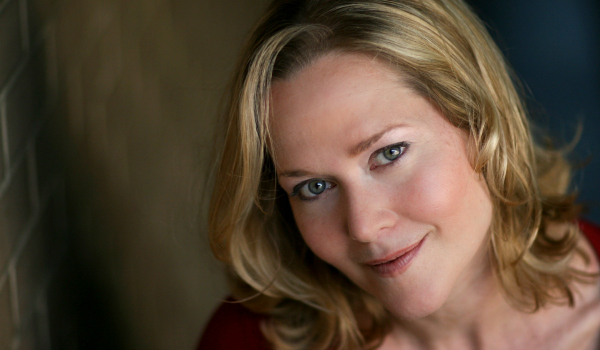 Luker praises her Fun Home character as "a deep, complicated person. She has a tortured relationship with her husband, but she loves him and their children. She's an accomplished, smart woman — she's an actress, she plays piano, she's a teacher — so even though it's the 1970s, you wonder why she stays with this man. But there's some kind of unspoken bond that keeps them together."
An acclaimed interpreter of songs by Rodgers & Hammerstein, Stephen Sondheim, and Jerome Kern, Luker is especially enthusiastic about performing Jeanine Tesori and Lisa Kron's Tony-winning Fun Home score. "The music is very original," she says. "I love theway Jeanine uses '70s pastiche to enrich the story, but the score also has lyrical, gorgeous melodies," including "Days and Days," Helen's show-stopping ballad. "I don't get to sing a lot of contemporary music, and I'm really enjoying it."
Fun Home's critical and box office successes come as no surprise to Luker. "First of all, [librettist] Lisa Kron and Alison Bechdel really understand how to write about children," she says. "What kid hasn't felt that they don't know what direction their life is headed? What kid hasn't felt that their parents don't understand them? Straight or gay, what young person hasn't had questions about sexuality and who they are? Even the dark moments in the show are handled in a way that is very moving and hopeful, couched in this wonderful score. It's just layer upon beautiful layer."
Having shot to stardom as one of the first Christines in Phantom, Luker quickly became Broadway's favorite cool blonde heroine, which turned out to be a mixed blessing. "It's easy to get boxed in," she says of her musical résumé. "To a certain extent, I did that to myself willingly, but you get frustrated when you try to do something different."
Happily for Luker, typecasting wasn't an issue with Sam Gold, Fun Home's Tony Award–winning director, who had no preconceived notions about her ability to play a darker role. "Sam had never seen me in anything and wasn't that familiar with my career," she says, "so when I walked into audition, I was just an actress to him, which was wonderful."
In addition to her own Tony nominations, Luker has had aisle seats on Broadway's big night five times supporting her husband of almost 16 years, Danny Burstein. (The versatile Burstein will likely receive his sixth Tony nod in May for playing Tevye in Fiddler on the Roof.) The couple commute together to Broadway from their Upper West Side apartment, with weekend escapes to a cabin in the Poconos. "Our shows are three blocks away from each other, so we can visit," she says of Circle in the Square and the Broadway Theatre. She's also the proud stepmom of Alex Burstein, a 23-year-old filmmaker, and Zach Burstein, a 20-year-old psychology major at Queens College.
Competition has never been an issue for Luker and Burstein, who met while costarring at a regional theatre and recently played the parents of a transgender child on Law & Order: SVU. "If I could choose which of us would be working all the time, I would definitely choose Danny," Luker says. "Work is a deep, deep part of who he is, and I do better keeping the home fires burning and our lives humming along." It helps that Luker, a busy concert artist, has nothing to prove professionally. After a limited Broadway engagement as the fairy godmother in Cinderella, she created a lead role in the ballet-centric musical Little Dancer at the Kennedy Center, directed by Susan Stroman. Development of the show "is still very much bubbling," she reports. "It's a compelling story, and I think it's [Lynn Ahrens and Stephen Flaherty's] best score to date."
Meanwhile, the actress is thrilled to be reunited at Fun Home with Michael Cerveris, her costar in a 2002 Kennedy Center production of Sondheim's Passion alongside Judy Kuhn as Fosca. "It's weird and wonderful," she laughingly says of her history with Cerveris and Kuhn. "The three of us had such a great time working together. Michael gives 150 percent on stage, and he is the sweetest human being. He's the first person I heard from when I was cast [as Helen]. And I'm so happy to relieve Judy, who is a good friend. She'll feel better when she comes back, and I get to do this great show for two months!"
Photo credit: Laura Marie Duncan