The twentieth century was often called the American Century, but in the world of popular culture, and particularly the theater, it was the Hirschfeld Century.
During that 82-year era, Al Hirschfeld both recorded and defined so much of popular culture, especially in his drawings of productions on Broadway and in Hollywood. Now in a new book The Hirschfeld Century: Portrait of the Artist and His Age, and a companion exhibition at the New-York Historical Society (now through October 12), for the first time fans will get a chance to learn where his line on the lively arts came from and have the opportunity to trace this lifetime of line in all its forms. In more than 350 illustrations (nearly 100 in color) that span from his earliest works to his last drawings, you will come face to face with art that spans most of the 20th century and into the 21st; nearly half of this work has never been collected in a Hirschfeld book before.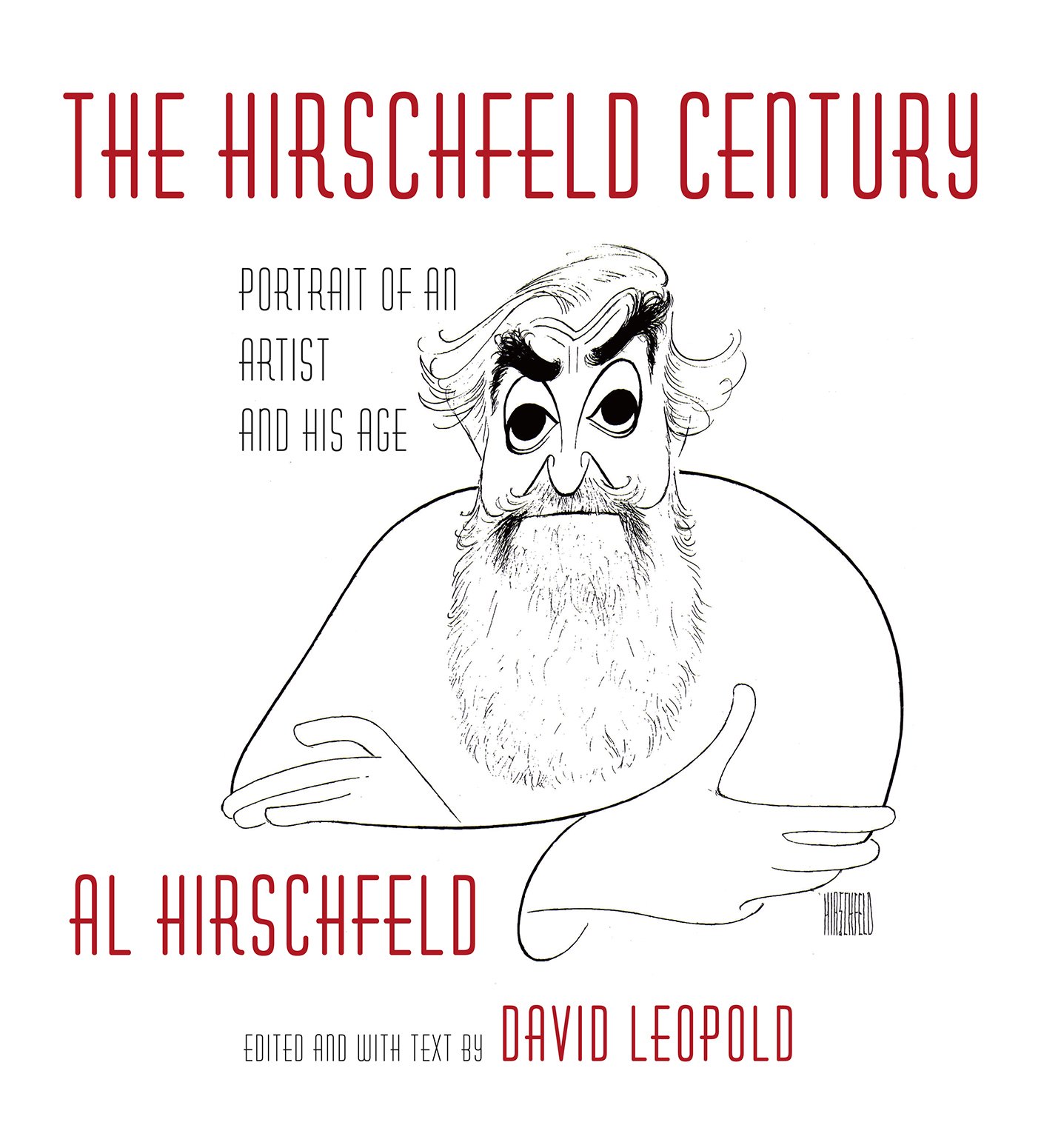 The name Al Hirschfeld has been virtually synonymous with Broadway since his first theatrical drawing was published in December 1926. By 1928 — the year he began his 75-year relationship with The New York Times — his theater work was in at least one of three Sunday New York newspapers every week, reaching tens of thousands of people. Broadway was still the top of the entertainment pyramid in the 1930s, and Hirschfeld captured virtually all the important performers of the era. Fred Astaire, Orson Welles, Laurence Olivier, Ethel Merman, Bojangles, and the Lunts were among hundreds who trod Hirschfeld's boards in productions including Anything Goes, You Can't Take It With You, and Private Lives — productions that would become legendary, and all are represented in The Hirschfeld Century.
Broadway itself was entering the height of its cultural importance in the 1940s and 1950s, and songs from the great musicals such as Oklahoma!, On the Town, The King and I, My Fair Lady, West Side Story and The Music Man were entering the American vernacular. Dramas by Arthur Miller and Tennessee Williams introduced a grittier type of poetic realism that struck such a universal chord, that they are still regularly revived today. Hirschfeld had made the theater an art that everyone enjoyed. More saw his drawings than saw the shows themselves. Even if one was not a theatergoer, by looking at his art every other week in The New York Times, one had a sense of what was happening on Broadway. "In the theatre, the caricatures of Hirschfeld require his name no more than Broadway needs a street sign," wrote one critic. But beginning in late 1945, the name they did require was his daughter's, Nina, which he facetiously hid in a drawing when she was born, and soon found it was more important than including his own. Sunday mornings looking for Ninas was a ritual shared by individuals and families across the country. Over the decades it became a game played with children and grandchildren. Finding Ninas was an unspoken initiation into the world of Broadway. For Hirschfeld, it became second nature, with Nina appearing spontaneously as he drew, forcing him to count them at the end just like everyone else. At the suggestion of a reader in 1960, Hirschfeld began to let readers know how many Ninas were in a drawing by putting a number next to his signature.
In the 1970s, his sixth decade as a working artist, Hirschfeld was even more ubiquitous than he was at the age of 25, and his work bristled with a vitality that an artist a quarter of his age was unlikely to master. He had not only outlived many of his contemporaries, he remained a vital part of the world of popular culture. For Hirschfeld, no matter the subject, it was the graphic equation that he created and would try to solve, not by repeating himself, but by continuing to explore the possibilities of image in pure line.
Every week in the 1980s, there was a Hirschfeld drawing in the Friday theater column in The New York Times. The "Friday drawings" were a diary of not only what he saw, but also of what interested him graphically in his work. Week in and week out, he was continually exploring what he could draw, and not draw, to make an effective work. There has never been such a diary of an artist's work of Hirschfeld's stature that was played out in public every week. It was as if he was filing weekly reports on characters on stage in New York, as well as his own aesthetics. To look at the Friday drawings now is to realize that this is where he was experimenting in his quest for simplification and elimination the most.
The 1990s brought color to the pages of newspapers. Although Hirschfeld first resisted requests to do color work for the Times because he felt the reproduction process was not very good, he began to create enchanting color images for the paper in 1994, beginning with Disney's Beauty and the Beast. He discovered new ways to portray image and color in pure line. p>
Into his late nineties, Hirschfeld continued to go out almost every night or have friends over to his home for dinner and conversation. His drawings remained on the front page of the Arts and Leisure section of the Times, and his art was in high demand by publications and art directors everywhere. The digital age changed little of his approach. He was the subject of the first CD-ROM dedicated to a living artist and had participated in the first cellular wireless remote online conference, yet he continued to use only a pencil, pen, and ink to create his drawings.
Change did not bother Hirschfeld all that much. "I live pretty much in the present. The past and the future don't interest me. I just accept the times . . . I don't editorialize and wonder if this is better than what came before or what happened to the old-fashioned musical." His interest in the here and now proved to be his winning formula: He never went out of date, as can be seen in his drawings of Hairspray, Mamma Mia!, and Phantom of the Opera. Just before his death in January 2003, he learned he was to be awarded the Medal of Arts from the National Endowment of the Arts and inducted into the Academy of Arts and Letters. The winner of two Tony Awards, he was be given the ultimate Broadway accolade on what would have been his 100th birthday in June 2003: The Martin Beck Theatre was renamed the Al Hirschfeld Theatre.