It's that festive time of year again when we're dashing about, trying to find the perfect holiday gifts for our friends and family. Buying gifts for those of us enamored with Broadway can sometimes be a challenge for our loved ones who have not been indoctrinated into the Broadway Lovers Club. But have no fear: Here are some insights and ideas for those who have no idea where to begin, as well as a checklist of gift ideas for those in the know but who haven't finalized their shopping lists yet.
---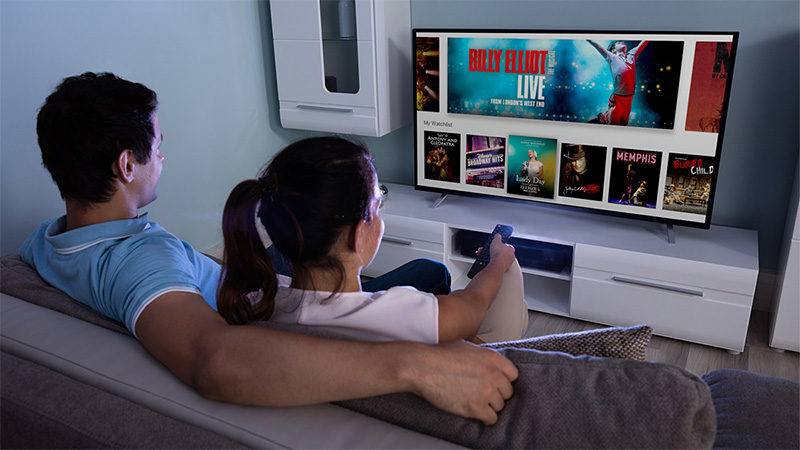 To start, one of the hottest gifts this season is a subscription to the streaming site BroadwayHD. For $8.99 a month or $99.99 a year, theater lovers can watch dozens of shows that were recorded live in the theatre. Among the available titles are recent Broadway hits Present Laughter, Holiday Inn, Falsettos, She Loves Me, Lady Day at Emerson's Bar and Grill, and Cats. There is also a wide range of classics, concerts, and behind-the-scenes videos guaranteed to provide countless hours of viewing pleasure.
---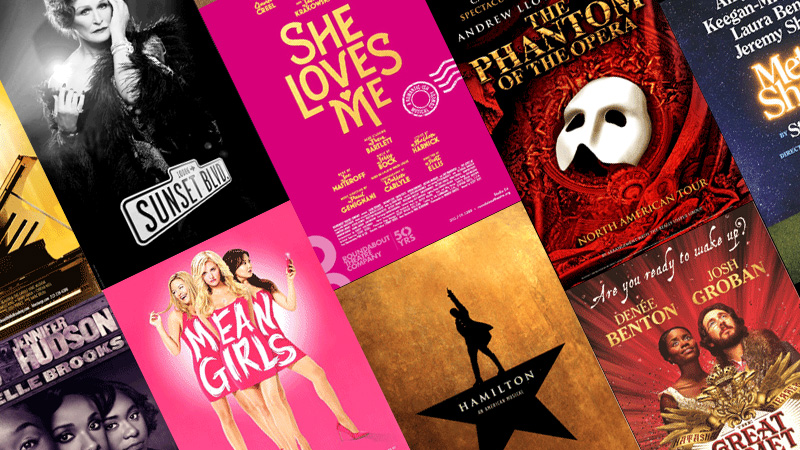 For decades, one of the best places to buy a Broadway enthusiast the perfect holiday gift has been Triton Galleries, currently located at 690 8th Avenue between 43rd and 44th Streets (on the 6th floor), with their online store at broadwayposters.com. The store is chock-full of classic and contemporary Broadway posters and show cards, and the staff is glad to frame your purchases. Triton Galleries carries most of the current and recent Broadway shows in their stock, but even more delightful is the plethora of rare gems and reprints of flops. Where else can you find the poster for Flahooley and have it beautifully framed for that theater collector who has everything?
---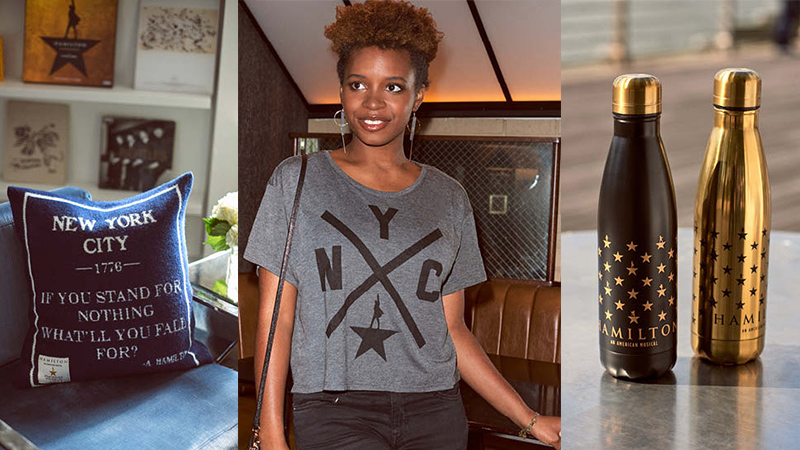 The ongoing obsession with the musical Hamilton carries over into this holiday season, and what better way to make a fan happy than to buy them some gifts from the Hamilton online store? It features a wide range of clothing and souvenirs celebrating the Tony-winning hit. Visit broadwaymerchandiseshop.com to find what you're looking for.
---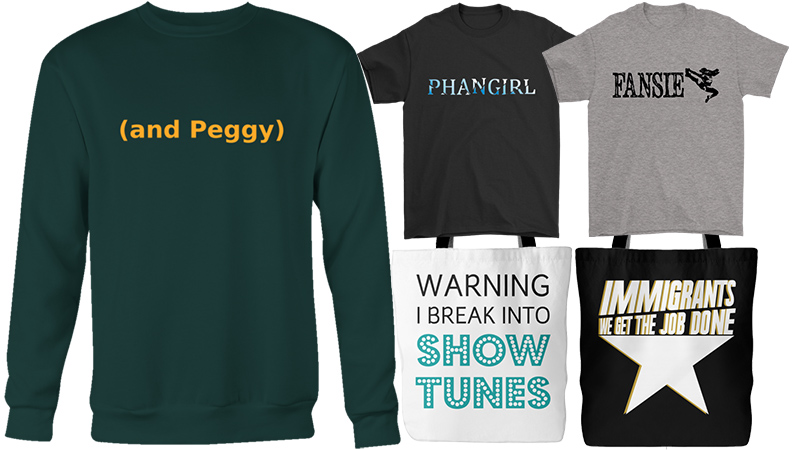 For those who have a wide range of theater interests and who like to spread their enthusiasm over several shows, try shopping at the Swag Shop for Theatre Nerds, found at thespianswag.com. A bevy of Broadway-related items, including mugs and T-shirts, is available, and shoppers can also purchase some lovely jewelry and clever novelty items, all linked to the wonderful world of the stage.
Of course, 2017 has been a banner year for original Broadway cast recordings, with so many new and revived musicals. Among the myriad titles to consider, why not treat a friend or family member to Anastasia (Broadway Records), Bandstand (Broadway Records), Come From Away (The Musical Company), Groundhog Day (Masterworks Broadway/Broadway Records), Hello, Dolly! (Masterworks Broadway), Holiday Inn (Ghostlight Records), In Transit (Hollywood Records), or War Paint (Ghostlight Records)? All of these are available for purchase or download on amazon.com. Understandably, if you cannot afford so much music or you aren't sure what might appeal to your giftee, consider Broadway Records's 2017 Tony Award Season album, a musical collage of the best numbers of the 2016–2017 season. It's the perfect way to commemorate a year in musical theater while bestowing the gift of music.
It may be an oldie (2004) but it's a goodie, and the perfect gift for the friend or family member who appreciates musical theater and its rich history: Broadway: The American Musical is a theater historian's dream, a six-hour PBS documentary that explores musical theater as an evolution of an American art form. From its origins in The Black Crook to modern-day blockbusters such as Wicked, it's an intelligent and passionate story, hosted by Julie Andrews.
There is always the gift of live theater, ideally the pinnacle of all gifts one can give a Broadway enthusiast for the holidays. If you are uncertain which show to choose for someone else, however, you can always turn to the safe and secure option of the gift certificate. The Theatre Development Fund (TDF) is a good place to look for live theater gift ideas. They offer gift certificates in increments of $25 for their TKTS Discount Tickets Booths. TDF is a nonprofit organization, created with the conviction that the live theatrical arts afford a unique expression of the human condition that must be sustained and nurtured. TDF's twofold mission is to identify and provide support, including financial assistance, to theatrical works of artistic merit and to encourage and enable diverse audiences to attend live theater and dance performances in all their venues. So you are not only buying an amazing gift, but contributing to an organization that has a great impact on the theater community. Visit tdf.org for more information.
---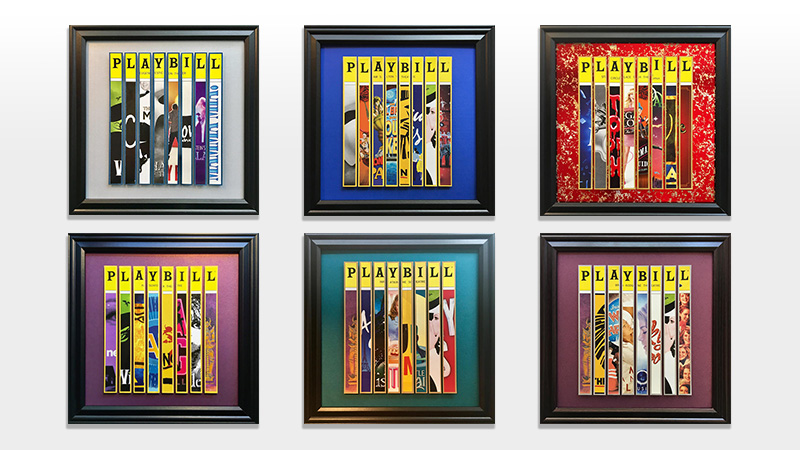 For a sublimely unique gift that's a bit more out of the box, why not dazzle a friend with a piece of custom theatrical artwork? At Art of Broadway, you can commission a custom piece of Broadway-inspired art, using theatrical playbills as the basis for creating an eye-capturing, visual feast. Check it out at etsy.com.
---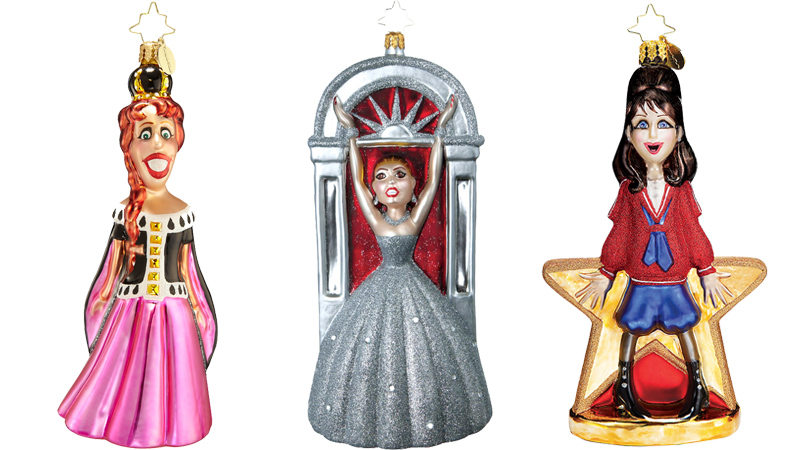 For the person who simply has everything, or for a person who has a big heart and doesn't want you to spend money on them, a gift that is certainly in keeping with the spirit of the season is a charity donation in your loved one's name. There are so many theater-related charities (and those near and dear to the theater community's heart) that can benefit from your donation. Among them are Broadway Cares/Equity Fights AIDS, Broadway Barks, The Trevor Project, and The Broadway League. Broadway Cares also has its own line of merchandise called the Broadway Cares Collection, which includes hats, T-shirts, Christmas ornaments, books, and music. Visit Broadway Cares to browse and shop for a good cause.
'Tis the season to give from the heart, and giving the gift of Broadway, its performances, its music, and its community is the perfect way to do just that while putting a smile on the face of even the biggest Scrooge among us. Happy shopping.
Mark Robinson is the author of the two-volume encyclopedia The World of Musicals and maintains a theater and entertainment blog at markrobinsonwrites.com.