In a Broadway-musical landscape that skews heavily toward movie adaptations and jukebox shows, the arrival of an original musical written and directed by three-time Tony Award winner James Lapine is cause for celebration. Adding to the excitement is Lapine's daring notion of exploring the lives of three remarkable 20th century figures — Cary Grant, Clare Boothe Luce, and Aldous Huxley — through the lens of their real-life experimentation with LSD. The aptly titled Flying Over Sunset began performances at Lincoln Center Theater's Vivian Beaumont Theater on November 11.
Only the author of the groundbreaking, Pulitzer Prize–winning Sunday in the Park With George (with Stephen Sondheim) and Falsettos (with William Finn) could envision a musical about celebrities tripping on acid in the mid-1950s. Lapine's inspiration was a 2010 Vanity Fair article on the then-legal phenomenon; it got him pondering why a world-famous trio would feel the need to take a hallucinogenic drug prescribed by a psychiatrist.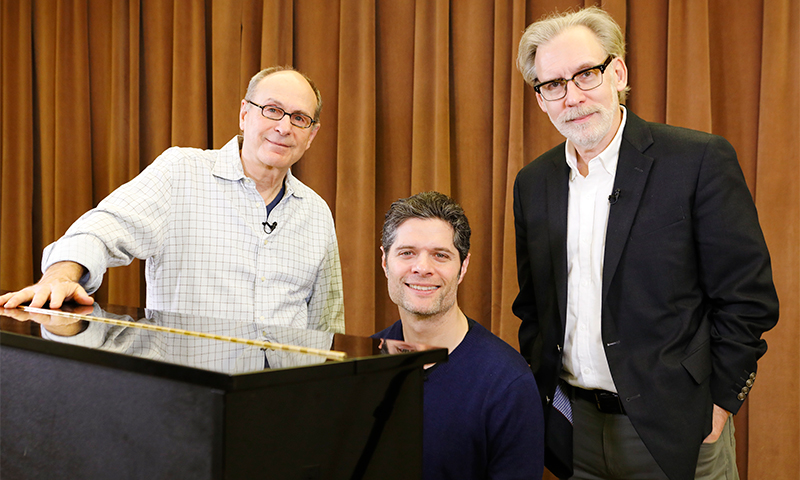 "The show is about three fascinating individuals at a midlife crossroads who take LSD to bring some clarity to their lives," says Lapine, chatting with Broadway Direct in the Beaumont lobby after a final round of auditions. "In the eyes of the world, they were extraordinarily accomplished, but in their own lives, they felt incomplete. That [dilemma] felt very contemporary to me; it's a story that audiences can relate to, with or without LSD."
Flying Over Sunset imagines individual "trips" for the three characters in Act One and a joint experience with the drug in Act Two, set to a gorgeous original score by two-time Tony winner Tom Kitt (Next to Normal), with lyrics by Tony nominee Michael Korie (Grey Gardens). "The device of the show is that people sing only when they're on LSD," Lapine explains. "The lyrics express the visions they are having, and that informs the feel of the music." Acclaimed dancer and MacArthur "genius grant" recipient Michelle Dorrance brings "a percussive heartbeat" to the score in her theatrical debut as a choreographer. "It's a wild ride," Lapine promises.
Leading the 10-person cast are Tony nominees Tony Yazbeck (On the Town) as Grant, Carmen Cusack (Bright Star) as Luce, and Harry Hadden-Paton (My Fair Lady) as Huxley. "Cary Grant was a vaudevillian as a child, and I thought, 'What if he was a tap dancer?'" Lapine says. "That led me to Tony Yazbeck, one of the most extraordinary dancers we have. I knew I wanted to work with Carmen after seeing Bright Star; she had also played the lead in Sunday in the Park in Chicago, and she brings tremendous depth to the role of Clare. And I couldn't imagine any other actor to play Aldous Huxley – Harry was wonderful as Henry Higgins in My Fair Lady, and this role is a perfect fit."
A quick recap of what the show's protagonists were up to, circa 1957: Grant reigned as Hollywood's most debonair movie star, headlining Hitchcock thrillers and wooing Grace Kelly in To Catch a Thief; Luce, author of The Women and a former Congresswoman, had recently completed a stint as U.S. ambassador to Italy; and Huxley, distinguished intellectual and author of Brave New World, had moved from England to Los Angeles to become a screenwriter.
"These were self-invented people," Lapine says, noting that Grant and Luce overcame troubled childhoods, and Huxley fled his famous family to create a new life in L.A. Each was dealing with the loss of loved ones through death or divorce when presented with the option of ingesting LSD under a doctor's care. "They did it as a means to an end — to explore their lives and face hard truths, as well as what's humorous and ridiculous about life." Almost as an aside, Lapine mentions that he took LSD in the late 1960s while studying photography and graphic design. "It was entertainment," he says now. "I did it mostly out of curiosity and also for the visual aspects, but [Grant, Luce, and Huxley] did it to ask themselves big questions."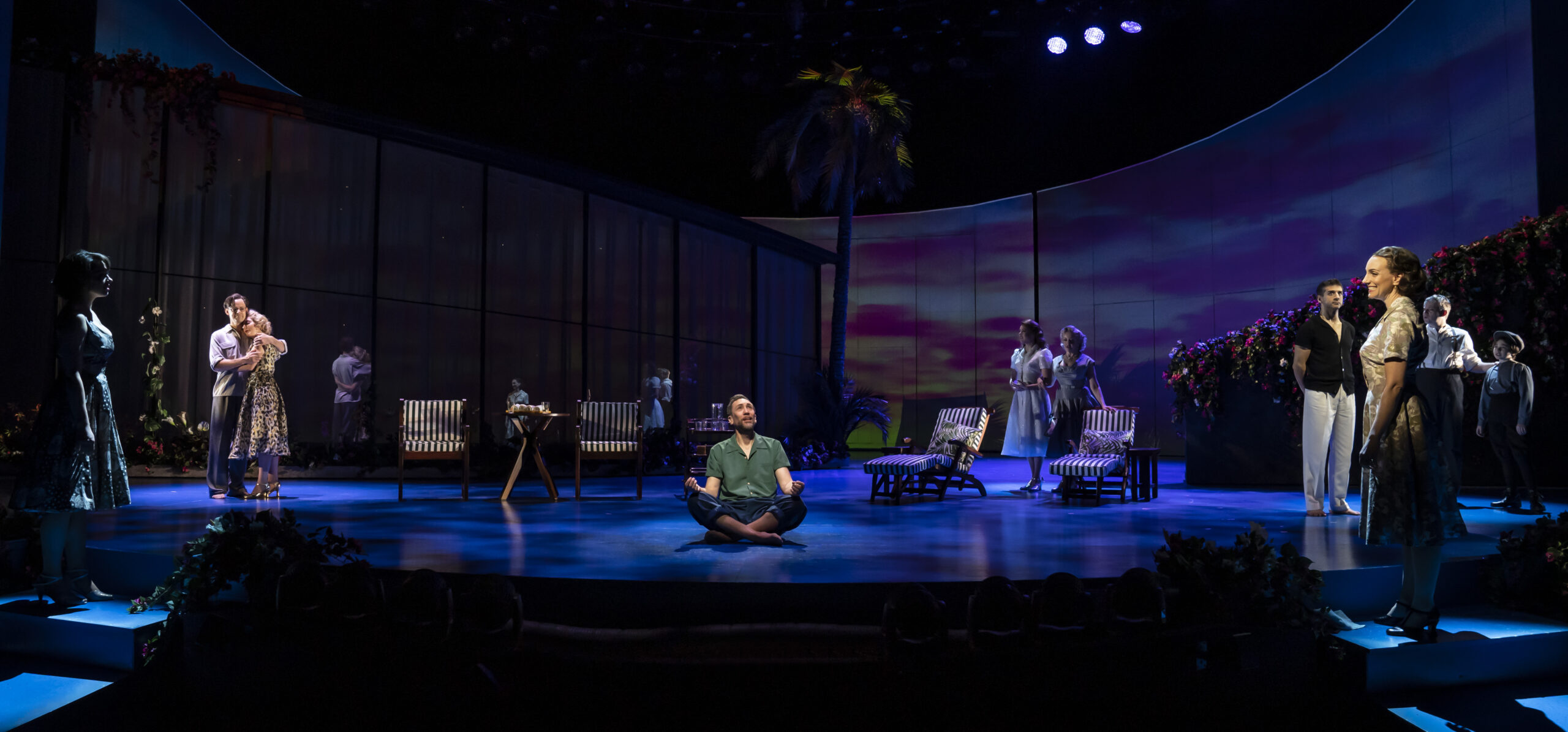 For Lapine, LSD is merely the means to explore the inner lives of characters he finds fascinating, something he's done in every play and musical since Twelve Dreams caught Sondheim's attention in 1981. "I would love to spend an evening with each of these people," he says of the Flying Over Sunset trio, "let alone take a trip with them. I didn't invent them, but I had the good luck of being able to dramatize them."
After four decades in the theater, Lapine still gets a thrill at seeing a new show come alive in performance. "It's all in my head visually," he says of combining writing and directing. "When I write, I'm not just hearing it, I'm seeing it." The vast stage of the Beaumont, home of Lapine's 2014 Tony-nominated play Act One, allows plenty of space for the characters to let loose in Luce's Malibu home after stops in Connecticut, Washington, and the country's largest Rexall drugstore, site of Huxley's first trip. "Because of the depth [of the Beaumont stage], you can do visual things you can't do anywhere else," he says. "It's a wonderful challenge."
Audiences can sit back and savor the trip with three captivating people. "I think everyone will enjoy being in their company as much as I do," Lapine says. "My hope is that if you come see Flying Over Sunset, it will be like no other show you've seen. That's a rather audacious thing to say, but I think the show will make people think about their lives — in a good way. It's hard to describe, but it's a lot of fun."
Photo by Joan Marcus.
Flying Over Sunset began preview performances on November 11, with an opening date set for December 13, only running for a limited time of 12 weeks only.