Jessie Mueller was nominated for a Tony Award for her first Broadway role, in a supporting role in On a Clear Day You Can See Forever in 2012. She of course won the Tony for Best Performance in a Leading Role for Beautiful: The Carole King Musical in 2014. In between, she was also Drama Desk Award–nominated for her appearance in The Mystery of Edwin Drood in 2013.
Putting those three shows together, you might say of Mueller's gorgeous, distinctive, character-driven vocals that on a clear night in the theatre, you could hear her forever; there's no voice more Beautiful; and it's no mystery why she's emerging as one of the brightest and best new stars on Broadway this decade.
The Illinois-born Mueller, now 32, emerged after graduating from Syracuse University in 2005 to quickly blossom on the Chicago theater scene, where she won that city's Joseph Jefferson Award for Best Lead Actress in a Musical for starring in a revival of She Loves Me (a show that is coincidentally receiving a Broadway revival this spring).
Now she is about to star in Waitress, the new debut musical of chart-topping singer-songwriter Sara Bareilles, based on the 2007 film of the same name that premiered at Cambridge, Massachusetts's American Repertory Theatre (A.R.T.) last summer, and now arrives at Broadway's Brooks Atkinson Theatre from March 25.
The show has undergone a comparatively fast journey from screen to stage: Bareilles was first approached about it just two years ago, and Mueller came on board for a workshop a year ago. "There was a workshop before that I was not able to do because I was doing a show at the time already," says the buoyant Mueller, referring to Beautiful. "They had sent it to me and I was blown away, but I couldn't do both. I couldn't even audition for it, but I have to say I loved it already! Then, two Christmases ago [i.e. a year ago], my agent called me again to say there was another workshop, and did I want to do it? I had lunch with Diane Paulus, who was directing it, and of course said yes!"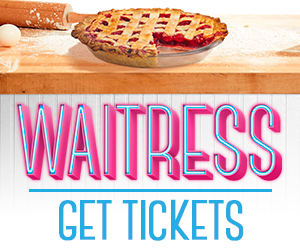 While Carole King herself did not attend Beautiful till well into the Broadway run, Mueller notes that Bareilles was involved all along the way. "It was one of those 'pinch me' moments — to watch her writing this in front of our eyes. I got to talk to her about the lyrics and why she chose particular words, for instance, and whether particular keys fit with my voice. She was quite amazing in that way — she's so strong, but not precious about her work. If something isn't working and she really loves it, she will let you know why it is the way it is; but otherwise, she's cool about changing things to find something that works."
Mueller admits that she was mostly unfamiliar with King's work before she did Beautiful. "I didn't know Carole King's catalog that well — I hadn't been handed Tapestry early on growing up. While I came to Joni Mitchell in high school, I hadn't gotten my Carole King 101 at that stage. But as I became involved in that project, I realized that of course I did know more of it than I thought I did."
With Bareilles, though, she was already a signed-up fan: "I've liked her work for a long time now, ever since 'Love Song' came out. I realize now that she always gets inside the story of something, and that's why her work translates so well to a musical. She is such an amazing blend — she has the pop sensibility that makes her writing so good, but also a sense of character that I've been blown away with."
The admiration is mutual. For her part, Bareilles says of Mueller: "She is incredible! I couldn't be a bigger fan of that woman. I've been just so amazed by the nuance and depth and complexity that is discovered watching someone else interpret your material. There are other singer-songwriters who write for other artists; I've never personally done that before. So it has all been a new experience for me to watch other people interpret my music. And I've found it very enlightening. Jessie is one of the very special combinations of artist where she is an incredible actor and also happens to be an incredible singer. She brings so much personality to these songs. I love watching her work."
The show itself tells the story of a woman finding her own power to break free of an abusive relationship and forge her own path, and Mueller is proud to be part of that journey. Speaking of the original film, scripted by Adrienne Shelly, she says: "It tells a unique story from a female perspective that women are not supposed to talk about — the fear and anxiety of becoming a woman, and how a woman who doesn't have her shit together, to be blunt about it, manages to do so. I remember seeing an interview with Shelly later on in which she said she wrote the film because she was about to become a mother and was working through her own feelings, so she came up with these characters, and especially this character of a waitress, to distance herself from it enough to work through her feelings and feel safe about it."
So how much experience does Mueller have of waitressing herself? "I catered for a while after college when I first came to Chicago, but I've not waitressed myself yet. Most of my experience is done onstage now. I hope that it's a nice, steady gig, with lots of great tips!"
And maybe, just maybe, another Tony Award in the offing?