Theatergoers, tourists, neighborhood regulars, and Broadway celebrities: You'll find an eclectic mix at the Joe Allen restaurant in New York's Theatre District. The cozy, brick-walled bistro, located just blocks away from the majority of Broadway's theatres, has been in business for 50 years and it's still a popular hit.
The story of Joe Allen, the restaurant, begins, like most tales of Manhattan, with a real estate deal: Joe Allen, at the time a partner in a restaurant venture on the Upper East Side, purchased two adjacent brownstones on West 46th Street in the block between 8th and 9th Avenues in 1965 with the intention of opening his own restaurant. Allen got his start in the business in the early 1950s, bartending at P.J. Clarke's on Third Avenue, a well-known hamburger joint that was the celebrity hangout of that decade.
To say Allen is not chatty is an understatement, but sitting at his favorite table at the far end of the western side of the restaurant, he talks about the history of the restaurant that bears his name, in his own laconic way. "I just saw an opportunity," he says. But back in the middle of the last century, this part of Manhattan was not a desirable neighborhood. "It was dangerous and there were a lot of drugs around, but that also made it cheaper," he explains. Indicating the section of the restaurant we are sitting in, he adds: "I bought this building from Donald Trump's father; he had a considerably lower profile but a lot more real estate."
"It was the smartest thing I ever did, but it was hard," Allen continues. "The banks wouldn't touch anything west of 8th Avenue. So my accountant at the time got a bunch of his other clients together and they put up the money to give me a mortgage. The really bad times were in the very beginning, in the first two or three years, because shows usually closed at the end of the season; there was much less theater [in the summer] and tourism wasn't what it is today."
And back then, of course, the big stars hadn't started coming to Joe Allen yet; you were likely to spot them at Sardi's, which was not only located on the correct side of 8th Avenue, but had a nearly 40-year head start on the new eatery. Instead, Joe Allen was discovered and embraced by the theater gypsies, the chorus girls and boys of Broadway. "We were an environment that was more welcoming than Sardi's for them," says Allen. "Sardi's was not an expensive restaurant but it was more expensive than we were. And for the kids whose employment was so precarious, money mattered." (That era was memorialized in the 1970 musical Applause, starring Lauren Bacall: Bonnie Franklin, playing a chorus dancer who waits tables at the Joe Allen restaurant, jumps up on the tables to perform the title number with her fellow chorus dancers/waiters.)
Although Allen would be loath to admit it, you can see why society columnist Liz Smith, years later, would describe the gruff and taciturn Allen thusly: "To me, he's the nearest thing to Humphrey Bogart in Casablanca. He's this tough little New Yorker with a marshmallow heart." He certainly was a godsend to the hungry young performers drawn to the restaurant. "They were people needing a home. I gave them charge accounts, which they couldn't get anywhere else on God's earth," he reports. "And there was remarkably little loss, so that worked out well."
Many of those struggling performers who found a friendly place to eat at the start of their careers would go on to become marquee names both on Broadway and in Hollywood. And they stayed loyal to the canteen from their past. For example, the year the restaurant opened, Tony Roberts and Penny Fuller were playing the leads in Barefoot in the Park (having replaced Robert Redford and Elizabeth Ashley), and the following year, in 1966, Gene Hackman and Sandy Dennis got their breaks costarring in the Broadway comedy Any Wednesday, which in turn led to blossoming careers in the movies. Al Pacino, who is still regularly spotted at Joe Allen, made his Broadway debut in 1969.
Aside from having known Allen in their younger days, the stars also come to the restaurant because it offers a relaxed, clublike environment. "Once they come in, they kind of blend into the room," says Sean Kent, who joins in on the conversation. Kent, who was manager at Joe Allen for several years, now manages Orso, the upscale Italian restaurant that gets a similar mix of boldface names and ordinary folk, which Allen opened in the building next door in 1983. "The very high-profile people require very low maintenance," he adds. Allen concurs, "They don't go stupid with where they sit. There's an old saying: Those who care don't count; those who count don't care."
And for the most part, the stars are allowed their privacy. Even Elizabeth Taylor and Richard Burton, when they were performing together in Private Lives on Broadway, could have a meal at Joe Allen without creating a ruckus. "If you have somebody who is a giant star like Julia Roberts or Tom Hanks, it's almost impossible that somebody won't say something to them," says Kent. "But it's never about cornering them — it's very affable."
But wherever theatrical personalities gather, you can expect anecdotes galore. And everybody has a story to recount. The star of many a tale is Bacall, who was a regular patron and a formidable presence. "She used to scare all the waiters," recalls Allen. "I said to her, 'Jesus, what's the matter with you? You're Lauren Bacall. You should keep your mouth shut and everything will be fine!'" In one oft-repeated story, Bacall ordered a single baked potato, and when it arrived at the table, she pronounced, "That is a bad baked potato." Without missing a beat, the sassy waiter wagged his finger at the offending tuber and responded, "Bad potato, bad potato!"
Other stories get repeated so often, they take on a mythical quality. Who knows if this one about Sylvia Miles (or was it Bette Midler?) is even true, but it's certainly fun to repeat: The actress was ogling the waiter, who was black. "How would you like your coffee?" he asked her. "Like my men," she purred suggestively. He batted back, "I'm sorry. We don't serve gay coffee." Or, perhaps you were there on the night of the rainstorm when a soaking wet Jude Law rushed in after a performance of Indiscretions. Everyone watched agape as the young star stood shirtless by the bar toweling down. No one left the restaurant.
As befits a long-surviving theatrical institution, Joe Allen has its own distinctive tradition. If Sardi's is known for its framed caricatures, Joe Allen has the Wall of Flops: a gallery of posters, concentrated along the eastern wall of the restaurant, which memorializes Broadway shows that bit the dust. The tradition began with Kelly, a 1965 musical set in the 1880s about a man who claimed he jumped off the Brooklyn Bridge and survived. The show notoriously posted its closing notice on its opening night. A few months later, shortly after the restaurant opened, the cast of the unfortunate show came over to have their opening/closing night party.  As a joke they suggested that their poster be hung on the wall — after all, where else could it hang?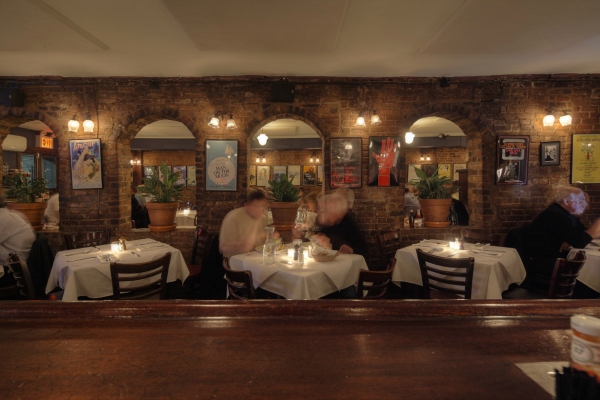 The very next season, the musical Breakfast at Tiffany's, starring no less than Mary Tyler Moore and Richard Chamberlain, closed before it even opened; producer David Merrick pulled the plug during its disastrous previews. "Merrick said, 'This is my Bay of Pigs,'" notes Allen with a chuckle. The restaurant owner then decided that he would celebrate infamous flops, setting as the criteria productions that cost more than half a million and ran for less than a week. The figures changed over the years, but the principle remains the same. The management did, however, draw the line at Spider-Man: Turn Off the Dark, because, although it lost huge sums of money, it ran for nearly three years.
"People's attitude about the flop wall is really the best thing," says Kent, relating how Harold Prince once asked specifically to be seated under the poster for Merrily We Roll Along, the Stephen Sondheim/George Furth musical, which Prince directed and produced in 1981; the show lasted just 16 performances. "He said he wanted to sit there because it was the norm that 95 percent of the work people do in the theater doesn't end up a hit. It's kind of inspirational," Kent adds, "because if you look around at the posters, there is often somebody incredibly influential, gifted, or talented involved; shows, like Merrily and Rags, had long lives after, but they came to Broadway and got demolished."
Theater lore and familiar surroundings alone don't keep a restaurant in business this long. Patrons come back to Joe Allen, for lunch and pre- or post-theater dinner, because of the consistent quality, if not necessarily the variety, of the food. "There has never been an effort to be on the cutting edge of cuisine," says Allen. "There are so many restaurants that follow the trend rather than having their own vision." This restaurant has certainly evolved since its early days of red-checked tablecloths and the menu on a blackboard, when the fare was hamburgers, Caesar salad, and apple pie. "You want everything to be good, and we don't keep anything that we think people have moved past. But sometimes people want traditional things — like the black bean soup."
Many swear by the Joe Allen calf's liver dish, prepared in traditional style with a thick brown sauce (although there are those who are equally passionate about the Venetian-style version served next door at Orso). And sometimes people will get fanatical about a dish — as Rosie O'Donnell, a tireless promoter for Broadway and Joe Allen, did over the Cajun chicken sandwich. Outraged when she discovered that the chef had substituted her personal favorite with a teriyaki version, she aired her grievance on her talk show, asking her viewers to call in and petition Allen to put the item back on the menu. "It was half-joking, but people were calling in and we did a lot of business," Kent recalls. "And then Joe went on the show with Cajun chicken sandwiches for the whole audience, and it was declared that it would never be taken off."
We've been chatting for some time when Allen says characteristically, "Everybody thinks my life is more interesting than it is. I'm not a particularly social person, and it looks glamorous from the outside — it's a job. I've been here for so long, it is very hard to get any kind of historical perspective on it. And I don't remember anything! That's a casualty of age." But the octogenarian restaurateur does stay engaged with the business he started half a century ago. On any given night, you might find him sitting in the restaurant, unobtrusively observing the bustle around him. After all, he says, "I'm too old to need adventure and I've got to go somewhere!"