The Tony and Emmy Award winner joins the cast January 7th.
In a star-packed fall season on Broadway, It's Only a Play emerged as a runaway hit, fueled by Terrence McNally's screamingly funny script and the can-you-believe-it ensemble of F. Murray Abraham, Matthew Broderick, Stockard Channing, Rupert Grint, Nathan Lane, Megan Mullally, and newcomer Micah Stock. An extension of the 18-week limited engagement seemed obvious, and with Lane set to star in The Iceman Cometh at BAM in the new year, the production was blessed to land another Tony-winning funnyman. Martin Short will return to Broadway for the first time in eight years on January 7, along with Tony winner Katie Finneran and 30 Rock vet Maulik Pancholy in the roles created by Mullally and Grint.
As TV star James Wicker, Short anchors the egomaniacal antics at the opening night party of a fictional play written by his best friend (Broderick). The cast of comic characters includes the play's flamboyant leading lady (Channing), neophyte producer (Finneran), and wunderkind director (Pancholy), plus a blowhard critic (Abraham) and innocent coat check attendant (Stock). The ensemble nature of It's Only a Play appealed to Short, an Emmy-winning alum of SCTV and Saturday Night Live, but it took a word from stage and screen director Mike Nichols, who died on November 19, to seal the deal.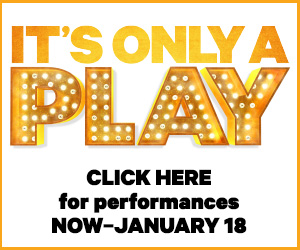 "I was offered the role before I had seen the play," recalls Short, "and Mike Nichols and I had dinner in Los Angeles in October. He said, 'I hear you're going to do [It's Only a Play].' I said, 'I don't know yet,' and he said, 'You absolutely must do it.' From my childhood on, Mike was a big influence, so I thought, If he says I gotta do it, I gotta do it. And certainly upon seeing it, I'm thrilled that I said yes."
Beyond the comedic name-dropping and jokes about critics, Broadway chat rooms, and bad TV, It's Only a Play offers a heartfelt glimpse into the insecurities beneath the banter on opening night. "It's very, very well written," says Short. "Terrence McNally is one of the great playwrights of the past 40 years, and he knows how to do both [comedy and drama]. When I saw the play, I knew I would laugh, but I didn't know I would find it so moving. It's about theater, but it's also about life — it's about expectation and disappointment and heartbreak. Being offered this role is a tremendous compliment."
Beyond his immense talent at creating characters such as nerdy Ed Grimley and rotund talk show host Jiminy Glick, Short boasts a 40-year theatrical résumé including the now-legendary Canadian premiere of Godspell (in a cast that included Gilda Radner, Andrea Martin, Eugene Levy, and Victor Garber, with Paul Shaffer as musical director), the L.A. production of The Producers (in the role created by Broderick), a Tony-nominated Broadway debut in The Goodbye Girl, and a Tony-winning star turn in Little Me.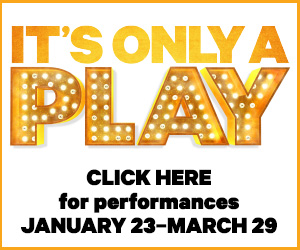 Short describes his varied career and the loves and losses that have marked his personal life in the newly released memoir I Must Say: My Life as a Humble Comedy Legend (Harper Collins). The book paints an endearing picture of a showbiz-obsessed teenager who would re-create Frank Sinatra's vocals on a reel-to-reel tape recorder in his Hamilton, Ontario, attic. The precocious teen created weekly episodes of The Martin Short Variety Hour, which were lovingly critiqued by his mother, a professional musician. And yet, Short insists, he didn't dare dream of a future career on Broadway.
"Hamilton was the Canadian Pittsburgh," he recalls, "a steel center 40 miles west of Toronto. And when I was in that attic at 14, I had never been to the United States. I would watch Bennett Cerf saying, 'Did I see you at Sardi's earlier tonight?' on What's My Line? and think, Where is Sardi's, and how do I get there?"
Short found out at 15, in 1965, when his mom arranged a blowout visit to New York with his two older brothers. "We saw Sammy Davis Jr. in Golden Boy, we went to Radio City to see the Rockettes and the movie The Sandpiper, we saw Phyllis Diller at the Americana and Buddy Hackett at the Latin Quarter," he remembers. "It was pretty amazing." And, yes, he even made it to Sardi's.
There's a bittersweet undertone to Short's narration of this formative trip in I Must Say. Three years earlier, his eldest brother had been killed in a car crash; his mother was battling a recurrence of breast cancer and would die on Valentine's Day 1968; his father passed away two years later, before their youngest son turned 20. Forty years later, Short's beloved wife, Nancy, died after a brave battle with ovarian cancer. The actor's ability to remain resilient amid grief, and his desire to impart that same quality to his three grown children, inspired him to pen the memoir.
"For years, I had been asked to write a book, but I felt it needed to be about something," he explains. "When I lost my wife, I found myself in the same situation as when I was 20, having lost my parents and my brother. You're either empowered by something like that or you become a victim. My natural orientation is to be happy — to survive and figure things out. Realizing that the 40 years in between included some pretty fascinating things, I thought, This is a book."
Those "fascinating things" include an eclectic mix of TV, movies (Three Amigos, Father of the Bride), stage acting, and concerts, most recently in partnership with his dear friend Steve Martin. "It's a natural shift for me to go from one medium to another," he says. "That's more the Canadian/British way. Each medium requires different muscles, but that's the way I've worked since I was a kid."
Reflecting on the nature of comic acting, Short says, "To do it right, you have to make the character real — nail the sincerity, and then add absurdity and eccentricity. I've never felt unfulfilled by doing something comedic, and I love the challenge of repeating something [on stage] again and again to try to make it better. Perfection is never achieved, but the idea that you can get close to it is exhilarating to me."
Eight years after his tour-de-force autobiographical Broadway show Fame Becomes Me, Martin Short is back where he feels most comfortable: in a company of great stage actors. "It's such a shared experience," he says of the ensemble in It's Only a Play. "Stockard walks in and you head down a new path, then F. Murray Abraham comes in, and then Matthew. That's what I love. Being in this kind of company is the most fun you can have."
Learn more and buy tickets for performances through January 18. 
Learn more and buy tickets for performances beginning January 23.