For the record: Don't call Jonathan Goodwin a magician.
The British-born stunt and escape artist — who refers to himself as a "theatrical daredevil" — is set to make his Broadway debut next month in the return engagement of The Illusionists. Goodwin is one of seven performers who will play Broadway's Neil Simon Theatre in an extravagant spectacular involving levitation, fire, mind readings, and, of course, grand illusions.
"I couldn't be more excited. It's every performer's dream to do Broadway," Goodwin explains during a break from rehearsal.
The U.K. native is no stranger to taking his work to the extreme: He has been hanged, buried alive, attacked by sharks, sewn up inside a dead cow — and even burned at the stake! He says it's all a tribute to a time gone by and an ode to one of his idols, Harry Houdini.
"For my type of work, it's a job that really doesn't exist anymore," Goodwin adds. "These days you call someone a daredevil and they are usually sponsored by an energy drink. They're [probably] doing it for their own amusement. . . . But that's not what I do. It's less about me and more about showing an audience what they've never seen before and maybe even freaking them out along the way."
In the show, audiences will witness Goodwin escape from a straightjacket while hanging upside down as he's doused in fuel and lit on fire. They'll also see some of his meticulous crossbow work with the help of his wife, who also happens to be his assistant.
"I shoot increasingly small objects out of my wife's hand with a crossbow on stage. Think William Tell," he explains. "If I screw up the straightjacket, that's one thing. But if I screw up the crossbow, I've got my wife to answer to, and that's even scarier."
A simple Google search can bring up videos ofThe Illusionists' incredible stunts on the Internet, but Goodwin assures there's nothing like experiencing his work in person.
"You're a couple of states removed when you're sitting in your home watching a man on fire," Goodwin says. "But when you're in the theatre and can smell the fuel and feel the heat, the people in the first few rows can feel how hot it is. At that point, it becomes a very visceral thing, it becomes real. And that's a real human being it's happening to — and that's something that you can't get anywhere else. You have to see it live."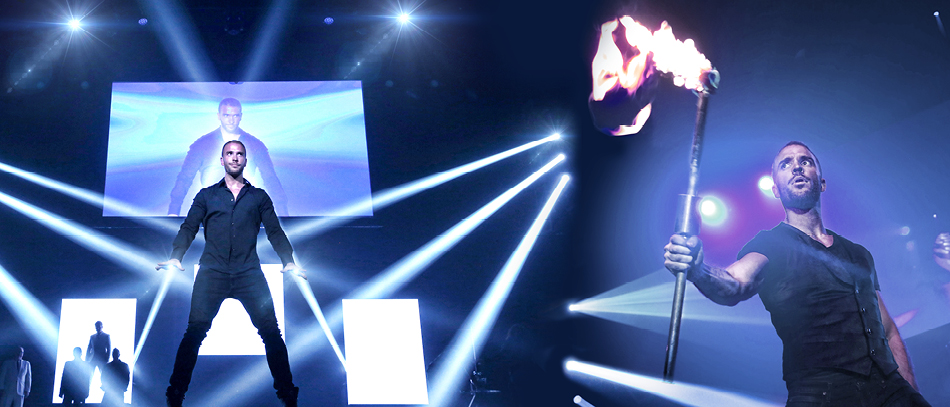 Goodwin isn't the only performer making his Broadway debut in November. So will Raymond Crowe, a.k.a. "The Unusualist" and James More, a.k.a. "The Deceptionist".
More — also a U.K. native — brings a Justin Timberlake meets Michael Jackson flair to his style of performance.
The 27-year-old says magic has always been in the cards (pun intended) ever since he was a kid. At age 8, he recalls, he performed a plate-on-a-stick trick, some ventriloquism, and a magic trick with a shoebox at a school talent show.
"I ended up winning $10 for best talent, and it was the reaction from the audience when I did the magic that sold me on pursuing this as a hobby and career," he explains.
As for the Jackson and Timberlake reference?
"I was obsessed with Michael Jackson growing up — and dance was my thing. I wouldn't call myself a funny person, so that's why I've incorporated dance into my act."
Following his amateur debut as a magician in school, More later went on to study theater in college, where he says magic ended up (again) benefiting both him and his fellow aspiring performers.
"I played Thénardier in a school production of Les Misérables and the director let me do coin tricks in the show. It added another layer to playing this trickster on stage."
While More says his work in The Illusionists far exceeds the magic of his coin tricks in Les Miz, he says to expect to see him perform "spectacles" with his "entourage." His act will include being stabbed by flaming spikes as well as a stunt where he is placed on a sword and spun around, and, yes, this is all done with some slick movement.
"Mystery is part of human nature. People crave mystery in their lives, and we as illusionists crave discovering the impossible to create the impossible. I think that's why magic is so appealing to people," he adds.
As for what he'll be thinking when he makes his debut?
"There's nothing like Broadway. So taking my opening-night bow will be a special moment. Hopefully I can take a few seconds to look out at the audience and appreciate where I am. I want to appreciate the moment."
* Frank DiLella is the theater reporter/producer for NY1 News in New York City