Lin-Manuel Miranda's miraculous musical Hamilton blows two centuries of dust off America's founding fathers, presenting the title character as a feisty immigrant, charismatic war hero, and mastermind of economic policy alongside his mentor, George Washington. That would be enough fodder for most shows, but Miranda also gives full voice to the women in Alexander Hamilton's life: the aristocratic Schuyler sisters.
Miranda and director Thomas Kail tapped a trio of magnetic actresses to serve as the heart of Hamilton: Renée Elise Goldsberry as Angelica, Phillipa Soo as Eliza, and Jasmine Cephas Jones as Peggy, all of whom will reprise their roles when the show transfers to Broadway's Richard Rodgers Theatre beginning July 13. The women recently gathered in the lobby lounge at the Public Theater, where Hamilton became the hottest ticket in years, to chat about their on- and offstage bond.
"One of the beautiful things about this show is how much these sisters support each other, and how that empowers them as women," says Jones. Agrees Soo, "Their love informs us, and we inform it — it's full circle. When we walk off stage after our first number, we're giddy with excitement." Adds Goldsberry, whose Broadway credits include Rent, The Color Purple, and The Lion King, "This is one of the few stories I've been part of where the women value their love for each other more than their romantic love."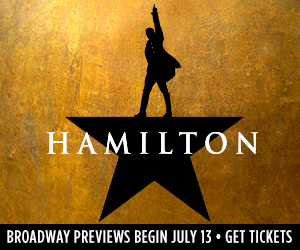 From the beginning, Miranda envisioned the Schuylers as Revolutionary War–era pop stars. His casting notes describe Angelica as "Desiree Armfeldt meets Nicki Minaj," Eliza as "Alicia Keys meets Elphaba," and Peggy as "Michelle Williams of Destiny's Child." Indeed, critics noticed a similarity between the ladies' lush harmonies and those of Beyoncé and her former backup singers. Laughing, Goldsberry says, "We'll take it! We listen to Destiny's Child in the dressing room."
It shouldn't really be a surprise that Hamilton spotlights the women surrounding its hero. After all, as Goldsberry points out, Ron Chernow's 800-page biography, which inspired the musical, begins and ends with chapters centering on Eliza's quest to produce a biography that would redeem her husband's tarnished reputation. After Hamilton died in an infamous 1804 duel with Vice President Aaron Burr, his wife lived for another 49 years and, according to Chernow, "enlisted as many as 30 assistants to sift through his tall stacks of papers." Unfortunately for historians, Eliza chose to destroy her own letters along the way.
"People come up to me after the show and say, 'I had no idea Eliza did all of that,'" says Soo, who made an acclaimed 2013 stage debut as the title heroine in the War and Peace–inspired musical Natasha, Pierre & the Great Comet of 1812. "She wasn't on people's radar. I feel like there's something very special about portraying these historical figures as human beings and giving them a voice."
Echoes Goldsberry, "These women were powerful in spite of the constraints of their time. Clearly, Angelica Schuyler would have been a 'founding mother,' but she had to find other ways to use her intellect and her passion and her influence. The strength of Eliza Hamilton and her sisters is not fabricated, and Ron Chernow and Lin deserve credit for understanding their significance in the story of Alexander Hamilton."
Miranda's blend of hip-hop, R&B, pop, and traditional musical-theater melodies gives Hamilton a bracing immediacy. "It's a reclaiming of history," says Goldsberry. "When we look back [at the founding of America], we think about what people didn't have: cell phones, cars, microwaves. . . . What's so beautiful about the way this story is told is that these characters look at the world and say, 'There's no more exciting time to be alive than now. There's no place more exciting to be.'"
As the Broadway veteran of the trio, Goldsberry understands what a singular experience Hamilton is — for the actors and the audience. "The music is special, the staging is genius, and the cast is wonderful," she says. "The spirit and heart and soul with which this creative team tells stories is going to produce so much wonderful theater in the years to come. I'm just glad to be a part of this one."