Disney's Newsies: The Broadway Musical, filmed live at the Hollywood Pantages Theatre, hits movie theatres February 16, 18, and 22.
Newsies began as a live-action Disney movie. Then it became a stage musical. And now it's a movie again! The beloved film, originally released in 1992, was adapted into a stage musical in 2011. It was so well received at Paper Mill Playhouse in New Jersey that it transferred to Broadway, to the delight of Fansies, as Newsies fans call themselves. And on February 16, 18, and 22, Fansies can see Disney's Newsies: The Broadway Musical, filmed live at the Hollywood Pantages Theatre earlier this year, in movie theatres.
The musical's original star, Jeremy Jordan, reprises his role as Jack Kelly, a newsboy who leads his fellow newsboys to strike when Joseph Pulitzer and William Randolph Hearst raise distribution prices of their papers at the expense of the boys who sell them. Original Broadway cast members Kara Lindsay, Ben Fankhauser, and Andrew Keenan-Bolger are also back as Katherine, Davey, and Crutchie, respectively. Joining them are North American tour cast members Steve Blanchard as Joseph Pulitzer, Aisha de Haas as Medda Larkin, and Ethan Steier as Les.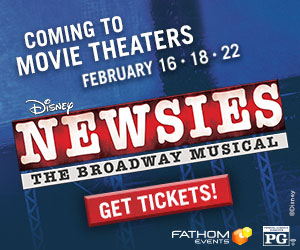 Since 2011, Newsies has played 1,711 performances between Broadway and the North American tour to more than 2.5 million audience members. But the tour played in 65 cities. The filmed version will play in 800 cinemas around the country, and internationally in 20 countries, allowing even more theater fans to have a chance to see the show. A complete list of participating theatres can be found at NewsiesTheMusical.com.
Even those who have already seen the musical will find new additions. The screenings will include extra content — such as music videos, cast shout-outs to the audience, and fun trivia — for about 20 minutes before the show and during intermission. If you saw Newsies on Broadway but not on tour, you'll also have a chance to hear a song that composer Alan Menken and lyricist Jack Feldman added for the tour that is now a permanent part of the script. At the beginning of Act 2, Crutchie performs "Letter From the Refuge," writing to Jack from a juvenile detention center.
The movie also allows for a different viewing experience, namely, a lot of close-ups. "The biggest difference is the ability to get up close and personal with the cast," says Andrew Flatt, senior vice president of strategy, marketing and revenue for Disney Theatrical Group.
Newsies is the first Disney Broadway musical to get a cinematic release. The Fansies were asking for it, Flatt says, and it was rewarding for Disney Theatrical Group to come full circle, bringing Newsies back to movie theatres, where it all started. Plus, the subject matter still resonates. Flatt says, "The story seems really relevant today in terms of finding one's voice."
Photo: Deen Van Meer