Groundhog Day and Andy Karl win big at the Olivier Awards, ahead of this season's Tony nominations.
Success in the Olivier Awards — London's premiere theatrical prize, equivalent to the Tonys — doesn't of course guarantee future Broadway success, but it provides the shows with a nice sendoff on their way to New York.
So next week's Broadway opening of Groundhog Day (on April 17) — a new musical with an original score by Tim Minchin (Matilda) and book by Danny Rubin (who also scripted the original 1993 film it is based on) — will feel like it is on slightly surer ground as it enters the Tony race, having just won an Olivier for best musical in a ceremony held April 9 at London's Royal Albert Hall. Likewise, its star Andy Karl also won the Olivier for Best Actor in a Musical.
On Broadway, of course, Groundhog Day will be part of an uncommonly high number of new musicals jostling for a coveted nomination for the Best Musical Tony; other titles in contention will include Dear Evan Hansen, Natasha Pierre and the Great Comet of 1812, Come From Away, War Paint, Anastasia and Bandstand, all of them yet to be seen in London, and Charlie and the Chocolate Factory, which, like Groundhog Day, is transferring from the West End.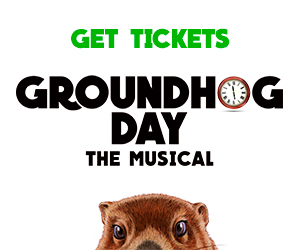 By the same token, the already seemingly unstoppable Harry Potter and the Cursed Child doesn't exactly need Olivier endorsement as it lines up for a Broadway transfer in spring 2018, but it got it anyway: an all-time record win of nine nominations (out of 11 categories it was in contention for), more than any other production in history. The title is enough to sell it, but having awards kudos certainly adds to its artistic and creative credibility.
And Dreamgirls — being seen in its first-ever London production 35 years after its original Broadway bow — is no doubt spying a Broadway return, and when it does so, audiences will see its star, Amber Riley, from TV's Glee — arriving with an Olivier already under her arm, for Best Actress in a Musical.
The Olivier wins are a sweet reward, though in the case of Harry Potter, there are no seats to buy in the current booking period, so it will hardly impact the box office. Groundhog Day isn't even playing in London anymore after its summer tryout at the Old Vic last summer, so it can have no impact there either.
But next to the successes of these and other rewarded shows (there were also double wins for both the Young Vic's Yerma, returning there this summer, and Matthew Bourne's The Red Shoes; and single wins for Our Ladies of Perpetual Succour, soon returning to the West End, the long-departed Show Boat, and Andrew Lloyd Webber's School of Rock and Jesus Christ Superstar), there were also disappointments for the London transfers of three shows originally seen in New York.
Ed Harris, reprising his Off-Broadway performance in the New Group's production of Buried Child; Cherry Jones, reprising her Broadway role in The Glass Menagerie; and Glenn Close, returning to her Tony-winning performance in Sunset Boulevard, all went home empty-handed. But at least they were nominated, and that may be recognition enough in a crowded marketplace. After all, Sunday in the Park With George, now on Broadway, is not even being put forward for consideration for this year's awards, as the limited run will end April 23, long before the Tonys arrive.