Phyllis Newman had to take action, but she didn't know what to do.
"This year is the centennial of Adolph Green's birth," Newman says, citing one of Broadway's most beloved book-writers and lyricists — not to mention her husband from 1960 until his death in 2002.
"I wanted to have some sort of celebration and kept wondering what it should be. And thennnn," she adds with the air of a magician who's just about to pull back a curtain, "I didn't have to lift a finger."
Producers were suddenly getting in touch with Newman — as well as with the estates of Green's co–book-writer and colyricist, Betty Comden, composer Leonard Bernstein, and choreographer Jerome Robbins. Their question: wasn't it time for a new production of On the Town?
It's the 1944 Broadway musical that ran for more than a year and inspired a 1949 movie. If the title doesn't ring a bell, one of the show's first images might: Ozzie, Chip, and Gabey are three wartime sailors whose ship docks in the Brooklyn Navy Yard. They have a single day to celebrate "New York, New York — a helluva town."
(Or "a wonderful town" if you're only familiar with the cleaned-up movie lyric.)
The trio are intent on seeing all that New York City has to offer — until Gabey gets on the subway and falls immediately in love with a picture of Ivy Smith, that month's Miss Turnstiles.
This was Comden and Green's riff on "Miss Subways," an actual New York City contest that was held monthly from 1941 through 1976. Young pretty misses competed to win the honor; the victor would see her picture and a brief synopsis of her hopes and dreams emblazoned inside the city's subway cars.
Of course, the chances of Gabey's finding one young woman in a city of 7 million makes searching for a needle in a haystack look like shooting whales in a barrel. But he gets help from Chip and Ozzie, who will be forever grateful that he saved their lives during a recent mission.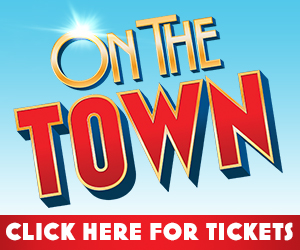 Millions of audiences have discovered how the three made out, not only through the original production and the film, but also through two Broadway revivals (one in 1971, one in 1998) and an elaborate concert presentation in 2008. Compare this track record to the other 13 new musicals that opened on Broadway in 1944; not one of them has ever had a single major revival.
In fact, that 2008 airing at Encores! at Manhattan's City Center started this new revival rolling. John Rando, the Tony-winning director of Urinetown, was asked to stage it to celebrate what would have been Leonard Bernstein's 90th birthday.
"I'd been in love with On the Town since I was a teenager in Houston, and not just because my father — a Navy man — said it's his favorite musical," Rando adds. "The chance to do it at Encores! with a full orchestra really excited me. It all came together beautifully, especially with a memorable performance from Tony Yazbeck as Gabey."
The presentation was scheduled to only run a November weekend, but its impact turned out to be substantially more far-reaching.
Says Rando, "After I'd directed Guys and Dolls at Barrington Stage Company [in western Massachusetts] in 2011, Julianne Boyd, the company's cofounder, asked me if there was something else that I wanted to direct there. I immediately said On the Town, partly because I knew my excellent Guys and Dolls choreographer Joshua Bergasse would do well by it."
The show does demand plenty of dancing, for it was actually based on a Robbins ballet, Fancy Free. Bernstein had provided the music for that piece as well — and yet he didn't recycle even one of its melodies into the ballet-heavy On the Town.
Rando calls On the Town "a joyous, amazing, funny, and touching musical." Touching, indeed. While each sailor finds at least a hint of romance entering his life during this jam-packed day, he's also painfully aware that in the morning the fun will officially come to an end. Instead, all three will be leaving to go overseas where they may very well see action. That makes for a future that is, to say the least, uncertain. That makes the show still relevant in these days when America is at war.
Boyd only knew the film version, in which Frank Sinatra, Gene Kelly, and Jules Munshin played the sailors. But that meant Boyd didn't actually know On the Town. Although Comden and Green worked on the screenplay, they were asked to change quite a bit of their original story. Leonard Bernstein was replaced (!) by Roger Edens, and saw only two of his ballets and three of his songs survive.
One of them starts the film: "I Feel Like I'm Not Out of Bed Yet," sung by a Navy Yard workman. It's purposely sleepy to contrast with the excitement those sailors unleash when they sing "New York, New York." (Yes, years before Sinatra would sing about a New York, New York that doesn't sleep, he'd joined Kelly and Munshin in this toe-tapper.)
The final retained Bernstein song was "Come Up to My Place," in which Hildy, a randy cab driver, thinks that Chip, the quintessential tourist, is square for wanting to see Herald Square. Why go to Wanamaker's when she'd be happy to make him?
Comden and Green wrote five new songs with Edens. They're not bad, but whose songs would you rather hear: Bernstein's or Edens?
Barrington returned to Bernstein, just as Rando returned to Yazbeck. "It was a fine production, but we only had a budget for 10 musicians," says Rando. "After having heard it with a full orchestra at Encores! I yearned to hear it that way again."
Howard and Janet Kagan are helping to make that happen. They loved what they saw in Barrington, and decided to raise the millions to bring it to Broadway. The Bernstein, Comden, and Robbins estates agreed, and Newman gave the Green light.
"I always felt bad that the 1971 revival didn't do better," she says, alluding to the 73-performance run. "Adolph really wanted me to play Claire, an anthropologist who becomes attracted to Ozzie, even though I thought I was wrong for it."
Newman has fonder memories of the second Broadway revival, which started in Central Park's Delacorte Theatre. "We live close to the park," she says, "so it was nice to go out on the terrace that summer and hear the music wafting from the theatre — and, of course, the applause too."
Previews for On the Town are set to start on September 20 prior to an October 16 opening at the Lyric Theatre. If the venue seems unfamiliar, it's because the 42nd Street house has just been renamed — for the third time. What was built as the Ford in 1998 became the Hilton in 2005 and the Foxwoods in 2010. Now, for the first time in its 16-year history, the theatre will have a name that has no commercial affinity.
Once again, Rando has Yazbeck, who will be joined by four of his Barrington Stage castmates: Clyde Alves as Ozzie, Jay Armstrong Johnson as Chip, Elizabeth Stanley as Claire, and Alysha Umphress as Hildy. Meanwhile, Megan Fairchild will make her Broadway debut as Ivy Smith.
"And this turns out to be only the start of a centennial celebration for Adolph," says Newman. "After this happened, we got word that Peter Pan, for which he and Betty wrote many songs, will have a new NBC production that will air on December 4 — just two days after his birthday. And right around that time, a Broadway revival of Adolph and Betty's On the Twentieth Century will be going into rehearsal too. He'd be so pleased."
And what was Adolph Green's most pleasing moment in On the Town? "That's easy," Newman immediately responds. "He was the original Ozzie, and I can safely say that any time Ozzie was on stage was his favorite moment."