When Bradley Cooper signed on to star in The Elephant Man at Williamstown Theatre Festival two summers ago, he immediately offered the pivotal role of Mrs. Kendal to Patricia Clarkson. Smart casting: Who better to play a witty, worldly, charismatic actress than a woman who embodies all of those qualities in real life?
The great news for Broadway audiences is that Clarkson, Cooper, and Alessandro Nivola (as the title character's doctor) will reprise their performances in a 14-week limited engagement of Bernard Pomerance's Tony Award–winning play, beginning November 7 at the Booth Theatre. Directed by Scott Ellis, the revival marks Clarkson's first New York stage appearance in more than 16 years.
"What the hell have I been doing all this time?" the 54-year-old New Orleans native says in her distinctively seductive voice, which has been likened to a dirty martini. It's a rhetorical question, because Clarkson (an Emmy winner for her recurring role in the HBO hit series Six Feet Under) reigns as the queen of independent films. Before rehearsals begin for The Elephant Man, she's launching three movies, including a pair of premieres (October Gale and Learning to Drive) at the Toronto Film Festival.
Before becoming an indie darling, Clarkson showed off her range as a stage actress in plays by Nicky Silver (Raised in Captivity and The Maiden's Prayer) and Richard Greenberg (Three Days of Rain, which Cooper reprised on Broadway with Julia Roberts, and Eastern Standard). She played Blanche in a 2004 Kennedy Center revival of A Streetcar Named Desire.
"When Bradley asked me do this, I was trepidacious," Clarkson says of The Elephant Man. "I hadn't been on stage in almost 10 years. But we dove in headfirst, and it truly became one of the greatest experiences I have ever had in this business." In a typical burst of self-deprecation, she adds: "Think about it: I'm not 25 years old, and I'm on stage with Bradley Cooper and Alessandro Nivola every day. The stupid thing is that I'm the naked one!"
Based on the life of John Merrick, a hideously deformed man who became a sideshow attraction in the late 19th century, The Elephant Man centers on the title character's final years living in a London hospital. Under the care of Dr. Frederick Treves (Nivola), Merrick is befriended by the cream of society, led by Mrs. Kendal, who — in a highly moving scene — allows him to see her undressed.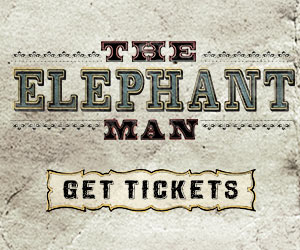 "I didn't realize how demanding and difficult this part would be — in a good way," Clarkson says now. Although Mrs. Kendal appears in only six of the play's 22 brief scenes, it's a tour-de-force role, one that earned a 1980 Tony for original star Carole Shelley and a 2002 Tony nomination for revival star Kate Burton. To play her, "I had to shift some of my energy and find a very quiet, calm place," Clarkson explains. "I bared my breasts and my soul simultaneously, which I had never done. It was frightening but exhilarating."
Reflecting on the bond between a freak-show outcast (who Cooper portrays through contortions, not prosthetics) and a celebrated actress, Clarkson says, "I think the relationship is chaste love at first sight. She walks in and sees this exquisitely beautiful man wrapped in grotesque form. It's 'beauty and the beast,' but he is both the beauty and the beast. She's the inverse — a glamorous actress with a broken heart and soul. This brilliant, funny man challenges her to a new life."
Stage chemistry is always important, but never more so than in a character-driven play with a spare, poetic script. "The bond that Bradley and I found between Mrs. Kendal and the Elephant Man is beyond words," she says. "That's what a great playwright like Bernard Pomerance allows you to do. Our production is very intimate, almost like we're performing it in your living room. It's just us, for an hour and a half, on a swift flight into this beautiful world."
In addition to its "devastating, heartbreaking" story, The Elephant Man puts its stars' celebrated comedic gifts to good use. "Bradley is deliciously funny, and I have some great, funny stuff too," Clarkson says. "The play has fabulous flights of fancy, in addition to being incredibly moving. And isn't that what we go to the theatre for? To laugh and to cry?"
Clarkson herself exudes a joyful irreverence as she chats about her three decades as a working actress. The youngest of five daughters from a prominent New Orleans family, she transferred from LSU to Fordham before earning an MFA at Yale School of Drama. "At 19, I just felt this incredible pull to go to New York," she recalls. "My parents said, 'You can go as long as you finish your bachelor's.' I've been back in the city for 32 years, and it's a great life. I have friends who I love and a wonderful apartment in the West Village that I worked my butt off for."
The actress managed to make the leap from ingenue roles (Kevin Costner's wife in The Untouchables; Clint Eastwood's girlfriend in The Dead Pool) to complex, strong, sexy women in movie roles often written especially for her. "It took me eight years to get Learning to Drive made," she says of one of her forthcoming films, featuring a script by Sarah Kernochan, the wife of playwright James Lapine. "I play a tough, spitfire New York book critic whose husband walks out on her, and Sir Ben Kingsley teaches her to drive. It's funny, funny, funny, and sad."
Clarkson's willingness to poke fun at herself reached a high point in 2009, when she and Susan Sarandon joined Justin Timberlake and Andy Samberg in the Saturday Night Live digital short "Motherlover," a credit she now laughingly laments "is going to be in my obituary." More seriously, she says, "I'm lucky that gifted people come to me to act in their movies, but everything in this business is a struggle. Megastars have a whole different set of problems, but getting anything done is arduous. You just have to be realistic and remind yourself to be thankful for where you are."
This fall, Clarkson is thrilled to be "making the leap" back to Broadway in The Elephant Man. "Theater is the hardest work you'll ever do," she declares, "but you get to take a journey with an audience — and I'm about to do that with two exquisite costars in a stunning play."
Buy tickets to The Elephant Man on Broadway.
Photo by Veronique Vial.