Above, Four-time Grammy Award winner Renée Fleming photographed by Andrew Eccles with her Living on Love co-stars Tony Award nominee Douglas Sills, 2-time Emmy Award nominee Anna Chlumsky, Blake Hammond and Scott Robertson
"Call me Diva," says Raquel De Angelis, the glamorous opera star who makes a grand entrance in the new comedy Living on Love. And when Raquel is being portrayed by Renée Fleming, who on earth would argue?
In one of the most exciting Broadway debuts of the season, the world-renowned soprano will take the stage at the Longacre Theatre beginning April 1 under the direction of three-time Tony winner Kathleen Marshall. Costarring Douglas Sills as Raquel's husband, Vito, a temperamental Italian conductor, the play has been adapted by two-time Tony winner Joe DiPietro from Peccadillo, a late work by Garson Kanin.
Living on Love marks the latest chapter in Fleming's adventurous career. Beyond her many operatic triumphs — most recently as the title heroine in a new Met production of The Merry Widow, costarring Broadway favorite Kelli O'Hara — she has released jazz and holiday albums, sung for the president and the queen of England, and earned raves as the first classical artist to perform the national anthem at the Super Bowl.
Broadway Direct recently listened in on a spirited conversation between the down-to-earth star and her director, a master of musicals who is celebrating a Broadway debut of her own by helming her first play. Fleming and Marshall bonded during Living on Love's brief 2014 run at the Williamstown Theatre Festival, where the great singer made a seamless transition to a new genre.
NEW STAGES
Renée Fleming: Broadway had never been on my radar because [classical singers] are booked so many years in advance. When Kathleen asked me to do a reading of this play, I thought, Let's see if I can act without the underpinning of music, never imagining it would go forward. My first time on stage was terrifying — I think it's been proven that dialogue lives in another part of the brain from music — but it was also exhilarating fun, and I'm thrilled we're bringing [Living on Love] to Broadway.
Kathleen Marshall: I've always done musicals, where there's such pressure to stage the big production numbers and get everyone on their feet. The best part of directing a play is sitting in a room with great actors, talking about the characters, and figuring everything out. I don't have to change clothes to rehearse choreography, and Renée doesn't have to die!
Fleming: I've asked my friends who have done Broadway plays how they manage [eight shows a week] and how they take care of themselves. It's completely foreign to me. I've never entertained the thought of doing a musical because it requires a different kind of singing to get through that brutal schedule. In opera, we're the weightlifters of singing — we're not amplified. If I tried to do that every day, I'd be retired in a week.
Marshall: I always say that opera is like football: You can't do it every day. Theater is like baseball: You do it every day.
Fleming: That's cute!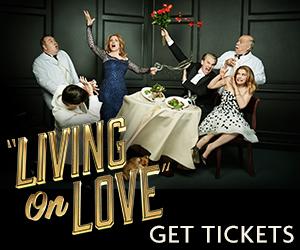 ALL ABOUT DIVAS
Marshall: Renée is the opposite of an offstage diva. She's so warm and generous and collaborative and fun. But what's great is that she knows all the stories of the big personalities of opera, from the conductors to the performers, so we're able to get the inside scoop.
Fleming: You'd be surprised how many divas there still are. It's partly an expression of nerves, and some people start to believe their own press and transform into demanding performers. I wanted to become a diva, but I could never figure out how. Now I'm getting to play my inner diva!
Marshall: One of the reasons we decided to set the play in 1957 is that there were big cultural icons in the classical world, and we love the style and clothing of that era. There was also an idealization of celebrities. These days, with social media, you can find out more than you want to, and back then, there was a cult of personality. Joe DiPietro wanted to imagine what it would be like to spend an afternoon at home with Liz Taylor and Richard Burton at the height of their celebrity.
Fleming: I don't know if I would say that opera was more glamorous [50 years ago], but we were higher on the entertainment food chain. It was the heyday of Leonard Bernstein, and there were many larger-than-life singers. My generation said, "Oh, forget it, we're just like everyone else," which made us more accessible and more professional. We're better musicians now, and much better actors — we have to be infinitely more theatrical in our presentation. Then you were the diva as Mimi [in La Bohème] and the audience never forgot who you were. That's not done anymore.
COMEDY TONIGHT
Marshall: Living on Love feels like a wonderful boulevard comedy that's full of surprise and humor and emotional resonance. It harks back to an era of playwrights like Noël Coward and Philip Barry, who were smart and witty but knew they were out to create an evening of entertainment. Without giving too much away, the play ends up being about different kinds of love — new love, rekindled love, and enduring love  . . .
Fleming: . . . and marriage. Many of us know that's not so easy! Joe transformed a black comedy into a very funny farce, which requires an enormous amount of skill. That was another trial by fire for me, but I loved it.
Marshall: It's been wonderful to discover that not only is Renée a great actress, she also has incredible comic timing. She understands the rhythm of humor, which is not really a surprise because she is a brilliant musician, and she is so perceptive and so smart about story and character. The best comedy comes from a real place, and it's thrilling to watch Renée take charge of her own tempo, riding the waves of laughter.
Fleming: In opera, the conductor conducts, the orchestra plays, and the singers are not really in control of the timing of anything. The beauty of this play at Williamstown was discovering that I could pause when the audience was laughing. It was so powerful to be able to raise an eyebrow and make people laugh even harder. I have wanted to make people laugh my whole adult life, and I've only been given the chance to make them cry. I said, "That's it! I'm addicted!"