The Broadway musical Rock of Ages has never been very interested in doing things the traditional way. (What would you expect from a show that features a score of eyebrow-scorching rock songs, sells Jell-O shots to the audience, and gives a cameo to a llama in a sombrero?)
Now Broadway's bad-boy hit is shaking things up again by turning not to Hollywood, but to the Internet for its next big star. Last week, YouTube sensation Chester See put down his iPhone and picked up the microphone in Rock of Ages as faded rock idol Stacee Jaxx.
From the very beginning, when it plucked leading man Constantine Maroulis from the ranks of American Idol, Rock of Ages has had its finger on the pulse of pop culture in all its forms. Now, with more and more young performers finding stardom through YouTube and other social media channels, the '80s-rock musical is leaving no stone unturned in its quest to deliver nothin' but a good time.
"Having Chester come on board is something we've been envisioning for quite some time," said Rock of Ages producer Jonathan Linden. "We've witnessed the exponential rise in the influence of social-media stars within the entertainment industry. Hollywood has already begun to embrace this new wave of talent within the online community, and we're thrilled to be the first to lead the charge on Broadway, hopefully bringing a new generation of audiences to Rock of Ages."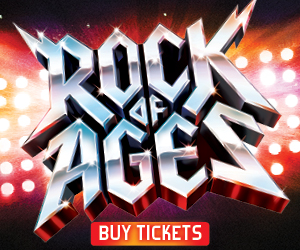 First, See, whose fun, tongue-in-cheek YouTube videos, such as "Whistle While I Work It," have earned him more than 162 million channel views, joined the company as the frequently bare-chested Stacee Jaxx, a casting decision that necessitated an abrupt farewell to carbohydrates. ("I didn't want to do the 'fat Elvis' version of Stacee," he said.) Next, See will be joined on November 10 by Frankie J. Grande, another YouTube regular fresh off of the most recent season of Big Brother.
Grande already knows his way around Broadway, having appeared in Mamma Mia! back in 2007 and later producing several other shows. "My life may have taken me away from Broadway, but my heart and dreams never really left," he said. "It was just a question of when."
Linden said he had been asking that very same question for a while now. "Frankie is somebody who's been a friend of the show for some time, and we've been talking to him for years about joining the cast," Linden said. "He had to move a few things around in his busy schedule to do it, but we all knew it would be worth it. Frankie was made for Rock of Ages. We couldn't be more thrilled to have him."
The show has a soft spot in Grande's heart. "I was raised listening to many of these songs on repeat with my mother," he said of the score, packed with 30 face-melting favorites by the likes of Bon Jovi and Poison, "so it immediately makes me really happy."
See was a more recent addition to the Rock of Ages family. He got a phone call at his Los Angeles home in mid-September, asking if he'd like to join the company, and he was on the stage of the Helen Hayes Theatre on Broadway just six weeks later. The whole process was so breakneck that See went on stage for the first performance frantic that he had forgotten his glasses, which he needed later in the scene; it turned out, of course, that he was wearing them at the time.
While Rock of Ages isn't afraid to make some innovative casting moves — Twisted Sister frontman Dee Snider and Facebook executive Randi Zuckerberg are just a few of the boldface names to step into the show's fictional Bourbon Room — Linden stresses that they would never cast someone unless they were a good fit for the show. "We've got some hard-core fans," he said, "and they'd let us know if we made a casting decision for the wrong reasons."
Still, Chester See isn't about to let his new day job get in the way of what he does best. "I've really wanted to see the online world get a little more legitimacy and respect," he said. "And now that I'm in the show and getting comfortable, I'm gonna really ramp up and show people what it's like behind the scenes."
In other words, look out, Rock of Ages fans: Stacee Jaxx has a camera and a backstage pass.