Book writer Winnie Holzman chatted with Broadway Direct about the strong heroines and life-altering friendships in Wicked.
A dozen years after opening night, Wicked reigns as one of Broadway's biggest and most beloved musicals, boasting an irresistible score by Stephen Schwartz, Tony Award–winning costumes and scenery, and a setting familiar to millions of Wizard of Oz fans. But there's a much simpler reason why Wicked is celebrating an astounding 5,000 Broadway performances this fall: the power of its story of friendship between two strong women, one of whom just happens to be emerald green.
The now-iconic characters Elphaba and Glinda were written for the stage by Winnie Holzman, based on Gregory Maguire's 1995 novel, Wicked: The Life and Times of the Wicked Witch of the West. Composer and lyricist Stephen Schwartz, a savvy judge of talent since his youthful success with Godspell, sensed that the creator of TV's My So-Called Life could work her magic on a pair of prickly young witches. Holzman suggested focusing on the lead characters' relationship rather than on Elphaba's journey alone, a twist Schwartz later called "really key" to the show's audience appeal.
"When we encounter certain people who will change the course of our lives, it can feel very profound," explains Holzman, who exudes warmth as she chats about Wicked and her busy career writing for TV, movies, and theater. "Elphaba and Glinda hate each other at first sight, but those feelings are a sign of how it's their destiny to be forever altered by their friendship. They're making each other better people and helping each other grow into the women they were meant to become."
The beauty of Wicked is that the push-pull between Glinda's desire to be liked and Elphaba's desire to change the world takes place in a dazzling universe of flying monkeys, talking goats, and magic spells that can go awry. Though its Broadway home is the 1,900-seat Gershwin Theatre, Holzman says, "I think of Wicked as an intimate show. It touches people's hearts because everyone involved in creating it wanted to tell the same story. From the beginning, Stephen and I felt very connected, and everything [director] Joe Mantello did, everything the designers did, came from the same place. When that happens in a musical, it's powerful."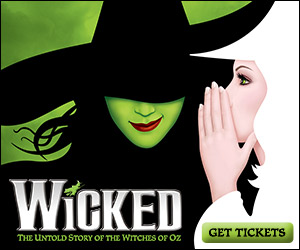 Holzman came to Wicked with a solid foundation in writing for actors, stretching back to the late 1970s, when the native of New York's Long Island performed in an improv comedy group after graduating from Princeton. In college, she had won awards as a poet. "My poetry became the foundation for all the writing I ended up doing," she says now. "Poetry teaches you about rhythm, which is a big part of dialogue, and also about the importance of each specific word." After "knocking around" show business for a few years, Holzman entered New York University's musical theater graduate program.
"Studying at NYU was a life-changing experience because Arthur Laurents took me under his wing," she says, referring to the librettist of two of the most celebrated musicals of all time, West Side Story and Gypsy. Although Laurents had a fearsome reputation in the theater, Holzman says, "as a teacher, he was incredibly generous and gave me tremendous encouragement." In 1987, Laurents directed the Off-Broadway premiere of Holzman's first musical, Birds of Paradise, which attracted a starry cast (Donna Murphy, John Cunningham, future Oscar winner J.K. Simmons) and less-than-starry reviews. It was her first stab at writing lyrics, something she hopes to return to someday.
For the next decade, Holzman concentrated on television, first as a scriptwriter at Thirtysomething, then as creator/writer of the cult hit series My So-Called Life (starring 15-year-old Claire Danes), and scriptwriter for Once and Again and the feature film 'Til There Was You. She was also raising a daughter, Savannah, with her husband of 30 years, actor Paul Dooley. Writing for stage and screen "is not really that different," she says. "You're intent on telling a story and unlocking people's emotions. There are technical differences, but the overarching goal is the same: to bring audiences to a certain emotional place." Laughing, she adds: "It's all superhard. A friend gave me a little green witch for my refrigerator with the caption, 'Isn't writing supposed to just appear now?' I've been blessed with huge success, but you still have to sit down and write, and it's never easy."
At the moment, Holzman is juggling two exciting new projects: the forthcoming Showtime series Roadies, which she'll executive-produce and write with creator Cameron Crowe, and the premiere of her first play, Choice, at Boston's Huntington Theatre. "I just found out that the night of Wicked's 5,000th performance, October 28, is also opening night of my play," she says. "I don't know what that means, but it makes me really happy." Hoping to preserve the surprise elements in Choice, Holzman says only that it centers on a female journalist who is pulled into a story she's covering.
"Someone asked me if the play has any connection to Wicked," she says, "and I realized that it also explores a powerful friendship, and a woman stepping into the truth of who she really is. There's a lot of humor and a lot of emotion. You know, friendship is a big part of women's lives, and you don't often see it depicted very interestingly."
A recent visit to the Gershwin Theatre confirms that Holzman and Schwartz's depiction of friendship in Wicked remains as vital today as on opening night in 2003. Over the course of the show, Elphaba and Glinda's initial "unadulterated loathing" gives way to admiration and devotion, culminating in Schwartz's gorgeous ballad "For Good." Facing peril, the witches open their hearts to each other — and seal their places in the audience's heart — with the refrain, "Who can say if I've been changed for the better? But because I knew you, I have been changed for good."