Features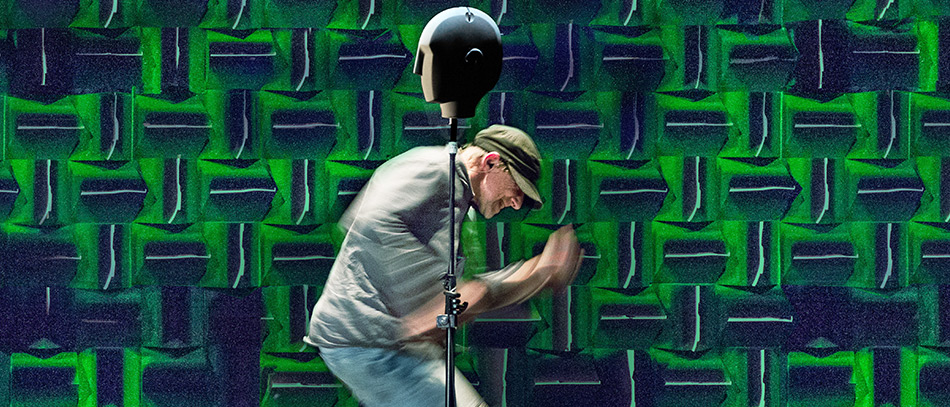 An Encounter with Simon McBurney, Creator and Star of The Encounter
AUG 23, 2016
Meeting Simon McBurney — as I did in a coffee shop in the Marylebone neighborhood in central London, or onstage in his latest and bravest solo show, The Encounter, in which he re-creates the real-life journey of an American photographer to a remote tribe in Brazil — can be disconcertingly strange.
Yet whether you're in a private audience with him or a public one, he floods you with ideas and provocations that spring arrestingly from his agile mind. It is like being in a philosophy class, but one that is entirely accessible and calls into direct question our own consciousness of who we are and where we are and of theater itself.
With The Encounter, McBurney has created a production that is both solitary and shared for the audience: The sound is heard via headphones given to each member of the audience. "What I wanted was for the experience to be physically palpable," he explains. "The audience isn't invited to sit back and watch what happens to this man when he journeys to Brazil, but for it to reexperience for it themselves, by getting as close to it as possible. You're paradoxically aware of sitting amongst a group of people, yet at the same time it feels like it is really for you."
The show is an act of very personal and direct storytelling — just as the photographer himself records his experience not just in the images he brings back, but in his very soul. "He places himself in a situation with which he is not familiar, like the cliché of the great explorer who says, 'I'm going to discover something new.' In fact, strangely, he discovers nothing new but discovers what he has in common with the people he meets, and something within himself, which is profoundly to do with identity, and that sense of identity is to do with connection. Who I am is made by you and me sitting across this table. What exists here is not just something within me, and that is the very image of theater: It is about my connection with the audience and the dialogue of what happens between us and what exists in that third space."
By introducing the challenge of the unique way the show is heard, McBurney admits: "I was terrified that people might see it as a gimmick. But it seemed the most apposite way to make people feel at the same time alone and together, in a physical sense. That's a palpable sense of what theater uniquely can do. There's a wonderful phrase to do with laughter, specifically in relation to other people, where you say something is side-splitting. That idea of bursting open at that moment is a wonderful image, and is just what can happen in theater."
The Encounter has already been seen at Scotland's Edinburgh International Festival, in London, and in Europe, but McBurney is looking forward to now bringing it to New York. "I think the appeal of working on Broadway and in the West End is that you're reaching the widest possible audience. It's not an elite audience. It is full of people who really want to be entertained, yes, but, like any piece of entertainment, to be made to feel and to think too. It's not just mental cheesecake; it's actually the main course."
He is encouraged by Broadway's embrace of the new. "Take the example of Hamilton: It's very new, but it's also about history and America. It's deep-thinking but also incredibly entertaining, and it uses the cultural reference points of everything that has been happening in America in the last 30 years as well as referring to something deeper. And there it is on Broadway!"
American audiences, he is happy to say, "are prepared to come to something without preconceptions. There is something in America that is constantly open to the new — it is constantly prepared to take risks, it's a country of risk-takers in many ways. In the theater, people like to know what they're going to get, but on the other hand, in lots of ways when they go to a show they also want to be surprised. Coming to this piece they will be entertained, but they will also be surprised!"
And that is exactly what McBurney has accomplished with two previous productions of his that were seen on Broadway: Ionesco's The Chairs in 1998 (for which he was Tony-nominated for Best Director) and Arthur Miller's All My Sons in 2008. "The Chairs is a work of surrealism in which you see these two people disintegrating in front of your eyes, but Broadway audiences absolutely loved it and got it completely! It's wrong to say that the Broadway audience is a conservative audience. It's actually a very generous audience."
And McBurney is looking forward to playing to it again and establishing the kind of connections that are the essence of his work and that he feels are central to all our lives. "The head man of the people I went to see in Brazil when I was researching this show said to me, 'When you go back to your people, the only thing I'd like is that you tell them that we exist.' In saying that others exist, you create a connection between people — which is why I also believe in theater, because that's what it does too."
Mark Shenton is associate editor and joint lead critic of The Stage, and the London correspondent for Playbill.com. Twitter: @shentonstage
A Sparkling ...
Where Did That Ti...