Features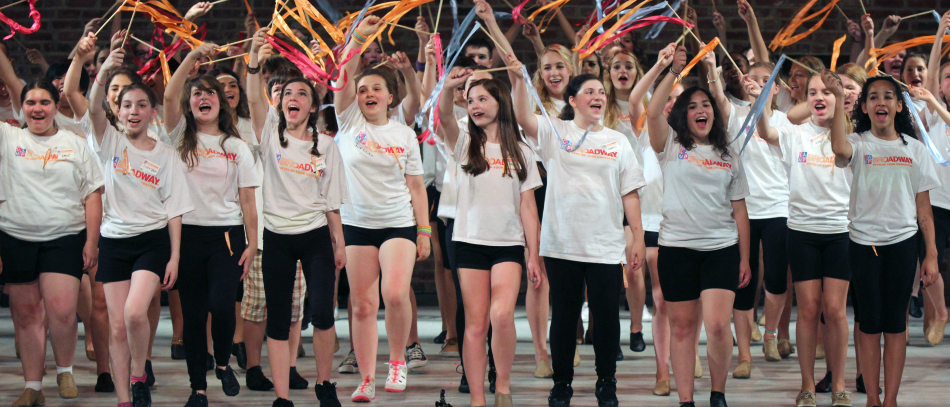 Raising a New Generation of Theatergoers
JUN 30, 2015
Do you remember the first stage show you ever saw?
Whether at a community theatre, a local stop on a national tour, or on Broadway, that initial experience of watching skilled actors create a fictional world can spark a lifetime of theatergoing. The challenge is to make sure that today's tech-savvy kids grow up to become the next generation of audiences. A trio of stage pros — creator, producer, and performer — recently weighed in on this topic with Broadway Direct.
"Theater, at its most basic level, is not just beneficial or important, it's essential, the same way that math is essential and sports are essential," says Tony-winning composer Jason Robert Brown, a father of two young daughters and hero to stagestruck tweens and teens for his musicals 13 and The Last Five Years, as well as Parade, Honeymoon in Vegas, and The Bridges of Madison County. "The way we share and tell stories is an essential part of the human experience. Young people need to connect, not just digitally or virtually — there is a person, on that stage or in the center of that circle, who is becoming someone else in front of your eyes so that he or she can refract an emotion or an experience through him- or herself and out to you in the audience. Seeing that person is what makes us understand who we are. The more we see, the better we understand."
Twenty years ago, a new type of summer program took aim at educating and engaging students interested in the performing arts: Camp Broadway. Launched in New York and now offered in 13 cities, this five-day intensive includes a matinee performance and 40 hours of instruction with Broadway artists, culminating in an original musical presentation. Among the 300,000-plus alums are NY1 theater reporter Frank DiLella and producer Greg Nobile, who won a Tony Award last year at age 21 for A Gentleman's Guide to Love and Murder.
"Camp Broadway was my first taste of what theater is about," Nobile says now, "and I've since realized that it's totally representative of our industry. I had gone to traditional camps and hated every moment, but with Camp Broadway I was able to associate camp with seeing shows, exploring the city, and being part of a community of people who love what they do." The absence of competition, he adds, sets the program apart. "Camp Broadway doesn't try to groom professionals for the stage. It's teaching kids about theater, which is something I care about very much as a producer." By the end of the week, campers "understand theater etiquette — how to get your ticket, where the stage door is, how to find your seat. Even if they never perform again in their lives, these kids leave with an appreciation of theater and a desire to keep coming back."
One positive development over the past decade is the rising popularity among kids of Broadway-style singing, from High School Musical and Glee to Frozen (featuring the Oscar-winning hit "Let It Go," by Avenue Q composer Robert Lopez and his wife, Kristen Anderson-Lopez) and the delightful novels Better Nate Than Ever and Five, Six, Seven, Nate!, written by former Broadway dancer Tim Federle. Based loosely on the author's childhood in Pittsburgh, the books center on a musical-loving 13-year-old who lands a role in the Broadway premiere of E.T.: The Musical. Federle references everything from Wicked to Barnum and offers an inside look at auditions and rehearsals as his young hero pursues of his dream in the face of bullying and family indifference.
"My aim was to reach kids like me who felt a little bit different and were looking for a hero who didn't put on a cape but lived his life honestly, even if it wasn't always popular," explains Federle, whose Broadway credits include Billy Elliot and The Little Mermaid. The response was immediate, not only from young readers but from gay men who recognized themselves in Nate. The books' success led Federle to begin teaching master classes in schools, an experience that opened his eyes to the sophistication of today's students.
"I'm delighted by how many kids say their favorite shows are Sweeney Todd and Les Miz and Carousel," he says. "So-called 'regular kids' who don't have a future in theater other than as audience members respond to shows that move them. That can mean the awe of watching The Lion King or War Horse come to life, or hearing a song like 'I'll Cover You' from Rent, as I did in high school. Young people have big emotions that they can't always control, and theater gives them permission to channel that energy in a place where being emotive is required."
When asked for his insight into young audiences, Jason Robert Brown mentions age 9 as the threshold when kids begin to appreciate shows centering on themes beyond their direct experience. "I find them to be open to pretty much anything," he says, "as long as it's set up well enough for them — by their parents, their teachers, their friends — so that they can get past the boundary of 'unfamiliarity' and discover what it is that makes them similar to the people on stage. Seeing kids watch 'adult' shows is very rewarding for me: You see them picking up drops and snippets of what they think their lives will be like, and responding with shock and a kind of amazed recognition."
With funding for arts education at risk nationwide, it's up to parents, the theater industry, and visionary businesses like Camp Broadway, now celebrating its 20th anniversary, to make sure children experience the benefits of live performance. "You've got to see theater and be shown how to interact with it and enjoy it," says Federle, "which is why student matinees and community engagement are so important." Adds Nobile, who delights in the response of kids to his Broadway hit Gentleman's Guide: "I'll stand on my soapbox all day for businesses that help families experience the excitement of Broadway and become regular theatergoers. We have to invest more in audience development."
Brown sees theater as a fundamental part of a child's education. "The easier we make it for parents to share theater with their kids, the more we encourage those kids to come back over and over again for the rest of their lives," he says. "And the more we insist on the arts as a basic building tool of the community, an essential link in the chain of what makes us good people and good citizens, the more central it will be to those kids' lives as they get older."
7 Ways to En...
Shattering the Gl...
You might also like: