Beautiful: The Carole King Musical recently launched its national tour, having already made stops in Providence, Rhode Island; Durham, North Carolina; Washington, D.C.; Pittsburgh; and Boston, from where members of the cast are connecting with schools as part of National Distance Learning Week.
Beautiful tells the story of Carole King's beginnings as a songwriter and details her early life with Gerry Goffin, as well as their best friends and fellow songwriters Barry Mann and Cynthia Weil, ending shortly after the release of Tapestry. "Since we opened on Broadway, the Beautiful company has been so happy that the story, the music, and the themes that run through the show have been so appealing to audiences," says producer Paul Blake. "To help teachers share this theatrical work with the young people in their classrooms, we commissioned StageNotes to develop a digital study guide to connect the time period and amplify the themes in the show with the lessons students are learning in school."
The Beautiful study guide features a lesson on the Equal Rights Amendment, an assignment on creative nonfiction writing, activities that showcase the collaborative nature of making theater, and insights on the theme of kindness. "Kindness," continues Blake, "which is one of the many qualities embodied throughout Carole's work, is a message that is both timeless and particularly timely." Visit StageNotes.net to check out the toolkit for yourself.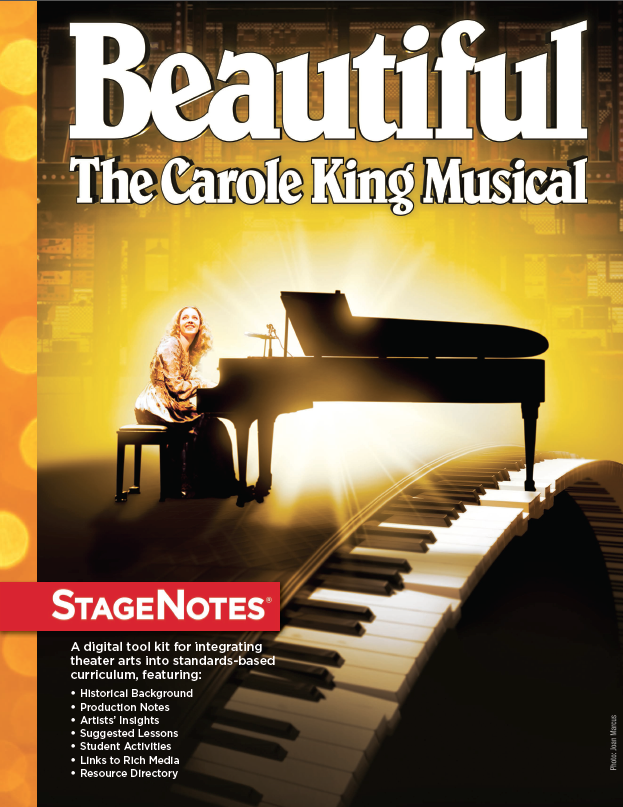 But what about kids who can't get to Broadway? Recently, Eli Stawicki, director of IT, and Jana Rogers, coordinator of professional development for fine arts staff at Jefferson-Lewis BOCES (Board of Cooperative Education Services) in upstate New York, reached out to StageNotes.net looking for help to develop a unique live event that would connect their students with Broadway performers as part of their celebration of National Distance Learning Week (www.usdla.org), which runs from November 9 to November 13.
Stawicki and Rogers oversee digital learning for 18 school districts that include 44 schools covering a geographic area that starts at the shores of Lake Ontario and ends in the Adirondacks — an area that would take two and a half hours to drive from end to end. They believe that connecting the best theater artists "live" to their music and theater students who live in the most rural and remote areas of New York is the perfect illustration of the transformative power that digital access can have on how teachers teach and students learn.
Rogers is excited about the opportunities that distance learning can provide for arts students. "Jefferson-Lewis BOCES is pleased to be able to increase access to fine-arts programming and opportunities for our students across the New York State North Country region. I think that giving our students the opportunity to work with Broadway-caliber artists is a truly remarkable experience that we hope will empower the students to become active participants in both the local arts community and the arts community at large." Stawicki shares her enthusiasm. "We are excited to include Beautiful: The Carole King Musical as part of our National Distance Learning Week events. It is a great example of how, through the use of technology, we can connect schools from our North Country region to content that is often only available in metropolitan areas."
But just how will all this work? The students are scattered across upstate New York in various schools, and the touring company is in Boston. Here's where technology saves the day. Jefferson-Lewis BOCES used funding from a Rural Utilities Service (RUS) grant to install Cisco TelePresence systems in the schools. Four members of the touring company of Beautiful will take time out of their busy schedules to meet up at Cisco's Boston offices in a room equipped with the TelePresence system. Stawicki has been instrumental in this process. "The technology is the 'easy part.' It is the content, instruction, and outcome that matter most to the North Country schools' children, teachers, and administrators. We are very appreciative of how the curriculum connects theater and music to language arts, social studies, and the all-important life skills."
This is only one of many events in the Jefferson-Lewis BOCES celebration of National Distance Learning Week. Stawicki will have a busy few days coordinating events in all subject areas, but this one is special. He says, "One of the reasons this collaboration with Broadway is exciting is that it has expanded the spectrum of content that we are offering to students of all ages. As technology evolves and becomes more transparent, we are able to seamlessly offer experiences ranging from telemedicine to performing arts to more students than ever before."
"This is an exciting time for artists to connect with audiences in meaningful new ways," says Blake. "Technology is a powerful tool that can help producers, theatres, and other art-makers provide insight into their processes and their work. Thanks to initiatives like this, we can ensure that arts can continue to be an important part of our lives."
So why Beautiful: The Carole King Musical? Coincidentally, National Distance Learning Week coincides with World Kindness Day, held on Friday, November 13. World Kindness Day was introduced in 1998 by the World Kindness Movement. It is observed in many countries, including Canada, Japan, Australia, Nigeria, and United Arab Emirates.
In the Beautiful study guide, students are encouraged to jump off the lyrics of the song "Beautiful" and find ways to "show the world all the love in your heart" through acts of kindness. During the live sessions, students will brainstorm ways that they can show kindness to others on World Kindness Day. They will be sharing their actions on social media using the hashtag #beautifulkindness. This isn't limited to those who attend the sessions. Feel free to try out your own acts of kindness. You might find "that you're beautiful as you feel."
Get the full tour schedule or buy tickets for Beautiful on Broadway.
Photo by Joan Marcus.