The Tony Awards honoring the 2019-20 season were supposed to have been handed out on June 7 at Radio City Music Hall, in an annual ceremony that has been a joyous ritual since 1947 and has been accessible to theater fans via television since 1967 (on CBS since 1978).  This year, sadly, that tradition has been interrupted by the COVID-19 pandemic, which prompted a shutdown of Broadway theatres that took effect on March 12 — leading to the postponements and, in a couple of cases, cancellations of a rush of productions that had been scheduled to open this spring — and has since been extended through at least September 6.
As a result, the Tonys, too, have been indefinitely delayed. This year's awards would have recognized a lineup that included bold and critically celebrated new works such as Jeremy O. Harris's Slave Play, Matthew Lopez's epic The Inheritance and Adam Rapp's The Sound Inside (respectively transfers from off-Broadway, London, and the Williamstown Theatre Festival) to probing revivals of the Harold Pinter classic Betrayal and Tennessee Williams's The Rose Tattoo. Pulitzer Prize-winner Tracy Letts unveiled the piercing, darkly comic Linda Vista, while Charles Fuller's A Soldier's Play, which earned a Pulitzer back in 1982, finally made its Broadway premiere with a cast led by David Alan Grier and Blair Underwood.
Acclaimed playwright Bess Wohl acquired a starry and sparkling ensemble, led by Jane Alexander and James Cromwell, for her Broadway bow, the comedy Grand Horizons. Tom Sturridge and Jake Gyllenhaal appeared as young fathers in a haunting double bill of Simon Stephens's Sea Wall and Nick Payne's A Life, and a luminous Laura Linney played the title character in another solo vehicle, Rona Munro's stage adaptation of Elizabeth Strout's novel My Name Is Lucy Barton. Audra McDonald and Michael Shannon starred in a revival of Frankie and Johnny in the Clair de Lune that, sadly, would be the last Broadway staging of a Terrence McNally work before the playwright died, after contracting the coronavirus. Venerated vets Eileen Atkins and Jonathan Pryce joined forces in Florian Zeller's The Height of the Storm, and Brian Cox starred as President Lyndon Johnson in The Great Society, Pulitzer winner Robert Schenkkan's follow-up to All the Way.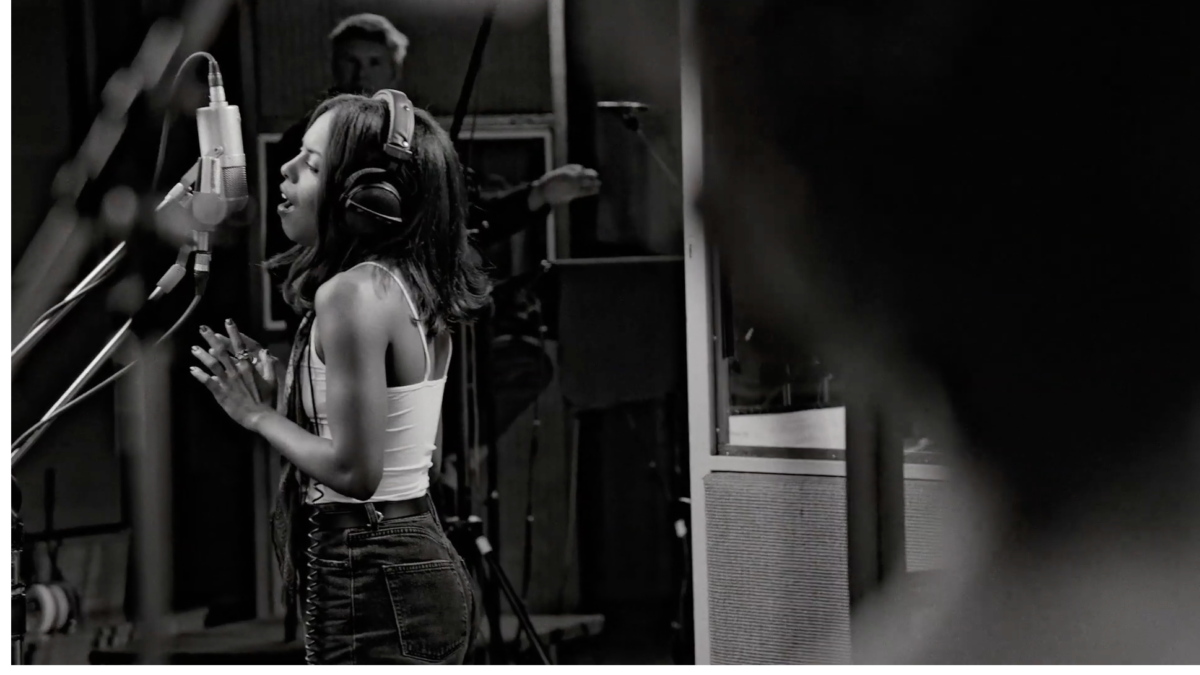 Watch the music video to the…
There was also Ivo van Hove's transformative revival of West Side Story, along with new musicals that drew on the catalogs and histories of iconic pop stars, from the Tina Turner homage Tina – The Tina Turner Musical to Jagged Little Pill, which married Alanis Morrissette's songs to a fresh narrative with a book by Diablo Cody, to the visual and sonic spectacle Moulin Rouge! The Musical, to the London transfer Girl From the North Country, which wove Bob Dylan classics into a bleakly riveting story by acclaimed playwright Conor McPherson. (Other London imports included a re-imagined, music-infused A Christmas Carol, with a book by Harry Potter and the Cursed Child scribe Jack Thorne.) 
American Utopia found David Byrne leading a group of musicians and dancers in an exuberantly theatrical concert, with choreography and musical staging by Byrne's collaborator Annie-B Parson, while Freestyle Love Supreme brought the group of improvisational hip-hop stylists co-created by Lin-Manuel Miranda to the Broadway stage, while The Lightning Thief: The Percy Jackson Musical drew fans of a beloved children's book series and offered a contemporary pop-influenced score.
When the shuttering of theatres was announced, though, many more shows had yet to open — among them a new revival of Who's Afraid of Virginia Woolf starring Laurie Metcalf and Rupert Everett and the transfer, from off-Broadway, of Martin McDonagh's acclaimed Hangmen; both highly anticipated productions were canceled within weeks. As of mid-May, a couple of leading theaters were still hoping to open shows originally set for this spring in the fall, depending on when Broadway reopens. That's when Roundabout Theatre Company had announced plans to launch the first Broadway revival of the Tony Kushner/Jeanine Tesori musical Caroline, or Change and the New York premiere of Noah Haidle's Birthday Candles, and Lincoln Center Theatre was set to introduce the new musical Flying Over Sunset, with a book by James Lapine, music by Tom Kitt and lyrics by Michael Korie. Recently announced, Lincoln Center Theatre plans to premiere Flying Over Sunset in the spring of 2021.
The new staging of Neil Simon's Plaza Suite starring married troupers Matthew Broderick and Sarah Jessica Parker is now set to open next spring, with Manhattan Theatre Club's Broadway premiere of Paula Vogel's Pulitzer-winning How I Learned to Drive — with original stars Mary Louise Parker and David Morse — also scheduled for the 2020-21 season.
Other productions — among them another Letts play, The Minutes; the first Broadway revival of Richard Greenberg's Take Me Out; a new musical adaptation of the screen comedy Mrs. Doubtfire; Diana, another new musical focusing on the late Princess of Wales; and a revival of David Mamet's American Buffalo starring Laurence Fishburne, Sam Rockwell, and Darren Criss — are generally expected to open after Broadway performances resume, though more specific plans have not yet been announced.
Veteran producer Jeffrey Richards notes that the casts of The Minutes and American Buffalo have been keeping in touch with each other and their respective directors, Anna D. Shapiro and Neil Pepe, and holding virtual rehearsals. Richards, who had been a press agent on a previous staging of American Buffalo featuring Al Pacino, had seen the new cast, and says, "They were really nailing it. They had bonded as artists and as friends, and were bringing a vibrancy and immediacy to the play that was very potent." Richards has similar praise for the company of The Minutes, which includes Armie Hammer, Blair Brown, Jessie Mueller, and Austin Pendleton, and Letts himself, and describes the play as "one of Tracy's finest — very funny, but also very serious."
Go behind the scenes with Sing Street as they film their first music video. Dublin, 1982. Everyone…
Artists involved with other shows in this position are trying to keep their spirits up and their creative instincts engaged. Game of Thrones alum Brenock O'Connor, who was planning to make his Broadway debut this spring as a lovestruck teen fronting a rock band in the buoyant new musical and off-Broadway transfer Sing Street (based on the 2016 film), notes, "I've been working on my music a lot. I go by 'McGovern' on Spotify and I'm just releasing singles on there and keeping my head in my laptop." As for getting back to Broadway, "I'm grasping for it," O'Connor admits. "But we've got to get the world right first."
Toby Marlow and Lucy Moss, the twentysomething creators of the smash London hit SIX, a pop-concert-like musical placing the wives of Henry VIII in feisty competition, were to celebrate the show's Broadway opening the night the shutdown began. "I was in a taxi and heard the news on the radio," says Moss, who's also the show's co-director, while Marlow had just brought a "cute top" for the opening night party. But both are lucky, they say, in that the forced pause has given them time "to be creative and think of other projects we can do together," as Marlow puts it. After years of focusing on SIX, "It's given us a little bit of head space," Moss agrees.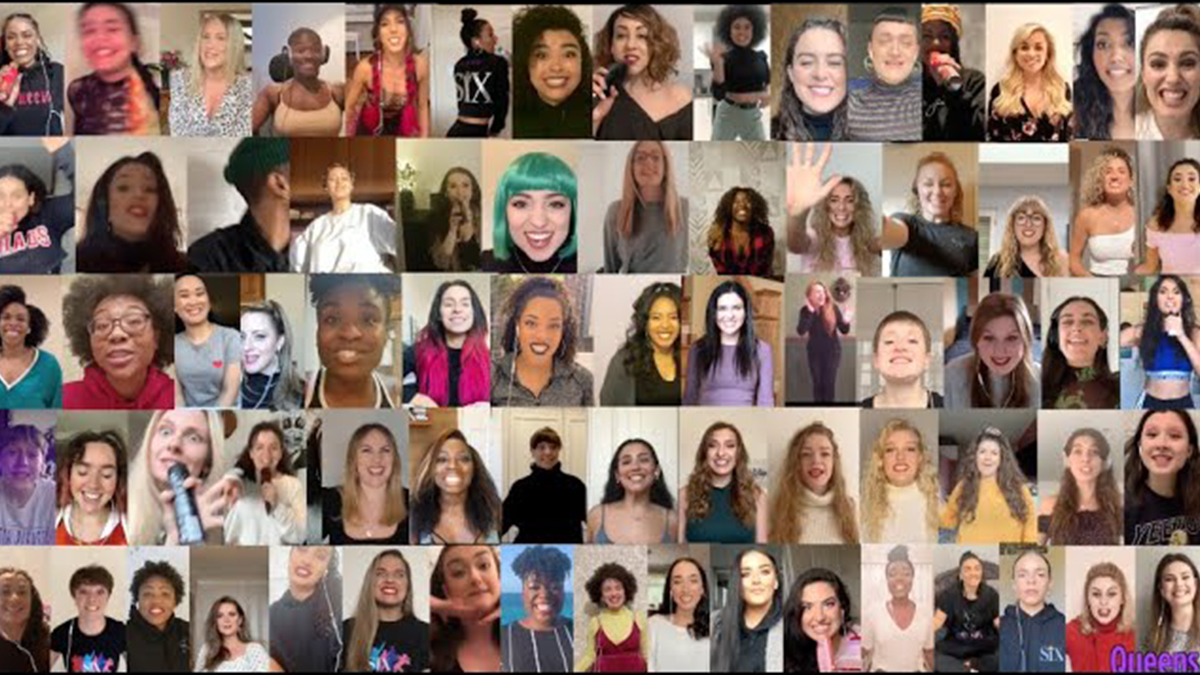 Watch this video of the worldwide queens of SIX collaborating…
The performers playing SIX's queens on Broadway, meanwhile, have reached out to fans virtually, with everything from workshops to a Covenant House benefit performance to a video featuring them with "every single person who's played a queen, including in the student cast," according to Marlow — along with 3000 fans, all singing excerpts from Marlow and Moss's score.
Director Marianne Elliott, whose London-based, lavishly praised reinterpretation of the groundbreaking Stephen Sondheim/George Furth musical Company had been set to open on March 22, Sondheim's 90th birthday, is keeping in close contact with her New York cast, which includes Katrina Lenk and Patti LuPone. "The company of Company holds weekly catch-ups, and we're getting pretty inventive," Elliott reports. "What started as weekly check-ins to run through lines" has now led to "bingo sessions, cocktail hour, and even a virtual baby shower. Katrina has become the Zoom catch-up organizing queen, and it often turns into an alcoholic version of 'Hollywood Squares.' Literally 'Side by Side!'"
Though Elliott is grateful to be back with her family in London, she is eagerly "waiting for Broadway to re-open. And whenever that may be, our sublime cast, musicians, and all those behind the scenes will be ready and raring to go. Because one of the things people will crave more than anything after months of quarantine and self-isolation without friends, family, and loved ones, I hope, is Company."