"So many millions of people have a love affair with this show; I feel it is important to give them what they remember," says Andy Blankenbuehler, who is choreographing the first Broadway revival of Andrew Lloyd Webber's Cats, the musical phenomenon that has captivated audiences since the 1980s.
Blankenbuehler, who is best known for creating the dazzling kinetic moves in this decade's musical phenomenon Hamilton, will base his work on the original choreography by Gillian Lynne. The new production of Cats also retains director Trevor Nunn, and set and costume designer John Napier — both of whom won 1983 Tony Awards for the original production. "I don't want to break the DNA of the show, but I want to move it a little more quickly, deepen the storytelling, and strengthen the characterizations, so that when audiences see the show, it will be something they remember, but which happens in a way that is not familiar."
Letting the memory live again, to quote from the musical's popular hit song, could be a challenge. "I think the millions of people who saw Cats took away from it very different things," notes Blankenbuehler. "As an audience member, you have romantic memories that moved you, but decades later you only remember the impact of the show." He reports that he recently talked to a young woman who recalled seeing the show when she was a preteen. "She remembered how she was sitting on the aisle, and the white cat — which is a sort of idealized vision of feline beauty — [physically] touched her. That image of theatrical beauty stayed with her through her entire childhood. She now works in the entertainment business and she swears it was that moment that changed her creative life."
Blankehnbuehler himself was just 12, a Cincinnati preteen himself bitten by the theater bug, when Cats first opened on Broadway. As an aspiring dancer in 1990 at age 20, he says, he was inspired by the extraordinary success of the dance-focused mega-musical when he moved to New York City to pursue his dream. "I literally had a photo of the Winter Garden [theatre] Cats billboard over my bed," he recalls. "More than anything else, the impact the show made on me was that a historic thing could happen because of dancers — that dance could touch the lives of so many people every night and make a difference. It made the sacrifices of making no money and living in a five-flight walk-up in New York worth it. The irony was that I never got to dance in Cats ," he adds.
In the mid-1990s, the young dancer went on tour with Lloyd Webber's Music of the Night, but he got to know the composer personally only after he took on the job of directing and choreographing the recent national tour of Lloyd Webber and Tim Rice's Joseph and the Amazing Technicolor Dreamcoat. By this time, of course, Blankenbuehler had received a Tony Award for In the Heights and two subsequent Tony nominations for 9 to 5 and Bring It On. "Andrew reached out to me and asked me to fashion and write a new concert retrospective of his work, and that's really how we got to know each other," he explains. And then, not long after Hamilton began its charmed life at the Public Theater at the beginning of 2015, Lloyd Webber asked Blankenbuehler if he would like to choreograph the Broadway revival of CATS. A new, slightly tweaked production had just opened in London the previous fall, but the creators were looking for a fresh take for Broadway.
When preparing for the Broadway revival, Blankenbuehler met regularly with director Nunn and other members of the original creative team. "It's an amazing collaboration," he reports, talking about the creators of Cats . "Maybe I am being boastful, but it is a similar feeling that I have when I am around my Hamilton friends. There was a feeling during In the Heights and Hamilton — we are all at the top of our craft and all our cylinders are firing — that we were in the sandbox and we just had to get our hands dirty because we had nothing to lose. One person feeds off the other and things that you don't anticipate happen," he explains. "I think that's how Cats was made, that they got into this room and it was this mad, crazy science experiment. So it is a huge flattering gesture to me to just be in the room with these guys."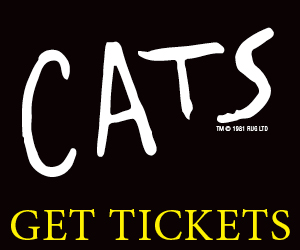 Blankenbuehler particularly treasures his conversations with Lynne, the original choreographer, who turned 90 earlier this year. "There are lyrics in the show, but there is a lot of music without words — a lot of ballet gestures," he explains. "Gillian, with Trevor, obviously, did a great amount of work creating the storytelling. In many ways she wrote the book, as the choreographer of a danced-through piece does. So it was important for me to hear what she had to say and to understand why, for instance, she chose to make one section in unison and another with one person. Ultimately, the difference between Gillian and me is that she is balletically and lyrically based, so the pictures are long and sweeping," Blankenbuehler continues. "I'm rhythmically based, and so my pictures are always about syncopation and shapes that crunch down, as opposed to shapes that expand up. I wanted to take her bible and meet it with my bible; I think in that we are going to be great partners."
In the 30-plus years since CATS opened, not only have audiences changed — we have shorter attention spans, are open to more stimulation, and frequently multitask — but the tools available to a choreographer are also more varied. Blankenbuehler notes that today's young performers' abilities have been broadened by dance competition TV shows like So You Think You Can Dance. "You have these dancers coming to us with tremendous skills that range from ballet to tap to [street-dance styles like] krumping and popping or [hip-hop's] locking, to modern and contemporary dance."
"The creative team talked to me a lot about the musical not just being about cats, but about finding the common ground where the audience can see themselves in the cats," Blankenbuehler continues. "So for me as a choreographer, it's a great opportunity to further deepen the individual cats within the tribe. As Andrew's musical styles change, I have them move in different ways. I am also making choreographic adjustments for Rum Tum Tugger, Mistoffelees, for the Macavity fight, and for our younger cats. One thing that's going to be substantially different is the connective tissue between moments. The archetypal characters are the same but I want to make sure, as I have always done, that in the transitions, the storytelling continues in a very dynamic way."
The design elements of the Cats revival are pretty much the same as the original and, apart from a few cuts and some reshuffling of scenes, the show remains structurally the same. But the production has a new lighting designer in Natasha Katz. "The lighting is the doorway that the audience walks through, so with her changes and my staging changes, I think the show will unfold in a different way," says Blankenbuehler. "The big gamble is to take something that feels familiar and make it unfold in a deeper and more colorful way."