March is Theatre in Our Schools Month, the time when schools across the country raise awareness of the benefits of theater for students either through participation in educational experiences or as audience members. This national celebration is sponsored by the American Alliance for Theatre & Education (AATE) and the Educational Theatre Association (EdTA), two service organizations championing the importance of arts-based learning.
In New York City, Broadway producers and industry organizations are finding innovative ways to share the richness of the theater with students. According to Peter Avery, Director of Theatre for the New York City Department of Education: "More than ever, there is a real excitement on Broadway to connect to New York City schools. There are all kinds of outreaches popping up. Broadway performers are being sent out by various organizations for workshops and programs that include more in-depth contact with students." With 1.3 million students in 1,800 schools, this is a big task, but Broadway is up for the challenge.
Disney Musicals in Schools started in 2009 in New York City schools, but is now a national program serving 13,000 students in 140 schools. It matches classroom teachers with teaching artists who help them produce their first school musical over the course of a semester. The teachers receive professional development that allows them to build sustainable theater programs in their schools. All local programs are invited to perform at the New Amsterdam Theatre each June, providing a forum for students and teachers to celebrate their accomplishments. Senior Manager of Education and Outreach for Disney Theatrical Group Lisa Mitchell explains what is so special about this program: "Disney Musicals in Schools is an interesting program in that it is not providing a transient experience, but goes deep into the community to build capacity for arts education, ensuring that more students, regardless of economic need, encounter theater and the skills it can develop, such as confidence, creativity, collaboration, and public speaking." In addition, they also offer workshop experiences to groups who purchase through their ticketing team that give students the opportunity to learn the music and movement from a show as well as standards-aligned study guides that feature arts-integration lessons inspired by the show.
The Broadway League hopes to increase student engagement in theater in New York City and across the nation. This past fall they launched bwayzone.com, a website about all things Broadway aimed at students and their families. It covers just about everything that is happening on Broadway and introduces students to the many different careers available beyond performing. Charlotte St. Martin, President of The Broadway League, has noticed something about the people who work in the Broadway theater industry: "Almost everyone who works in Broadway are people who dreamed of performing on Broadway in high school." Exposing students to the many different careers that make Broadway happen is something with which Peter Avery agrees. "The opportunity for New York City students to meet Broadway professionals at the top of their game is inspiring for students," he says. "They see it is a legitimate career path. When they meet conductors, stage managers, dressers, and others, they see that it is not just for kids who want to shine in front of everybody, but also for the quiet kids with their noses in a sketchbook."
Of course, the League's largest educational outreach is the National High School Musical Theatre Awards, lovingly referred to as "the Jimmys" in honor of James M. Nederlander. More than 50,000 students in more than 1,000 schools annually are involved through vital connections with performing arts organizations across the country. The program raises the profile of musical theater in these communities and helps to sustain the local organizations through increased subscriptions and ticket sales.
While some students will go on to work in the industry, even more important to the future of Broadway is the audience. Developing the next generation of theatregoers is a priority for the League. For Charlotte St. Martin, it was the experience seeing Madama Butterfly that changed her perception of opera. She knows that this also works for theater. "If you haven't been exposed to theater, you may not think it is for you. We know that if you get them into the theater when they are young, it instills a desire to continue to go as an adult."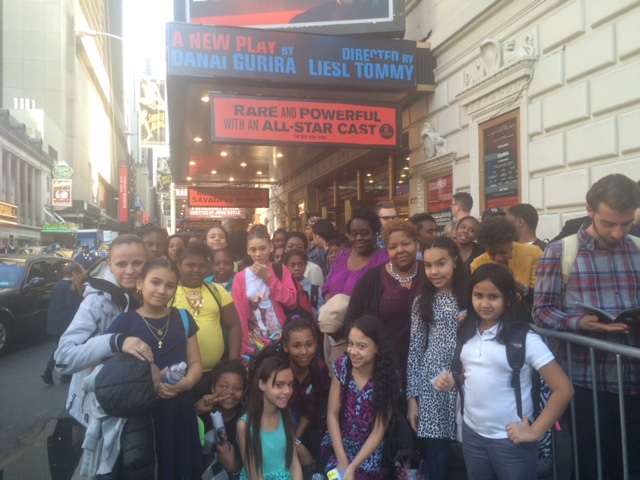 With two recent shows that have moved on to Broadway, Mandy Hackett, Associate Artistic Director of The Public Theater, sees that both producers and students have much to gain from reaching out to younger audiences. "I think producers are interested in developing the next generation of theatregoers and we understand that each and every student should have the arts in their lives to better understand the world around us, to inspire and expand our imagination, to dream big and to be better citizens and human beings," Hackett notes. Both Hamilton and Eclipsed have programs in place to get students who may not otherwise have the opportunity to see a Broadway show into the seats. Hamilton's program is through New York City schools. The producers of Eclipsed are sponsoring an unprecedented initiative called 10,000 Girls Campaign to enable thousands of girls and young women to see this landmark production that is the first to feature an all-female creative team and cast. Hackett explains the power of seeing a show on Broadway: "Just the act of walking into a Broadway theatre makes you feel like you are experiencing something bigger than yourself. It takes you out of your own life and propels you into an experience of sitting in the dark with a lot of strangers to watch a story unfold. Whether a musical or a play, funny or sad, the theater brings us together, forges community, and inspires us."
Avery knows this is true, but stresses the importance of educational programs that prepare students to see a performance. "We can't assume that anything is going to stick other than enjoyment," he says. "You have to prepare students to see a show. They need to have the right mindset. Just as you would warm up your body to do a run, they need to warm up their hearts and minds before they see a show. When students talk about what they see and engage with performers, they begin to think as artists. They see that it is not magic, but that they too can be artists. They can hear from peers who add insight they hadn't thought about. That exchange has an impact on the class dynamic beyond the theater experience. It helps them feel more comfortable expressing their thoughts and feelings."
Whether these programs bring theater into the schools or schools into the theater, they have much to offer everyone involved and can have an impact that lasts a lifetime.
Teachers and students can find a wide array of study guides for Broadway and touring shows at www.stagenotes.net.