This July, Tony Award–winning composer Andrew Lloyd Webber will once again reign as the king of Broadway when he has not one . . . not two . . . but three shows running simultaneously on The Main Stem.
His record-breaking musical Cats will be back on the boards alongside his other hits, including The Phantom of the Opera and the Tony Award–nominated School of Rock. The last time Lloyd Webber had three shows on Broadway was in 2000: Cats, The Phantom of the Opera, and Jesus Christ Superstar.
The first-ever revival of Cats, which is based on T.S. Eliot's "Old Possum's Book of Practical Cats," will feature direction by the show's original leader, Trevor Nunn, as well as new choreography by Andy Blankenbuehler of Hamilton fame (with a nod to the musical's original movement created by Gillian Lynne).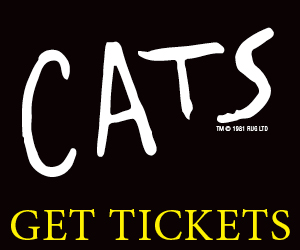 Cats premiered in New York back in the fall of 1982 at the Winter Garden Theatre and ran for 18 years (that's 13 previews and 7,485 performances). The original production, which is the fourth longest-running show in Broadway history (Phantom is the first), featured the likes of theater favorites Terrence Mann, Ken Page, and Betty Buckley. Buckley won a Tony Award in 1983 for her portrayal of the faded glamour cat Grizabella, who sings the show's iconic anthem, "Memory."
The new Broadway cast will include Tyler Hanes (A Chorus Line, On the Town) as Rum Tum Tugger, Andy Huntington Jones (Rodgers and Hammerstein's Cinderella) as Munkustrap, Quentin Earl Darrington (Ragtime) as Old Deuteronomy, and Eloise Kropp (Dames at Sea) as Jennyanydots and Gumbie.
Hanes, a theater gypsy, made his Broadway debut in Trevor Nunn's revival of Oklahoma! back in 2002. He says being cast in Cats marks a full-circle moment for him.
"Cats was the first show I ever heard about. It was touring through Atlanta when I was a kid; I remember seeing billboards and posters everywhere!"
He adds, "When I saw the show, it was my first introduction to what a musical was. I remember seeing the musical and really being taken aback with how you're in the middle of it all and it's happening around you. Up until that point, I was just used to seeing shows in a proscenium setting. Cats is so immersive — it was different from anything I had seen — and with dance being the language in the show, that to me stood out and made me want to be a part of it."
Fresh off the national tour of Rodgers and Hammerstein's Cinderella, in which he starred as Prince Topher, Huntington Jones says he too is excited to be a part of the Cats legacy. Huntington Jones will play Munkustrap, the unofficial leader of the singing felines.
"I grew up with this show, I grew up dancing around my house as a cat," the performer happily admits. "I'm of the generation — we were introduced to the musical with the London production on film, but never got the chance to see the show on Broadway. So I was just excited that Cats was coming back to New York."
He adds, "But when I got the appointment to audition for the musical, I was on tour, so I had to send in a videotape of me singing and crawling around my hotel room in Dayton, Ohio, as a cat. And then, after flying back and forth to audition, I booked the show!"
While the 2014–2015 London revival of Cats proved to be a hit — and made it clear that the demand for the musical is as present as its tagline, "Now and Forever" — Hanes says he couldn't agree more.
"I feel like there's been such a renaissance with dance over the last few years, with shows like An American in Paris and Hamilton. But even nowadays, the way dance is on television, like Dancing With the Stars and So You Think You Can Dance, these shows have brought dance to all audiences all over America."
He continues, "Dance, in my opinion, is at the forefront of the Broadway community and musical theater. There's a hunger from audiences to see dance, and what better way to experience that than with bringing Cats back to New York?"
Cats will begin previews at the Neil Simon Theatre on Thursday, July 14. Opening night is set for Sunday, July 31, 2016.