A dinner party can bring out the worst in people. At least, that's what happens in Disgraced, a new play by Broadway newcomer Ayad Akhtar, currently playing at the Lyceum Theatre.
Akhtar's provocative work, the winner of the 2013 Pulitzer Prize for Drama, is set in a chic New York Upper East Side apartment. It's the home of Amir, a successful Pakistani American corporate lawyer (Hari Dhillon), and Emily, his white American artist wife (Gretchen Mol). The play's central event is a dinner party they host for another couple — Jory (Karen Pittman), Amir's African American colleague at his law firm, and her boyfriend, Isaac (Josh Radnor), a Jewish art curator who may be able to advance Emily's career. The evening is just what you might expect in this milieu — inviting surroundings, witty  conversation — but beneath the sophisticated veneer lie turbulent currents that will cause a shocking breach, the fault lines of which can be traced back to ancient tribal identities long forgotten or deliberately ignored.
"Amir represents a fundamental tension: He is somebody who has been brought up in one direction and is working consciously as an agent of the enlightenment in the opposite direction," says the playwright. "Everybody at the table has this tension, and when push comes to shove, things devolve to a point where the tribal fealties reveal themselves, basically, in everybody's character."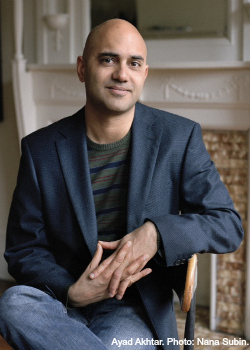 Prior to Disgraced — his first work for the stage — Akhtar cowrote and played the leading role in The War Within, a 2005 movie that attempts to get inside the mind of a suicide bomber. He also published a novel, American Dervish, about a Pakistani American boy growing up in the Midwest. The impetus for the play, he explains, came from an epiphany he had at a real-life dinner party in 2006. "Something subtle happened that night, which was a conversation about Islam that shifted relationships in this microscopic but very palpable way." Some three years after the actual event, Akhtar realized that he had an idea for a play, although in Disgraced, the shift in relationships is more dramatic, even seismic. At its core was "a growing understanding of the ways in which identity politics had been a very important part of my life without me realizing it," says the 43-year-old playwright.
The son of two doctors who immigrated to America from Pakistan in the mid-1960s, Akhtar says that, as a kid growing up in a Milwaukee suburb, he had assumed that differences of race and religion didn't matter. "My dad brought me up to believe that your difference is only going to hold you back to the extent that you allow it. We were a football house, and as long as you liked the Green Bay Packers you were fine," he adds, laughing. "So long as you shared enough of the common community values, I don't think there was an issue — at least back then. Now there is a huge Muslim community, not just Pakistani but other nationalities as well," he continues. "When I was 10, the first mosque opened and it was a big deal. Now there are six in the greater Milwaukee area, so, therefore, with greater visibility, in a post-9/11 landscape, the politics are very different."
Aside from the actual dinner party, Akhtar says, he also long harbored a desire to write a story that was set among the affluent intelligentsia of New York. He wanted to capture the way he used to feel as a college student watching the Woody Allen movies of the mid-1980s, he explains. "I was kid from the so-called provinces who'd come to the big city, and for whatever reason Woody Allen seemed like an instruction manual. It was thrilling — like being part of a world that I could never get access to." He says he was also influenced by the work of several notable Jewish American writers and artists. "I think I started to understand my place in American life by reading, first, Chaim Potok, then Phillip Roth and Saul Bellow, then came Woody Allen, Mike Nichols, Larry David, and Jerry Seinfeld. All of that stuff helped me to situate my own understanding of what I would later come to describe, for better or worse, as the Muslim community experience."
In the play's opening scene, Emily is painting a portrait of her husband. The picture is based on Diego Velázquez's famous painting of Juan de Pareja, his slave of Moorish descent, which hangs today in New York's Metropolitan Museum of Art. "Her picture has a Muslim subject and the play ends with that Muslim subject finally seeing that painting," notes Akhtar. "I think that between those two points is a journey that has to do with the Western representation of the Muslim. Perhaps the real reason for the outburst in the play might actually be the sense of being caught in these ways of being seen," he offers. But, he adds, the "meta-levels" of the play may only reveal themselves upon later reflection. "I felt that maybe it was better for the audience to grapple with that and for me not to offer an answer that I didn't have anyway. The thing that was most important was for the play to have a unified emotional primal impact."
After completing the first draft of Disgraced, Akhtar wrote two other plays in quick succession within an eight-month period, each reflecting some aspect of the Muslim experience in the world. The second play, The Who and the What, which was produced Off-Broadway by Lincoln Center in New York (where Disgraced was originally presented in the fall of 2012), is a comedy about a daughter from an immigrant Muslim family in America who, much to the chagrin of her conservative father, is writing a book that humanizes the prophet Mohammed. The third play, The Invisible Hand, which opens next month Off-Broadway at the New York Theater Workshop, is a thriller about a white American banker who is held hostage by an extremist group in Pakistan. "It is a meditation on global finance and Islamic militancy, and the violence that both ideologies are wreaking on the world," Akhtar explains. "The two ideologies are perhaps not equivalent but merit juxtaposition."
Three completed plays and the novel American Dervish, all exploring some facet of the Muslim experience, are apparently enough already for his mother, says Akhtar with a smile. "She has been saying to me, 'You have to stop it with this Muslim thing!'" But although his forthcoming new play is focused entirely on Wall Street and features Jewish and WASP protagonists, he is not done with his subject just yet. "I think I'm beginning to see a much larger picture of what I have been grappling with myself and with my community after writing these four works," he says, revealing that he has three more works in the pipeline — two novels and a movie — that will also reflect and refract the influence of Islam.
How has the Muslim community responded to Akhtar's work so far? "With perplexity," he says with a shrug. "There are a lot of people who think I am airing dirty laundry in ways that are inappropriate, but I feel that self-criticism and self-mockery — being able to laugh at yourself, being able to share your foibles and your humor with the culture at large — is part of the larger process of becoming American." He notes that in the middle of the last century, the work of certain Jewish artists raised questions about whether certain kinds of representation were good for the Jews. "It is similar to the questions about what's good for Muslims and what is bad for Muslims. I think that is a very real concern — for a public relations person," he adds. "But at the end of the day, I don't know and I'm not sure that I care, because if I'm worried about what people think is good for Muslims, I can't really ask the questions that I need to ask of myself as an artist.
Buy tickets to Disgraced on Broadway.
Top Photo: Gretchen Mol, Hari Dhillon, Karen Pittman, Josh Radnor. Credit: Joan Marcus.