The story of Henry VIII, the English king who rid himself of several inconvenient wives and instituted the Church of England in the process, is a familiar tale. But Wolf Hall: Parts 1 & 2, the new Broadway epic drama that takes you behind the scenes of Henry's Tudor court, delivers a fresh and exciting take on this well-known piece of history.
The two-part Royal Shakespeare Company production, adapted from Hilary Mantel's prize-winning best-selling novels, Wolf Hall and Bring Up the Bodies, commences performances at Broadway's Winter Garden Theatre on March 20. It covers the nine years of King Henry's turbulent reign, during which the lusty monarch annulled his marriage to Catherine of Aragon so he could marry Anne Boleyn, who he then had executed so he could marry his third wife, Jane Seymour.
King Henry's marriages (he eventually had six wives) and his efforts to secure a male heir have long been popular fodder for stage, film, and television drama — most recently the steamy, bodice-ripping Showtime TV series The Tudors. "What people don't know is the story of Thomas Cromwell," says Jeremy Herrin, director of Wolf Hall: Parts 1 & 2, which arrives in New York following two sold-out engagements in England at the RSC home in Stratford-Upon-Avon and in London's West End. "Cromwell was at the heart of all the intrigue, the guy who kept the country moving forward, and his story is a fascinating one."
"In Hilary's books, you get a real look under the skin of those characters, and so you have a really complicated and nuanced version of these people who are all trying to survive in a very hostile world," Herrin continues. "And that's what we tried to take on to the stage — getting the audience to understand them afresh. It's like House of Cards, The Godfather, The Sopranos: It has got all of that intrigue and all of that decision-making in smoky rooms. Games are being played here for the highest stakes."
Mantel's Tudor period novels (the first two in a projected trilogy) are told from the perspective of Cromwell, a blacksmith's son whose rise to the position of the king's indispensable courtier and statesman was quite unprecedented. Wolf Hall skews the usual portrait of Cromwell, who in previous versions of this story — most notably Robert Bolt's A Man for All Seasons — is presented as a personification of evil, the villain who brings down the sainted Sir Thomas More because of his opposition to the king's second marriage.
Cromwell (portrayed in Wolf Hall: Parts 1 & 2 by English actor Ben Miles) comes across as a "keenly modern character," observes Herrin. "Even in that particular world, the way he thinks feels very contemporary," the director explains. "He is connecting problems and finding solutions and leading ordinary people along whilst pursuing a whole range of religious objectives, whilst also looking after his family, whilst creating a network of his sympathizers — all without getting so much power that he overtakes his boss."
"Audiences just love an antihero," Herrin continues. "There is something about our culture or our time in history that we love characters who are morally complicated. Cromwell's morality is wonderfully opaque and you can discuss long into the night his motivations and the real meaning behind his actions, and yet you are always interested in everything that he does." The man himself was executed at the peak of his power in 1540, a mere four years after second part of Wolf Hall concludes; his last years will be the subject of The Mirror and the Light, the concluding part of the Tudor trilogy that Mantel is currently writing. It seems now, five centuries after the actual events took place, that Thomas Cromwell and not Thomas Moore is the man for all seasons.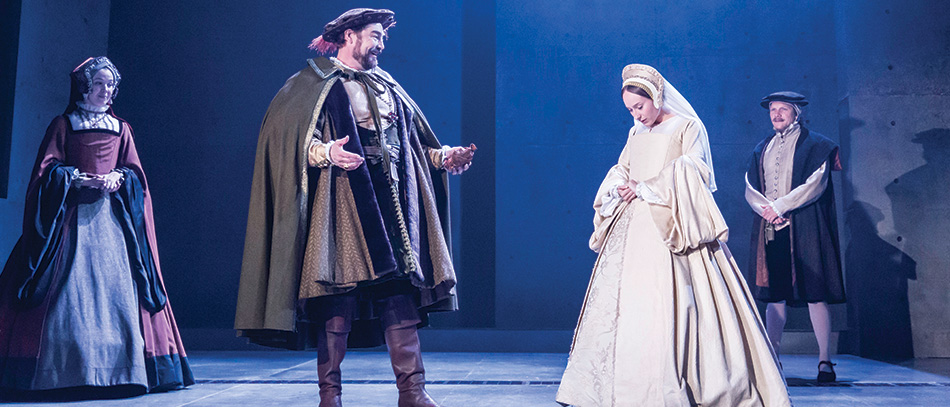 Wolf Hall: Parts 1 & 2 (adapted by playwright Mike Poulton) deftly condenses Mantel's two weighty tomes, which run into more than 1,000 pages in print, into just over five and a half hours on stage. "A lot of the scenes were translatable straight from the novels, but it's a different experience," says Herrin. "People were really surprised at how funny it is because they were expecting something worthy and historical," he reports. "The audience is sort of taken aback at how contemporary the language is, how fresh the concerns are, how understandable the history. That is a tribute to both Mike and Hilary."
Coincidentally, starting just in January, the British Broadcasting Corporation began airing a six-part television series based on the same two novels, which Herrin expects will have a different approach to the texts. "We had to embrace the medium of the stage so there is no apology that our production is a theatrical event on a large scale." (The two parts, playing in repertory, can be seen as a marathon event with a dinner break in between or as two separate evenings.) "You are going to get two big theatrical events," the director promises. "It is thrilling and wide-ranging, with loads of momentum and fun; you don't get that kind of quiet intimacy that you can get from reading the novel."
"Where possible, we have used dance, lighting, change of focus, and theatrical surprise in order to deliver some of the key events that would otherwise take a minute or more to do in terms of dialogue," continues Herrin, who describes his production as "realistically costumed in a theatrical environment." The period costumes and abstract sets are by Christopher Oram (Tony Award winner for Red) and lighting is by Paule Constable (Tony Award winner for War Horse). "The story-telling is fast and it is furious," he adds. "The watch word of the production is not to waste the audience's time, so we segue from one space to another with great élan and trip through history really quickly. Every now and then there is a spectacle, a bit of pageantry, there are political scenes, street scenes, family scenes, and court scenes, and it all adds up to a rather heady and entertaining mix."