Are you ready for Halloween?
If you're like most of us, you're probably still undecided about what to wear this year. Don't feel you have to go to a pop-up Halloween store and spend a lot of money for a ready-made costume. Take some tips from one of Broadway's top costume designers and, with a little ingenuity and creativity, your Halloween costume might be as close as the back of your closet or those dusty boxes in the attic.
Period musicals are big on Broadway. Motown takes us back to the styles and sounds of the 1950s. The 1970s and '80s are back in a big way, too, and that means those decades' fashions are ripe for Halloween creativity. In the '70s, bellbottoms, hot pants and three-piece suits were the rage. By the '80s, the fashion world had moved on to parachute pants, leg warmers and shoulder pads.
Both looks are thriving on Broadway, represented by Mamma Mia! (the 1970s) and by Rock of Ages, which takes place on the Hollywood's Sunset Strip of the 1980s. While Rock of Ages' audiences rock to the sounds of such feel-good, sing-out-loud hits as "Every Rose Has Its Thorn," "I Wanna Know What Love Is," "Here I Go Again," "Don't Stop Believin" and more, they're taking in '80s fashion in all its glory.
Who better to ask about how to do it up for Halloween than Gregory Gale, costume designer for Rock of Ages, now in its fifth year on Broadway? Gale also designed the costumes for Broadway's Cyrano de Bergerac, The Wedding Singer and Urinetown.
First we asked Gale whether '80s fashions were as bad as we remember them. Do they deserve their reputation as the worst fashions of our lifetimes? Gale said, "The '80's is an often-maligned period in fashion, but there are many great '80's looks and design ideas that you see reflected in clothing trends today. In Rock of Ages, we wanted to have the audience recognize and enjoy the clothing and rock references without it feeling like too much of a lecture on '80's fashion. It was also important to have the costumes feel like the audience's memory of the 80's, rather than copying 80's vintage looks. This way, we could make the looks theatrical and joyful, and feed into the feeling and memory of the period."
When the production began Off-Broadway, about one-third of the costumes were custom built to Gale's designs, and the rest of were vintage and purchased. When Rock of Ages moved to Broadway, Gale re-designed many of the costumes, keeping the original ideas and feel. Today, almost all of the clothing is custom made so it can stand up to 8 performances a week, and can be reproduced for cast replacements and multiple productions.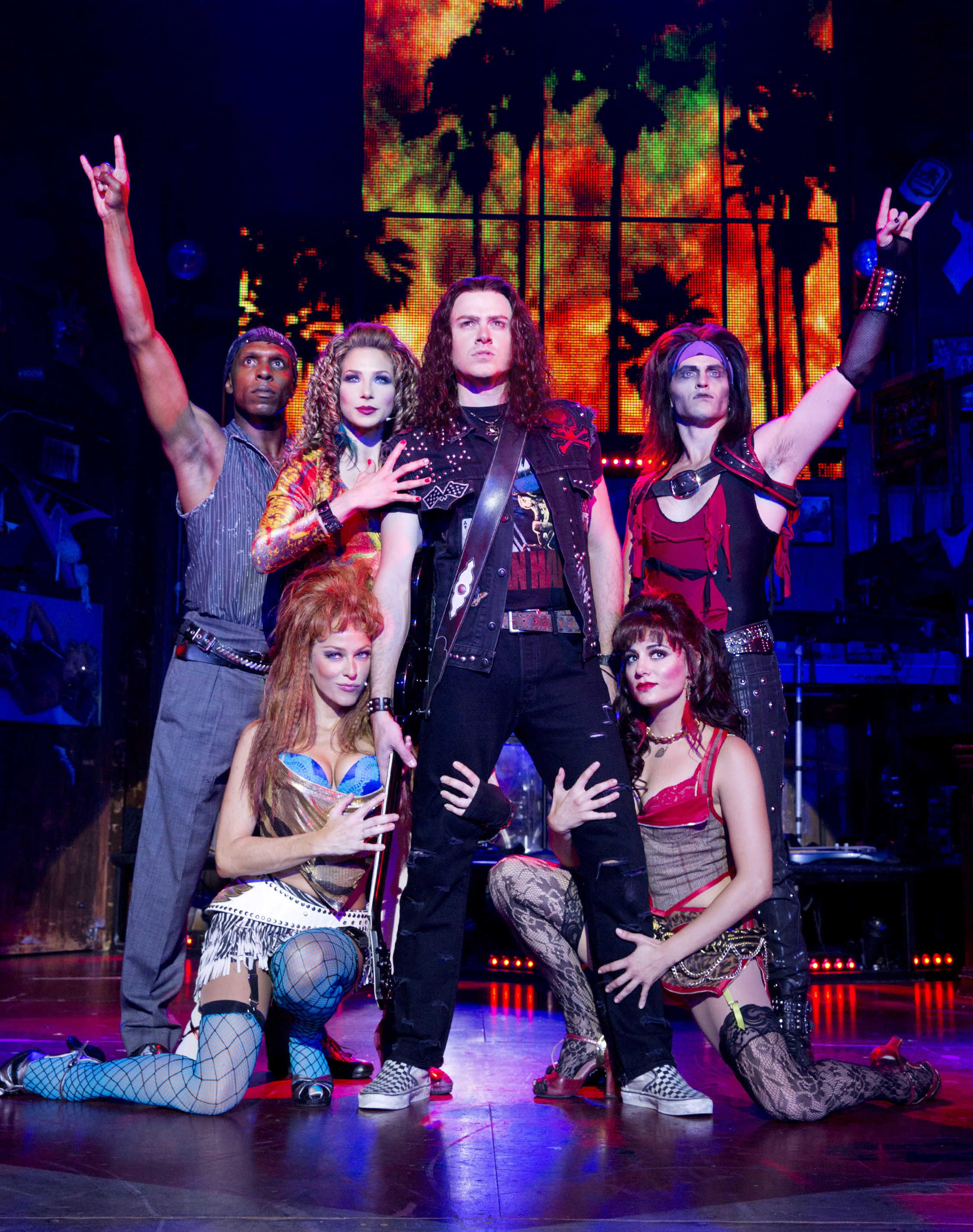 "For stage, I think what makes a costume memorable is staying true to the writing, character and scene," Gale said. "If you follow the writing carefully, it will direct you where you need to go. Another important component is following your inspiration and gut – all of these combined make a powerful combination. For Halloween, I think the most memorable costumes have a sense of humor and make a social, art or pop culture reference. One of my favorite costumes right now is the Jabba the Hutt costume on the Verizon television ad. It's a gentleman wearing an enormous Jabba costume and a child in a baby carrier hanging around his neck with a Princess Leia wig.  It's hilarious."
What does a Broadway costume director suggest you do to create a Halloween costume that's memorable, practical, easy and inexpensive? Gale offered these tips for Halloween partygoers looking to make an impression on Thursday night:
"First, make a pop culture reference! A good friend of mine just made a Miley Cyrus "wrecking ball" costume for their pug dog. It's a grey, padded, round doggie sweater with an attached Barbie doll wearing a 2-piece white costume and black boots. I screamed laughing when I saw it. Second, use your imagination. Third, the funniest and most memorable costumes don't need to cost a lot of money.  Try crafting a costume at home!"
See what's in the back of your closet. It just might be Halloween-worthy – and remind you that the '80s weren't all bad.