Andrew Garfield's been on Broadway before. He's even won a Tony Award for his portrayal of Prior Walter in Angels in America. But he was never in a musical, nor could he sing. It was not until he wanted to impress Lin-Manuel Miranda in order to play a pivotal role in a movie musical that defines a generation.
"I was in perpetual fear of being recast, which is usually what an actor feels until they feel like they are finding their feet," Andrew Garfield told Broadway Direct over zoom about the beginning stages of becoming Jonathan Larson for the movie tick, tick…BOOM!, now streaming on Netflix and in select theaters. "But Lin was always so encouraging."
In 1996, composer Jonathan Larson shattered Broadway barriers with his groundbreaking pop-rock musical, RENT. The White Plains, New York Jewish composer's music and lyrics changed the landscape for the next generation of aspiring artists.
It's because of Larson we now have Lin-Manuel Miranda's revolutionary hip-hop musicals like In the Heights and Hamilton.
"Without RENT, none of it would be possible," said Steven Levenson, who wrote the screenplay for Larson's semi-autobiographical movie musical.
---
A timeline of tick, tick…BOOM!
tick, tick…BOOM! centers around a composer also named Jonathan as the clock ticks closer to his 30th birthday. He feels as though he's running out of time to write a hit musical, especially since his idol, Stephen Sondheim (played brilliantly by Bradley Whitford), wrote the lyrics for Broadway's West Side Story at 25 years old. 
"The thing that I love about tick, tick…BOOM! more than anything is that it's the story of a failure," noted Levenson, who also wrote Dear Evan Hansen. What audiences see on screen is Jonathan's determination to get his science-fiction musical Superbia off the ground, only to be crushed when it doesn't. Levenson feels the plot is unlike many biographical stories that are told on screen. "It's not the story of a triumph. Most artists' stories are about the inevitable success that you have after a series of obstacles," he explained.
A few years later, after getting advice to "write what he knows," Larson penned a musical closer to the heart about living through the AIDS epidemic. It became the masterpiece musical he dreamed of creating, but tragically never got to see its success. Parallel to themes in tick, tick…BOOM!, Larson's internal clock stopped. On the morning of the first public off-Broadway performance of RENT at the New York Theatre Workshop, Larson died of an aortic aneurysm at 35.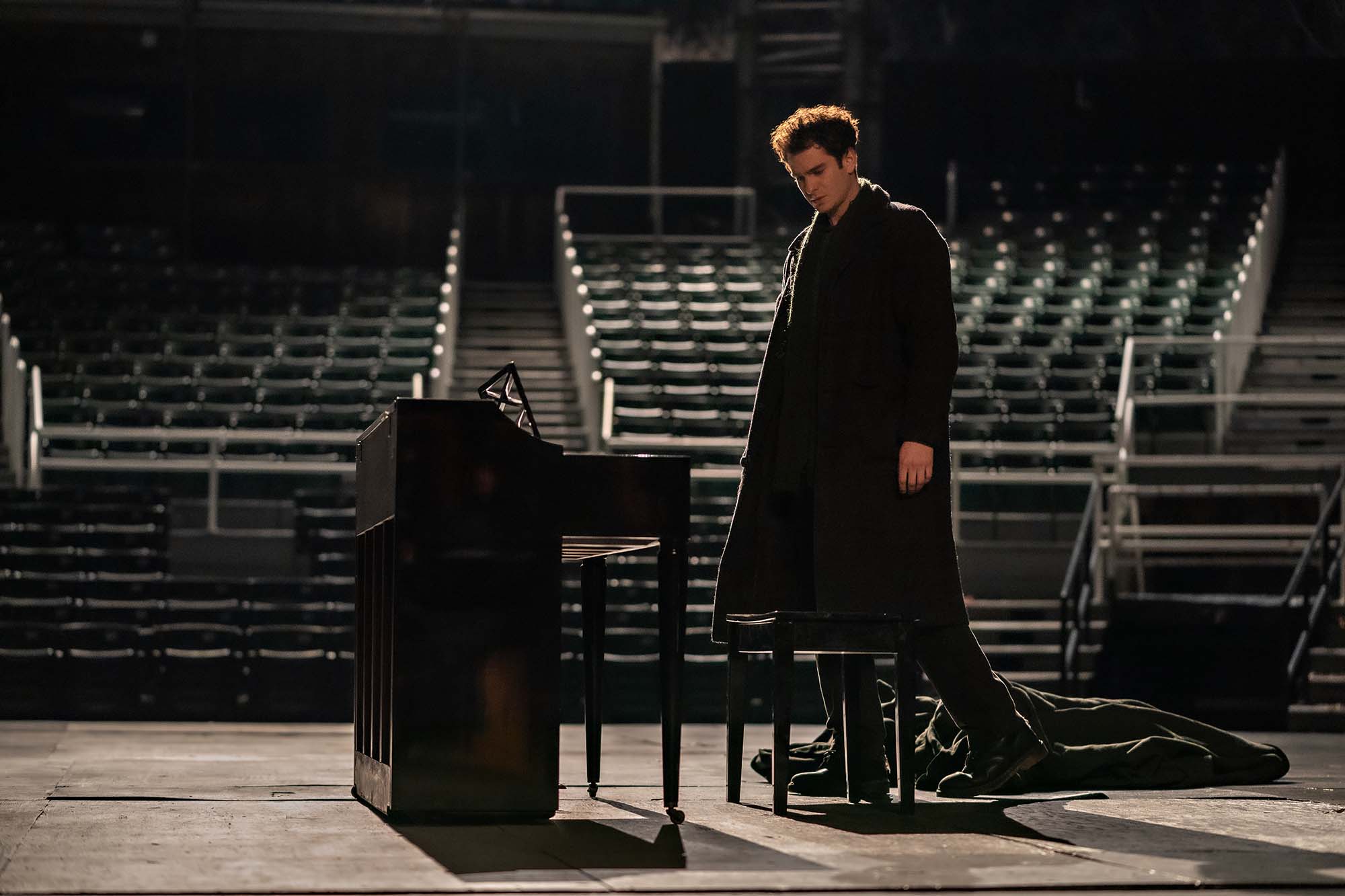 Larson's Lasting Influence
For Miranda, seeing Jonathan Larson's RENT at 17 years old was life-changing. It's what gave him the drive to push forward with his own musicals about the topics he knew best. "I want to change the landscape of American Musical Theater," he wrote in his 2004 Jonathan Larson grant essay application that he wound up not receiving.
Despite the rejection, it turned out ok. We all know what happens next.
"I think we'd have a really good conversation about smashing those art forms together in the theatre," Miranda told Broadway Direct of what the two composers might talk about if Larson were alive today.
No one in Hollywood could argue that if there were anyone to helm directing a movie about Jonathan Larson's life, it would be Lin-Manuel Miranda. "tick, tick…BOOM! is also a corner of the world I know from every angle," Miranda stated in part of the film's production notes. Even though they never met, he's perhaps the only one who can connect with Larson on a personal, ideological and professional level after experiencing much of what Larson went through himself in his early twenties.
"You throw everything you have at a project. You put your heart and soul into it. Then you have to start again, regardless of the success or failure of the thing. And I've had some successes, and I've had some failures," Miranda admitted.
One of his biggest successes for this film was casting Garfield, who has been accepted by the Larson Family with open arms. Jonathan's sister, Julie, is an executive producer on the film.
"Julie says I'm now part of the family, whether I like it or not. And I'm intrinsically linked to her and her family forever," Garfield said. "I am so grateful that she feels like the spirit of her brother has been honored. That's the best thing."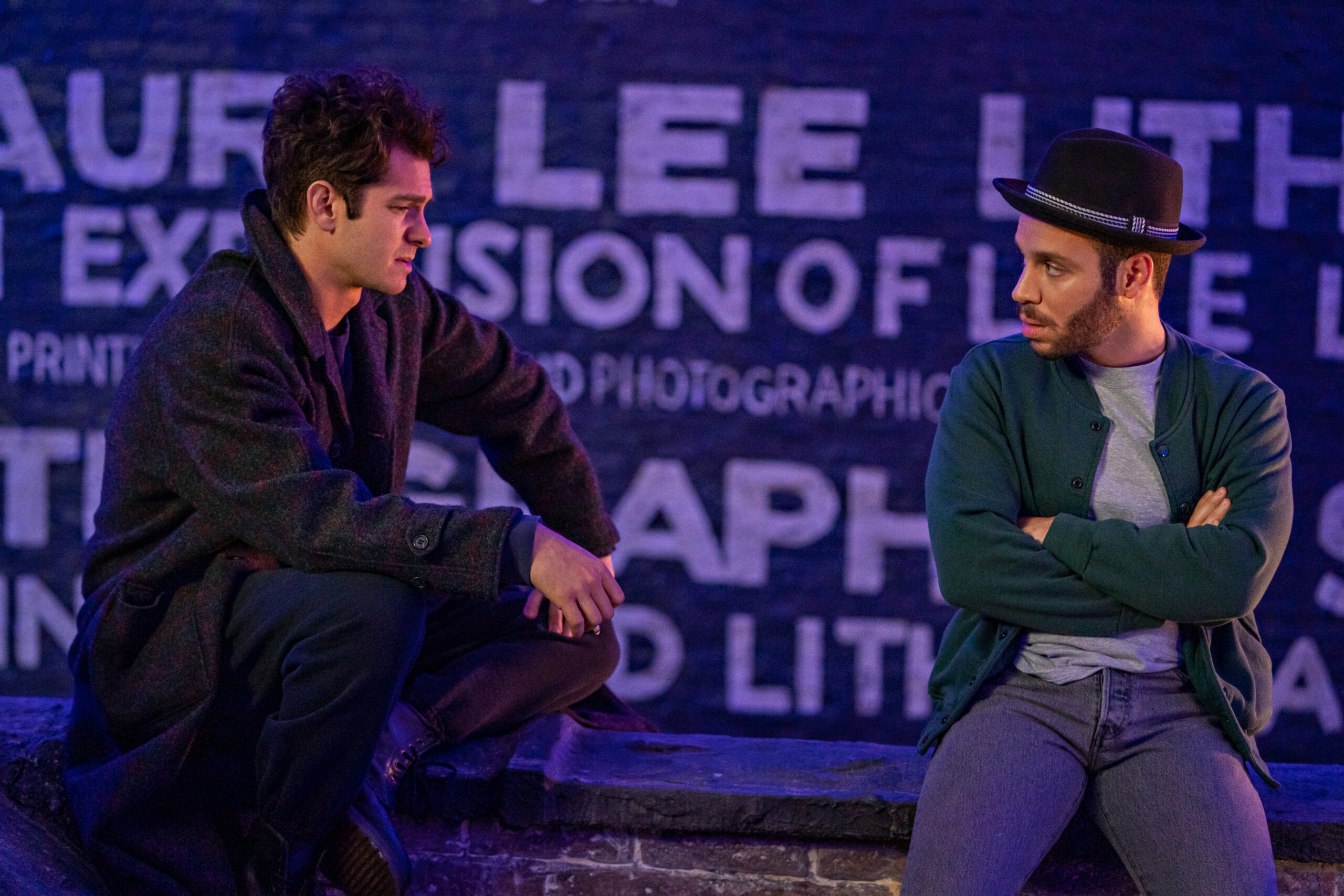 Manifesting a Career
Before becoming a movie, tick, tick…BOOM! was originally called Boho Days. Larson performed it as a rock monologue beginning in 1990. Larson developed it further as tick, tick…BOOM! in 1992. It was subsequently turned into a three-person Off-Broadway musical in 2001, which Miranda saw in his junior year of college at Wesleyan University. Tweets of his dating back to 2012 show how passionate Miranda was for Larson's work, including tick, tick…BOOM! He wanted to play Jonathan. And he did at City Center in 2014 opposite Leslie Odom Jr. and Karen Olivo.
"I think my career is a testament to the power of manifesting," Miranda said with a chuckle as he recalled those tweets.
"He's been directing his own films on his camcorder since he was a child. So, he was just excited to express himself in this new way," Robin de Jesús described of Miranda on set. Robin plays Jon's best friend Michael and also made his Broadway debut in RENT. The pair reunited thirteen years after de Jesús and Miranda co-starred in In the Heights on Broadway together. "There were times that he would come up with shots on the fly. That was so brilliant. It was really cool to see my friend flourish."
Larson's Source Material
To get to the root of who Jonathan Larson was as a person and writer, Levenson, Miranda, and the film's historian, Jennifer Ashley Tepper traveled to Washington D.C. to visit Larson's collection of work that was donated to the Library of Congress. There is a treasure trove of the more than 200 songs Larson had written since 1978.  The archive contains not only early versions of numbers from RENT and tick, tick…BOOM!, but also songs and notes from his musical Superbia, letters, scores, notes, photographs, notebooks, cassettes, demo tapes, and books. Anyone can look at it by making an appointment.
"The thing that struck me so palpably in looking through his papers was the sheer number of rejection letters," Levenson recalled. At least two were from The Public Theater and Playwrights Horizons, two prominent off-Broadway theatres where some of our biggest musicals got their big break. "I realized how hard it was for him and how little response he ever got back from the world that what he was doing was going to make an impact. It was just heartbreaking."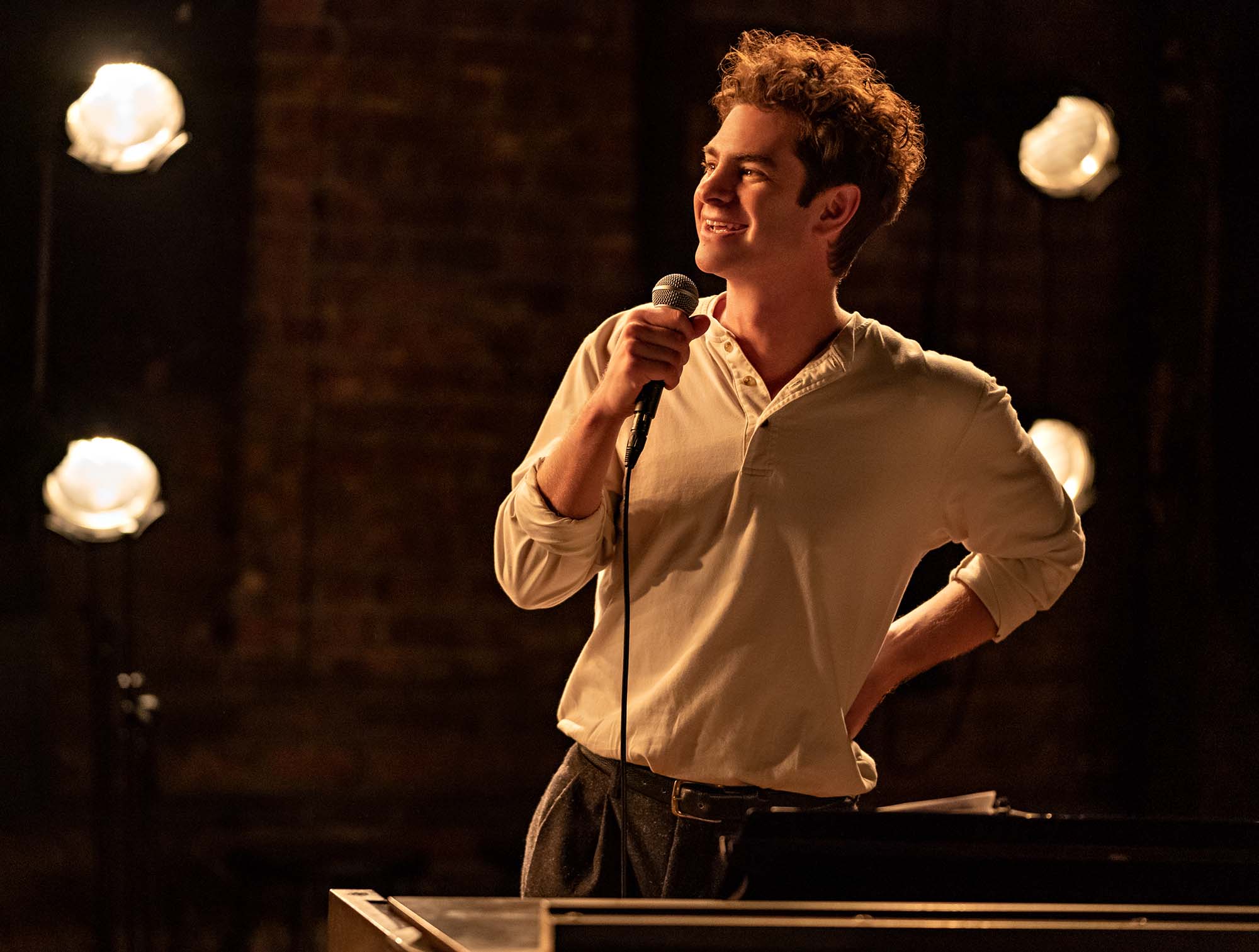 Adapting a Legacy for Film
For the film, Levenson took that heartbreak and used it to channel into Jonathan's soul. "The thing that came across so strongly in talking to all of the people that knew and loved Jonathan was his incredible passion, love, and enthusiasm for life and his zest for living."
The COVID-19 pandemic helped give Levenson more time to refine some of the script. Filming in New York City had just begun when it was forced to shut down in March 2020. "It did give us a chance to hone the material and sharpen dialogue. For a writer, more time is a great gift and luxury," Levenson added, noting the irony of his statement.
And it offered Garfield more time to keep practicing his singing. He spent the lockdown singing show tunes, often Singin' in the Rain, and training with Liz Caplan, Broadway's dynamic vocal coach.
Given the pause, the film has ultimately proven to be a love letter to Broadway as it highlights the struggles, pressures, and ultimately, the resilience of being an artist in the industry. It comes at a time when audiences need to see it most.
"Lin didn't skimp on any detail of what it takes for a show, a writer, a performer to break through," said Joshua Henry who plays Roger. tick, tick…BOOM! is full of musical theatre jokes, easter eggs, and uncountable Broadway actors and composers throughout the film. "Coming off a year and a half of no Broadway, now we get to say to the world, 'This is what we do. This is how we live," said Henry, who returns to Broadway in Waitress later this month.
For Garfield, having the privilege to bring more attention to Larson "and spread some of his ripples a bit further into the world" has brought him a reinvigorated appreciation for musical theatre.
And with his new passion for singing, he'd consider a run for it.
Manifesting, like Miranda: "To be able to play in a Sondheim musical and to be able to do Sunday in the Park with George or something like that would be a highlight of my life."