Call it a silver lining on a very dark cloud, or an example of 21st century ingenuity: Since the COVID-19 pandemic forced the shutdown of theaters across the country, venues from coast to coast—from off-Broadway to Broadway in Hollywood, to be exact—have found new ways to serve their neighborhoods, in which not only fans but whole communities can gather for valuable services, from voting to donating blood, and collecting food.
The shuttering of theaters is not a new phenomenon, historically. During Shakespeare's time, the plague drove actors out of London; decades after his death, in 1642, as the English Civil War started, the Puritan-led Parliament demanded stages be barren on moral grounds, an edict that lasted nearly twenty years—though, as, in the late 1500s and early 1600s, these rules were not always observed. Centuries later, during The Blitz, numerous U.K. theaters were damaged or destroyed, though some remained open in defiance. Broadway was dark for several days after the attacks of September 11, and for more extended periods during a musicians' strike in 1975 (25 days) and the stage hands' strike of 2007 (19 days).
As it became clear that the COVID pause would be longer, executives and staff at various theaters began wondering if there might be alternative uses for their houses. Jeff Loeb, general manager of Hollywood Pantages Theatre in Los Angeles, recalls, "Our director of operations thought, what does the community need at this moment? She donates blood regularly, and with hospitalizations starting to increase, we realized there would be a real need for blood drives, which are normally held in places that weren't available or accessible at the time, like schools and churches." Partnering with the Red Cross, the theater divided its vast lobby into a green area, a holding area, and a donation area for what became monthly drives, with roughly 60 to 80 people gathering per day to donate, after receiving temperature and health checks and while observing strict safety protocols.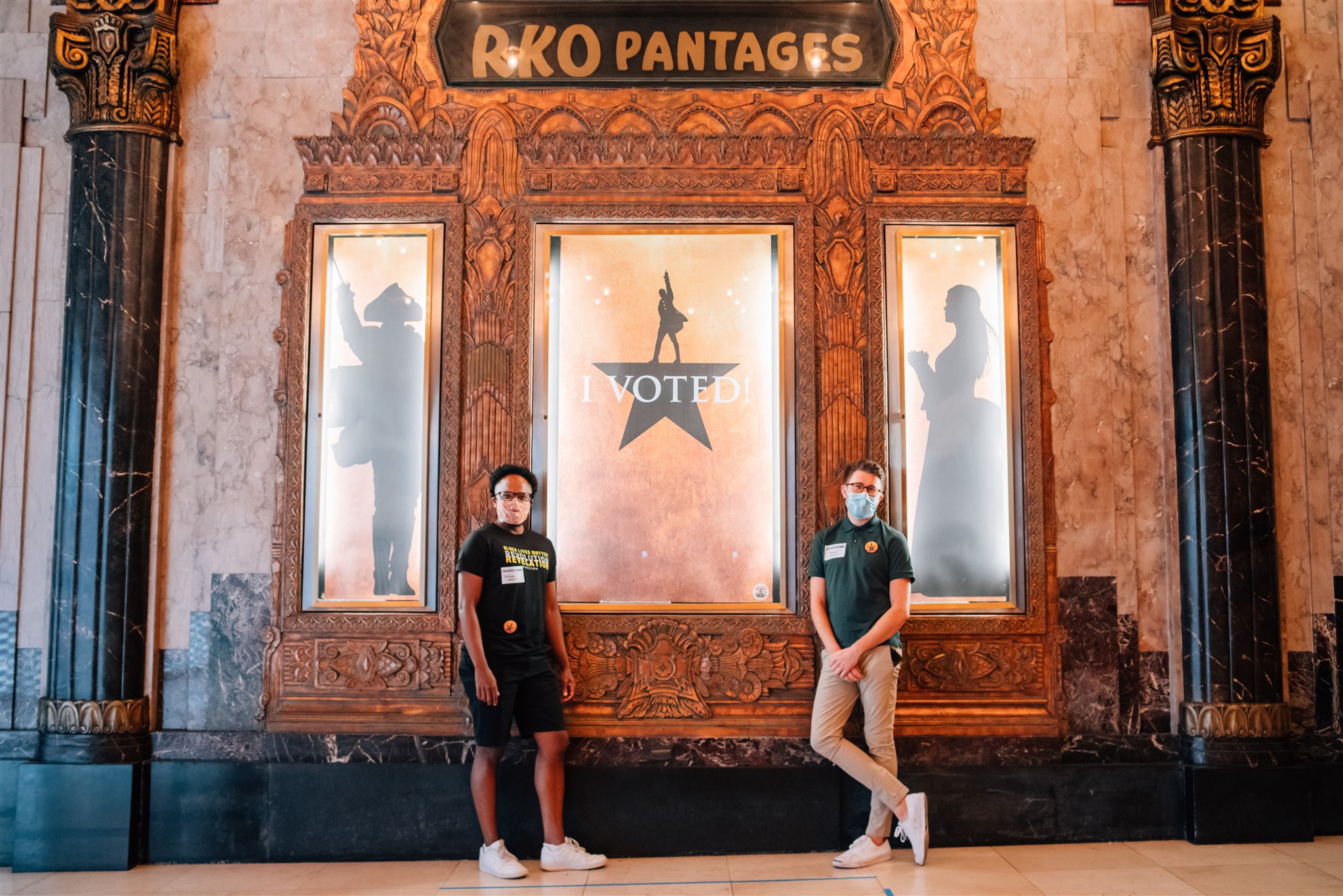 With furloughs impacting 96 percent of Hollywood Pantages employees, Loeb says, "We then thought, what else can we do to support our community with a very small staff and a very large building?" With the November 2020 election approaching, and the Broadway League encouraging the industry to make dormant venues available for voting, Loeb reached out to the Los Angeles County Registrar. "We opened our doors for five days and served more than 3000 people who voted. To have thousands of people coming here when we had been closed for so long reminded me that while our building is beautiful, it's not magical until people come through those doors."
Loeb also approached the local department of public health about organizing a pop-up vaccination site. With the county and Rite Aid on board, the theater invited both those seeking vaccines and people who had already been vaccinated, offering the incentive of a contest to win tickets to Hamilton, now scheduled to reopen the theater on August 17. A follow-up clinic was scheduled for June 12. "The challenge to us now," says Loeb, "is to find space for more community events going forward, balancing the work we have to do while still embracing opportunities like those we've had over the past 14 months. Our plan is to continue the blood drives, certainly."
Megan Rindoks, community engagement manager at Durham Performing Arts Center in North Carolina, is of a similar mind. Rindoks had been in communication with The Blood Connection before COVID-19 hit, in hopes of bringing mobile units to DPAC during popular productions so that audience members could donate on the spot. "But with the way our theater is positioned in the city, there's very little parking space, and we couldn't figure out the logistics at first," Rindoks explains. "Then the pandemic brought an increase in the demand for blood donations, and I reached out and said, 'Hey, I think this is our window.'"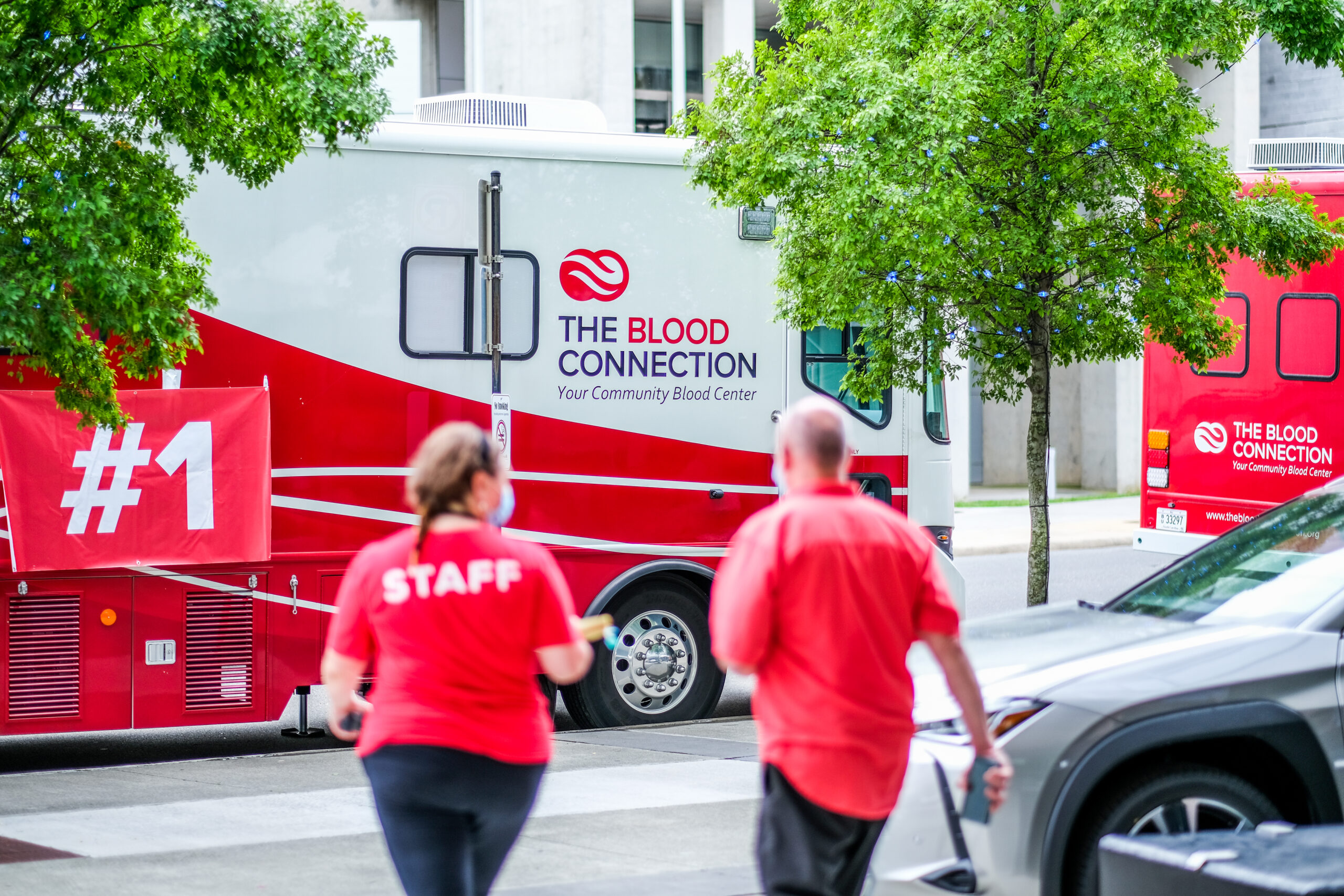 DPAC hosted its first drive in the spring of 2020, after emailing notices to its season seat members and Friends of Broadway and promoting the event through social media channels, the center drew nearly 2000 blood donors in the first two days alone. A second drive later in the year attracted only slightly fewer participants in colder weather, which is commonly a deterring factor. Rindoks is now hoping to hold the events each quarter of the year; there was one last April, and more are planned for June, October, and December.
In addition, DPAC began organizing food drives for needy community members in the spring of 2020 and has raised more than $80,000 in this effort so far. The plan is to offer these twice a year, with one in the spring and another around the Thanksgiving holiday. Rindoks has been heartened by "how quickly and greatly the DPAC community rose to the occasion" with both initiatives. "Everyone has been ready to do whatever they can to support our neighbors."
Closer to Broadway geographically, the Abrons Arts Center on Manhattan's Lower East Side has also been serving hard-hit and vulnerable citizens, among them the artists whose work has been severely impacted by the pandemic. The playhouse in this renowned arts facility, which functions as part of the Henry Street Settlement, was converted into a food pantry in the spring of last year, and now serves up to 900 residences, delivering food on a weekly basis and offering giveaways of fresh produce and dairy goods once or twice a week. Teaming with another food pantry, run by the non-profit Vision Urbana, the center compiled lists for pickup and delivery, with the latter services initially focused on homebound senior citizens. As the playhouse transitions back to a performance space, the pantry will likely relocate to another part of the settlement.
The program has also benefited staff who might otherwise have lost jobs, says Abrons artistic director Craig Peterson: "With tech workers and operations people out of work, our director of operations, Jon Harper, assembled a crew to put together all the food bags." Artists affiliated with Abrons have volunteered to help by delivering the food. Their generosity has been reciprocated: In April 2020, the Abrons Arts Center and Henry Street Settlement Artists Relief Fund were launched, providing micro-grants of $250 to $500 each to struggling artists. Peterson estimates that $50,000 has been provided to some 150 applicants, with support from The Robin Hood Foundation, The Jacques and Natasha Gelman Foundation, The Mariposa Foundation, The Sustainable Art Foundation, The Buddy Taub Foundation, and individual donors.
"We've done specific fundraising for indigenous artists and Black artists and organizers," Peterson notes. "Early in the pandemic, artists were investing for new equipment so that they could do more digital work. But many have just used the money to pay the rent or buy groceries."
Peterson hopes that this program, too, can continue. "The initial stress of the pandemic has subsided a bit," he acknowledges. "But the thing we came to acknowledge early on is that artists live in a gig economy. They also work in schools, or as waiters, and none of these things have real job stability the way that other careers do." Artists "have really stepped up during this pandemic," Peterson notes, and the goal is to continue supporting them as well as the communities they serve.