Two years after winning the coveted top spot at the 2017 Jimmy Awards, what's considered the Tony Awards for high schoolers, Sofia Deler landed her big break as Shelby in Netflix's The Prom.
"It was insane!" she exclaimed of making her film debut – her first professional role ever. "I think it was just even more insane because I wasn't expecting it."
Right before Deler left for her freshman year at the University of Michigan as a musical theater major, she sent in an audition tape singing "Breathe" from In the Heights along with some sides. In mid-October, she flew to Los Angeles for a callback not thinking much of it. She was more focused on school, which got her mind off the stress and pressure of the audition. Two weeks later, on Halloween, Deler found out she booked it.
"I honestly think that has some reason to do with why I was just able to go into the audition rooms and be present."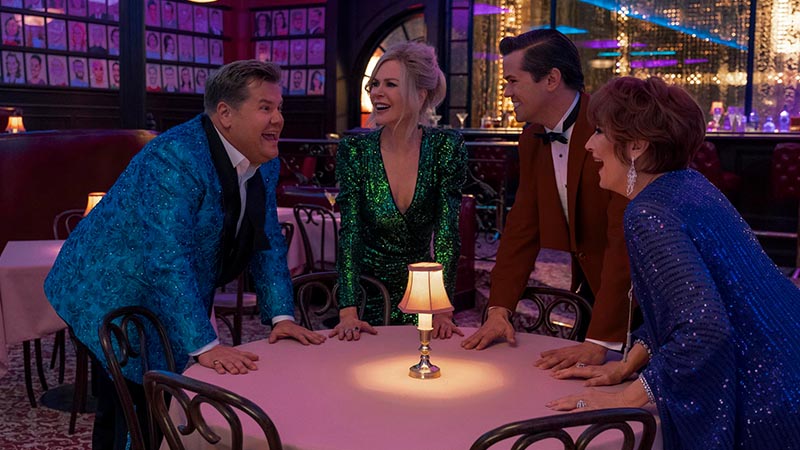 Being a novice on a Ryan Murphy-directed movie set starring powerhouse performers: Meryl Streep (Dee Dee Allen), James Corden (Barry Glickman), Nicole Kidman (Angie Dickinson), Kerry Washington (Mrs. Greene), Keegan-Michael Key (Mr. Hawkins), Kevin Chamberlin (Sheldon Saperstein), Andrew Rannells (Trent Oliver) and Ariana DeBose (Alyssa Greene) was a college course in itself, Deler explains after taking a leave of absence from school to film The Prom.
"He knows exactly what he wants. I mean, he cast me off of two tapes. He gives the actor so much freedom to find their role. He very much hires you to do the job that you do, which is acting. I learned a lot just through watching him, just to be as aware and as demanding as he is."
As Shelby in The Prom, Deler is part of the teen clique that at first rejects the idea that their high school classmate, Emma (Jo Ellen Pellman) can bring her girlfriend Alyssa (DeBose) to the prom. "What is so beautiful about the role that I got to play was that she went on this journey of really opening up her mind and her ideas of what she thinks of the world based on what she's been taught versus what she knows; which is love and kindness and compassion."
"Watching her tackle her material and adapt, she took direction so well. I'm just so proud of her," DeBose said in praise of Deler as the two shared several scenes together.
The plot of the movie adaptation is lifted directly off the page from the Tony-nominated 2018 Broadway production with a book by Bob Martin and a score by Matthew Sklar and Chad Beguelin. It follows four Broadway stars as they shake up the beliefs of a small town in Indiana town to prove they aren't "narcissists."
"It's very rare as an actor that you get to tell stories that you really connect with and feel are good and help people," Deler said of the important storyline that aims to inspire the LGBTQ communities and their families.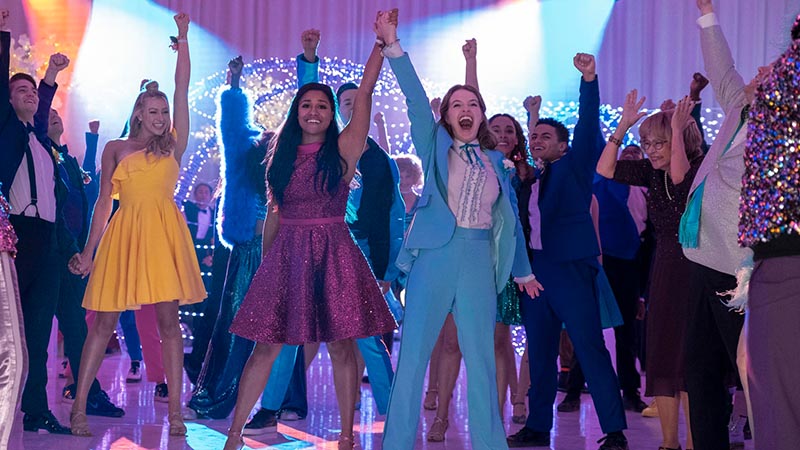 One of her favorite scenes to film was the finale, "It's Time to Dance," since it involved the entire leading cast plus a hundred other dancers on set. "There were a couple of tears at that moment because of the colors, the lights, the sets, and everyone working together singing – it was a really beautiful thing to be a part of." Before Murphy started filming, Deler says she spent two months in rehearsals with choreographer Casey Nicholaw (who directed and choreographed the Broadway version) to learn all the big dance numbers.
During one of the early days in production, the ensemble was surprised with a visit from Streep, Kidman, Rannells, and Washington. "Everyone was losing it," she recalled of meeting them for the first time and trying not to fangirl over such big celebrities in the room.
"They were so kind, so nice, and treated everyone exactly the same. After a while, you kind of just see them as people that you're working with." She even got to spend some one on one time with a few of them including Keegan-Michael Key, who offered her some wise words.
"I talked with Keegan-Michael Key about school because I was still debating whether or not I wanted to go back. I was like, 'what do you think school has done for you?' He is someone that graduated from Penn State with a Master's [degree] so he was very much an advocate for going back to school." Another conversation that resonated with Deler was one with Pellman, a University of Michigan alumni. "[Pellman] was telling me how much she had learned and had grown from that experience, how that very much aided in her growth as an actor and how she grew as a human."
Deler admits she still hasn't seen the movie yet and will watch it with her family at home in Orlando when it premieres on Netflix on December 11. Her family moved to Florida from Massachusetts when she was five. Since her older brother played basketball as a kid, she described themselves as a "sports family" and no one was particularly interested in musical theater. But because her dad was a music producer, she spent a lot of time watching and listening to musicians in her home.
When Deler was around 11 or 12, her parents signed her up for tennis lessons, which she immediately hated. After school, she'd turn on The Disney Channel to see Miley Cyrus, Selena Gomez, Demi Lovato, and The Jonas Brothers on her TV. "I was watching them and [remember] immediately being like, 'whatever that is I want to do that. I just want to sing. I want to act, I want to dance.'"
So Deler quit tennis and enrolled in singing, acting, and dance classes at the Orlando Repertory Theatre, where her passion for performing grew.
She went to a performing arts middle school and had numerous opportunities to appear in shows during high school. At 16, Deler won a regional Applause Award, which afforded her the chance to compete against talented teens across the country at the annual Jimmy Awards in New York City.
"I got to work with [director Schele Williams]. I was singing "She Used to Be Mine." From the start of that process to the end of it, I had discovered parts of my artistry that I never had before. I learned through her how to sort of completely surrender myself to the work and find new things in the work every single time."
A sophomore at the time in 2017, Deler won alongside Tony Moreno, also from Orlando. Offers from agents and managers poured in.
Deler, a self-proclaimed "nerd," finished high school a year early and moved to the New York City area and began auditioning. "I feel like I grew like 30 years in my soul just from living in New York for one year," she said of the experience. "I learned how to be extremely self-sufficient and resourceful."
Then, the University of Michigan entered her path, and two months after that, The Prom briefly diverted her course.
Deler felt now was a good time to return, since the pandemic has shut down most theatrical opportunities. One day soon she'll "be able to step into someone else's world and tell that perspective with honesty."
Noting "that's my favorite feeling in the world."