Laura Benanti is headed back to Broadway, as Eliza Doolittle in My Fair Lady at the Vivian Beaumont Theatre. Succeeding Tony-nominated Lauren Ambrose, who is departing the musical for an upcoming psychological thriller on Apple TV, Benanti will be dancing all night beginning October 23 in a limited engagement through February 17, 2019, performing seven shows a week.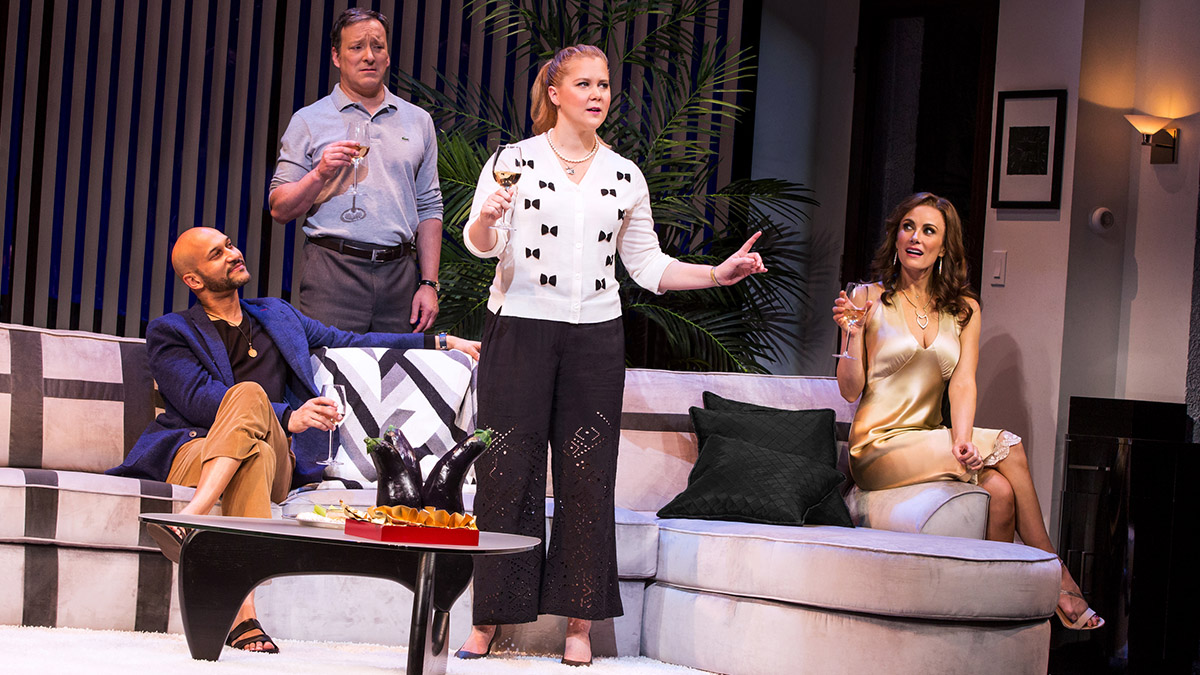 While Benanti lately has had fun with comedy on The Late Show With Stephen Colbert, impersonating first lady Melania Trump, this is her first musical since becoming a mom of daughter Ella. Last season, she starred in Steve Martin's play Meteor Shower opposite Amy Schumer. "[My Fair Lady] is such an interesting thing because I've never done anything like this, where I've come in to replace someone," Benanti says of stepping into Eliza's ball gowns, a dream of hers since she was a little girl.
Broadway Direct spoke to Benanti about what the unique rehearsal process has been like.
"…this is a part I wanted to play my entire life."
How does it feel to be performing your dream role?
It's the most exciting thing ever in the world. When the revival first came around, my daughter was really little. She was about 8 months old, and I just didn't feel like I was in a place where I could even audition, let alone do it. So I ended up having to make the choice not to audition and forgo the potential of my dream role. It was a really tricky decision in that this is a part I wanted to play my entire life. When Lauren got this TV show and had to leave, [director Bartlett Sher] called and offered it to me. It was an actual miracle that happened. It was a really good lesson in letting things go. I had really, truly let go of the idea of it. It's just a good reminder that what's meant to be ours will be ours and what isn't meant to will not be.
Describe that phone call from Bartlett Sher.
I was in a cab on my way to my little sister's wedding dress fitting. I didn't say anything to my mom or my sister because I didn't want it to become about me. So here I got this call and I was like, "OK, great. Thank you." All I wanted to do is burst into tears and start screaming. So the next day I talked to my sister and my mom about it. I obviously wanted to talk to my husband and make sure he was OK with it because it asks a lot of him. It means he gets up with my daughter every morning instead of me, so I can sleep and get the rest necessary to play a role like this.
You've always been vocal about wanting to play this role. How old were you when it became your dream?
When I was 5 years old, because I've always been a soprano. My idols were Julie Andrews and Barbara Cook. For me, there were a few roles: Amalia Balash [She Loves Me] was one of them, Cinderella in Into the Woods, and then Eliza Doolittle — that's like the main one.
Meanwhile, you're in good company, with people like Bernadette Peters who have had major successes in replacement roles.
Yeah, that's been my motto: "If it's good enough for Bernadette Peters, it's good enough for me."
When you started rehearsals, did you already know all the lines and songs by heart?
No. I knew the obvious songs, but I didn't know the lines because it actually incorporates a lot of Pygmalion into this musical. A lot of the scenes in this production are not in the original musical.
What surprises you most about the whole process of joining the show?
I'm getting a lot less rehearsal than I'm used to, which is terrifying. I just assumed I would have a normal rehearsal schedule. I'm basically learning the lines and songs on my own. I've only had [about] three musical rehearsals. It's a very different process from what I'm used to. I'm used to 10 a.m. to 6 p.m., Monday through Saturday rehearsal. Now it's just me and the stage manager in the basement — it's nuts. I won't work with Harry Hadden-Paton, who plays [Henry] Higgins, until the day I go into the show. That's crazy. I feel like I'm literally being shot out of a cannon. I feel like I have to drive a train with, like, very few train-driving lessons. I mean, it will be organic, let me tell you, it'll all feel very fresh and exciting.
Last year during an interview at BroadwayCon, you said you had planned to hit pause on musicals for a while because they take a huge toll on your health. Clearly, this is an exception to that.
First of all: Doing seven shows a week will be a delight. I think having two days to recover will be enormously helpful. This is also a limited thing for me. I'm not expected to do it for a year, so that's a different ball of wax. What it requires of you is a lot and I never want to put my daughter second to anything, but then this is also my dream part.
How much will you get to see Ella while you're in the show?
The theater schedule is amazing because I can be with Ella all day long except for [matinee days] Wednesdays and Saturdays. It's actually an amazing schedule for a working mom. You get to see your child so much more than most working moms get to, which is such a blessing. Now that Ella will be 2 in February, I feel more equipped to take on this tremendous responsibility. It's incredibly vocally and physically demanding, and it requires a lot of fortitude, which I just did not have after having my daughter.
Will you still have time to tape your role as Melania on Colbert?
Yes. We've already talked about it. We tape at 5:30 p.m., so I'm just going to keep my Melania makeup on for My Fair Lady.
What can top this for you?
I think playing my dream role while being a mom is pretty magical. I don't know what can top it.