What do you get when you put Kristin Chenoweth, Jane Krakowski, Alan Cumming, Ariana DeBose, Dove Cameron, Ann Harada, and Aaron Tveit in a TV series together? A giant tour de force musical comedy that is Schmigadoon!
Schmigadoon!, clearly a title parodying the classic Golden Age movie musical Brigadoon, is full of Broadway gold where you'll even find Martin Short as a leprechaun at the other end of a bridge doing a little jig. The six-episode series, created by Cinco Paul and Ken Daurio, pays homage to some of the greatest movie musicals including Oklahoma!, The Music Man, Sound of Music, The King and I, and Carousel. From the dialogue, the songs, and even Christopher Gattelli's choreography, the entire comedy series mocks their outdated and old-time plot points.
"We are poking fun in a loving way to all of the things that we never talked about in musicals," Kristin Chenoweth said of playing antagonist Mildred Layton. She describes her as an "amalgamation" of many famous Broadway characters, like someone who might be an aged Laurie in Oklahoma! with her dark hair and "Joker maniacal lips," and holds the bible upside down.
Highly teased has been Chenoweth's 18-page patter song "Tribulation," a nod to Harold Hill's "Ya Got Trouble" in The Music Man, that only legends can do in a single take. It's a four-minute number set using a 360-degree Steadicam shot around a 14,000 square foot stage. Chenoweth explains she learned the lyrics over a period of nine days, breaking up bits of memorization to three-day periods. Choreographer Christopher Gattelli knew that if anyone could pull it off, she would — and she did — while staging the number.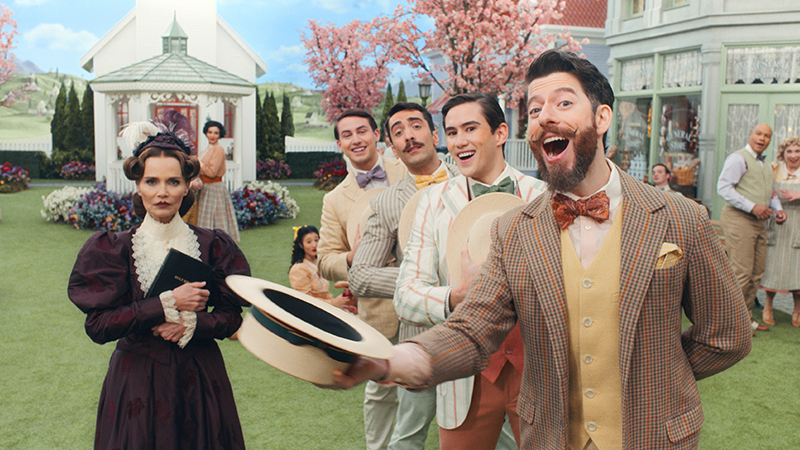 "I played the villain before, but I never looked like the villain, right? So being allowed to really go there was fun," Chenoweth said exuberantly of filming the scene up in Vancouver in the middle of the pandemic. She says the song's so ingrained in her head — ask her in two years to perform it and she could, even in her sleep.
The story of Schmigadoon! follows a couple (Cecily Strong and Keegan-Michael Key) on a backpacking trip who stumble upon a magical town living in a 1940s musical, where the characters stuck in the town's bubble don't even know they burst into song. Strong's character loves musicals but Key's… not so much.
"You know how hard it is to break into song and make it believable?" Chenoweth said. "That's why Keegan's character is so key to the show because he's half of America. I think people are responding to Schmigadoon! because of Keegan's character.
"We're like a mirror of the struggles, challenges, or faults that the main couple has," Jaime Camil, who plays Doc Lopez, the love interest of Ariana DeBose and Strong.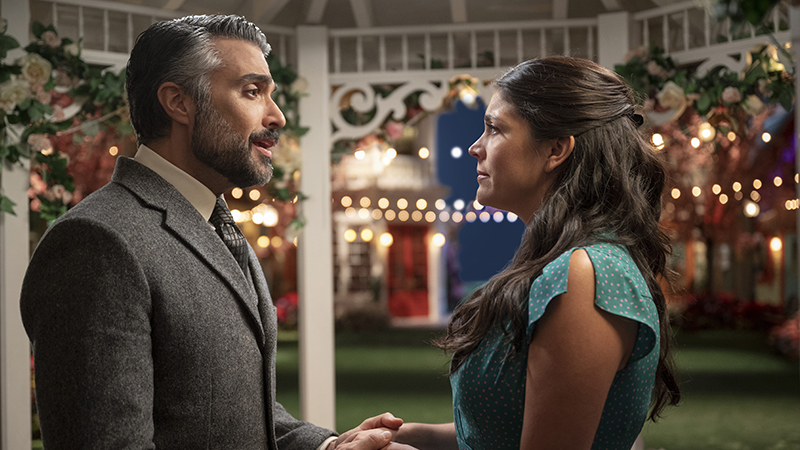 Two of the most movie musical-esque dance numbers are "Corn Puddin'" and "You Must Always Try Your Best" led by scene-stealer Ariana DeBose as schoolmarm, Emma Tate. She says she based her character on Barbara Cook in The Music Man, Julie Andrews in Mary Poppins, Deborah Kerr in The King and I, and Bernadette Peters in Pennies from Heaven.
"Bernadette is a huge inspiration to me because she's also one of those [actresses] that goes back and forth between Broadway, film, and TV very effortlessly, and I really admire that."
DeBose's big, flashy tap number inside the classroom is a must-see moment on the Apple TV+ series. Keep your eyes on the screen for some epic Ann Miller taps and a triple pirouette. "The moment where Miss Tate is in the middle of all the desks and doing this crazy backbend smiling at the camera is very much a Vera-Ellen moment. Chris made my White Christmas dreams come true."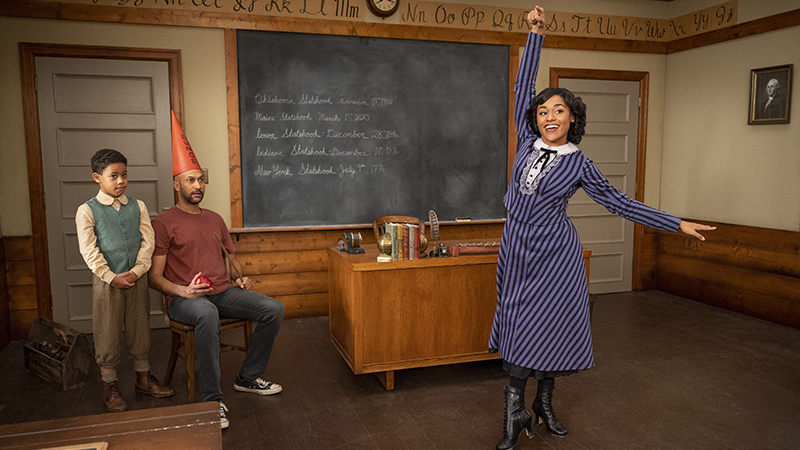 Having this unique opportunity to portray some of Hollywood's legendary triple threat leading ladies wrapped into one isn't lost on DeBose.
"When you think of Golden Age musicals, my name is not the first that jumps out at you to portray one of these iconic characters when you're thinking of The Music Man, or The King and I. But in this world, it works," she said.
And that's the magic of Schmigadoon! once you put the corn in the puddin' and the puddin' in the bowl. Because in the end, the series is good for your soul.
New episodes of Schmigadoon! are released every Friday exclusively on Apple TV+.