The Play That Goes Wrong is a passport to the funniest night on Broadway.
Just five years ago, the founders of the Mischief Theatre Company, who are also its lead actors and cowriters, had just graduated from LAMDA, one of London's premiere drama academies.
They first collaborated as a student comedy company that took a number of shows to the Edinburgh Fringe Festival. By last Christmas, the trio — who are now all 28 years old — had three shows running simultaneously in the West End. Obviously, they could only star in one, so they chose their latest, The Comedy About a Bank Robbery (currently at the Criterion Theatre). But more than 5 million television viewers also watched them in a screen version of Peter Pan Goes Wrong, which also returned for a second consecutive Christmas run at Shaftesbury Avenue's Apollo Theatre. And their first show, The Play That Goes Wrong, is now in its third sold-out year at the Duchess Theatre, and is simultaneously touring the U.K. and about to open on Broadway.
For a company that specializes in shows about things that go spectacularly wrong, with multiple mishaps both backstage and onstage — and as even their signage graphically illustrates — something is going spectacularly right.
It's all the more astonishing for the fact that The Play That Goes Wrong began its life in a tiny theatre above a pub in Islington in north London called the Old Red Lion, as a 50-minute show that they'd written in their spare time from other jobs.
Jonathan Sayer, the most youthful-looking of the trio, who is also the company director, explains, "The Play That Goes Wrong was written when we all lived together in this horrible dingy flat. Henry Lewis [the artistic director] lived in the living room. We'd only done sketch comedy shows, so we never thought of it as 'writing.' We thought, Wouldn't it be wonderful to write an actual play? So we started doing it. We all had day jobs and would come together at the end of the day and write for four or five hours until we were too tired and had to go to sleep. We wrote it in just a few weeks."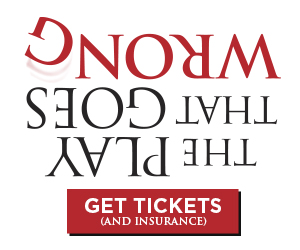 Lewis continues, "From our improv background, we were used to coming in with a loose script, with stuff we wanted the guys to improvise with." They had extra challenges to work around in the show's premiere run above the pub: As Sayer puts it, "When we did it first, we appeared at 9:30 p.m. after a show that finished with a downpour of rice all over the stage — they had bin bags filled with hundreds of packets of rice, and it would go everywhere. We would have to get our set off the roof of the pub and try to clear away the rice, but you could always feel it crunching under your feet! Also, because we were the second show on, we couldn't screw the set to the floor. So it was very wobbly, and everyone had a position that was marked where they had to guard the set if they weren't in a scene — especially when Henry slammed the door. We'd go, 'One, two, three, BRACE!' as he did it."
Nowadays, they merely have to brace themselves against the gales of laughter emanating from the audience. And that's how West End producer Kenny Wax — whose stage version of Irving Berlin's Top Hat in 2011 won the Olivier Award for Best Musical — experienced it. When he saw the show's second version in a small studio theatre in the West End on a Thursday afternoon in 2013 (the company built the set themselves, at a cost of just £300), "people around me were literally crying with laughter," he says. Wax stopped them after the show, and a week later the trio were in his office to talk about the possibilities of touring it throughout the U.K. "We had two theatres that were on their deadlines for publishing their new season publicity, in Canterbury and Cardiff, so we decided to go for it," says Wax.
Just a few months later, they were in the West End, transferring to the Duchess Theatre, where the show is now in its third year. The New York Times critic Ben Brantley reported that the audience "roared pretty much nonstop," and he added, "Yes, I admit that I roared rather a lot myself. And honestly, that had nothing to do with the fact that at intermission, the actor playing the leading role handed me an envelope with my name on it. 'I believe you dropped something,' he said ingratiatingly. Inside was a five-dollar bill (American money!), with a little note attached. It was labeled with a single word: 'BRIBE.'"
Remembering that moment today, Wax marvels, "It's such a taboo! Who would ever do that? Our publicists said don't do it." Sayer admits today, "There was a lot of 'Should we do it or not?' If he didn't see the funny side, or he was not enjoying the show, it could have put the nail in the coffin!"
But then The Play That Goes Wrong is all about playing with theatrical conventions and dicing with imminent catastrophe, as an amateur dramatic theatre company (the British version of community theater) seeks to put on an old thriller as everything threatens to collapse around them.
In fact, far from collapsing, the show has gone from strength to strength, attracting celebrity fans who one night included a visit from filmmaker J.J. Abrams. "He was filming Star Wars: The Force Awakens at Pinewood [studios] at the time, and bought his own ticket. He came to say hi afterwards, and that he'd really enjoyed it," says Lewis. Abrams' agent then contacted Wax and arranged for him to come to the Star Wars set — and then Abrams offered to help take the show to Broadway, introducing Wax to Broadway producer Kevin McCollum, who is now co-producing its run there with Abrams, Wax, Stage Presence Ltd., and Catherine Schreiber.
Cowriter and original cast member Henry Shields notes that the show belongs "to a universal brand of comedy. I'm sure Broadway audiences will take it in the same way, as we've seen it work in Paris and Budapest. Next week we are seeing it in Norway, in Norwegian, and there have also been productions in Israel, Germany, Rome, and China. And people always laugh in the same places, regardless of the language."
The trio cite their various comic influences: Buster Keaton, Charlie Chaplin, Laurel and Hardy, Harold Lloyd, John Cleese, Fawlty Towers, Woody Allen, Frasier, British TV comedies like Fry and Laurie, Rowan Atkinson, Blackadder, and Monty Python. But they are also very much their own brand of catastrophe comedy, which they've now exported to create two more West End hits. "The big reason they do so well," suggests Sayer, "is that they're just so silly and joyous. And there's a need for a bit of levity at the moment! Having a group of people onstage who are happy to be laughed at as well as laughed with helps a lot!"
Be sure to get tickets for The Play That Goes Wrong. It's a passport to the funniest night on Broadway.