"I wanted to showcase magic in a very modern way — to do for magic what Cirque du Soleil had done with circus," says Simon Painter, the man who conceived The Illusionists: Witness the Impossible.
The magic spectacular materializes on Broadway on November 26 at the Marquis Theatre for a limited six-week engagement, part of a 30-city tour through the U.S. "We bring these incredible artists with astonishing acts into a contemporary setting, with amazing pyrotechnics," says Painter. "And it's not only magic," he adds. "It's a very fun and entertaining way to spend an evening."
There's certainly magic being done on Broadway, to paraphrase a lyric from a song in the current musical revival Pippin, which incorporates both magic and circus acts in its production. In addition, both Aladdin and Cinderella use magic effects and sleight-of-costume to jaw-dropping effect in their current productions as well. But it is not since David Copperfield: Dreams and Nightmares (1996) and, prior to that, Doug Henning and His World of Magic (1984) that magic has taken center stage on Broadway.
"The concept was to find the greatest illusionists in their respective fields and present the best of what they do in their particular genres," explains Painter, noting that The Illusionists is in effect "seven completely different shows in one."
The cast of magicians includes Dan Sperry (The Anti-Conjuror), whose specialty is hair-raising shock illusions; Aaron Crow (The Warrior), a wizard with weapons; Adam Trent (The Futurist), whose forte is high-tech illusions; Kevin James (The Inventor), a leading innovator who reimagines classic magic tricks; Jeff Hobson (The Trickster), a Vegas showman who specializes in comedy magic; Andrew Basso (The Escapologist), who channels the great Houdini in death-defying acts; and Yu Ho-Jin (The Manipulator), an award-winning magician with a wondrous sleight-of-hand. &nbsp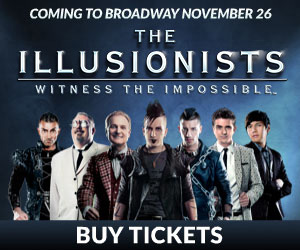 "There is as much difference with magic as there would be with any other art form," Painter continues. "If you take dance, for example, there are all the different genres of dance that you can have. The same thing completely applies to magic."
Painter, born in London, started his career as a classical violinist in Italy and has traveled the globe, first as a musician and then as a commercial theater producer of "large-scale family entertainment extravaganzas." He made the transition from playing the fiddle for an Irish dance show in Las Vegas to creating a mega dance show in Africa, and discovered in the process his "true passion" as a producer. In 2012, during a stint producing summer seasons at the Sydney Opera House, he premiered the first version of The Illusionists at the architecturally striking Australian venue.
Finding his seven illusionists — "The Avengers of Magic," he calls them – was relatively easy, Painter reports. "There are lots of magicians working on cruise ships, but the incredibly good ones — they are quite few and far between. You ask, 'Who is the greatest card manipulator in the world?' There's just one guy: Yu Ho-Jin. He's from South Korea and he just won the Academy of Magic Arts Magician of the Year award. And if you ask anybody in the magic industry, 'Who's the funniest stage magician that's ever been?' every single person will say Jeff Hobson."
Many of the tricks performed in The Illusionists are staples of the art form. Some are tributes to the great magicians who first introduced them to an enthralled public, but with an individual stamp by the current practitioners. The Inventor Kevin James, for instance, delivers his own enchanting version of David Copperfield's floating rose trick — where a piece of paper is made to bounce around in mid-air and then, upon catching fire, is transformed into an actual rose. Italian escapologist Andrew Basso pays homage to Harry Houdini, escaping from the water torture cell, a stunt that was first introduced in 1912 by the famed Hungarian master magician. Houdini continued to perform the trick right up to his final appearance on the New York stage in 1926, on Broadway at the National Theatre, the venue we now know as the Nederlander Theatre. Basso emulates Houdini's feat, extricating his ankles from handcuffs while hanging upside down in a tank of water. Basso's twist: There are no covers on the tank. He must break his bonds in full view of the audience.
"Never a truer word has been said about a magic show than 'It's not what you do, it's the way you do it,'" says Painter, comparing the magic tricks in The Illusionists to jazz standards played at a jazz concert. "You have an amateur trumpet player playing the jazz standard, or you have Wynton Marsalis. We have some of the staples and if you have the right person doing it, it becomes a piece of wonder. Andrew's escape from the water torture cell is a great example of how a reference to the past is really brought into future."
Although magic shows have been absent from theatrical venues for some time, Painter notes that audiences are quite used to seeing magic shows on television. "With camera angles and editing you can get away with a lot more on TV; this makes stage magic much harder, because people are expecting miracles," he explains. "Stage magic also suffers from you being able to look at it over and over again. People often say with a magic trick, 'Once is a trick, the second time is an education.' So stage magicians have to work a lot harder."
The live nature of the medium is what Painter was counting on for the success of his show. "When you are really seeing it happen in front of your eyes, it has a very profound effect on you." His hunch that the time has come around again for magic has paid off handsomely at the box office. After its spectacular debut in Sydney two years ago, The Illusionists embarked on a phenomenally successful world tour. Last year, Painter produced The Illusionists 2.0, using the same formula but showcasing what he calls "the future generation of magic." Next January brings The Illusionists 1903, a turn-of-the-century spectacular that harks back to the golden age of magic.
But no matter how you dress it up, Painter says he has to stay focused on the actual performing art at the heart of the show. "The show lives or dies on the quality of the talent in the show," he says. "With all the production and lighting and the costumes and smoke, I think audiences are wise and they see right through to the talent that's on the stage. We are incredibly lucky to have this mind-blowing cast. Each and every one of them has something completely unique and different."
"The other thing that is really nice is that this completely appeals to three generations of a family seeing the show together," he continues. "When I took the show to London, my family came and they each took away something completely different: my mum loved the pretty things — the snow that happens at the end of the show — my brother liked the explosions, and my dad liked the humor. And for me, the most amazing thing at the end of the show is watching the kids with wonder and awe on their faces. They really believe in the magic. That is the greatest pleasure."