When Sherisse Springer is off stage during Kiss Me, Kate, she's often pumping breast milk. "It's part of my track," the actress explains of her backstage choreography. "Wardrobe knows to unzip my costume when it's time."
Springer was pregnant with her now 7-month-old, Jackson, when she was cast in the show. "Choreographer Warren Carlyle knew I was five months pregnant and [he was] still willing to let me come in and audition," she recalls of the process last year. She tried to hide her bump during the audition, but she still got some stares. A few days later, Springer got the life-changing call that she was going to make her Broadway debut. "I sobbed on the street, which was interesting, because here was this pregnant woman on the ground, screaming, terrifying everyone. I've dreamt of that call for my entire life. It was one of the most amazing moments of my entire life, to get that call and be pregnant."
Springer gave birth to Jackson in October 2018 and started rehearsals for the musical revival in January. During breaks, she ran to another room to pump. "I feel like for some reason we don't really talk about it. I didn't know that it was possible to [be a mom] and to still perform. Now that I'm talking to other people, [I've learned] women do it all the time."
In honor of Mother's Day, Broadway Direct also spoke with four more women who are balancing eight shows and week with parenthood: Springer's fellow Kiss Me, Kate castmate Kelli O'Hara (her two kids are Owen, 9, and Charlotte, 5); Pretty Woman's Ellyn Marie Marsh (Lola, 9); The Cher Show's Ashley Fitzgerald (Eden, 2); and The Prom's Beth Leavel (T.J., 28, and Sam, 23).
---
How do you balance eight shows a week, including weeknights, and being a mom?
Sherisse Springer: It is exhausting. My perspective of everything has changed. I'm so grateful to be living my dreams on stage and to also be a parent at home. It is worth every inch of no sleep. There are other moms in the show. We hold each other's hands on days we're tired or we miss our babies. Kelli checks on us, which is incredible because she is leading an entire show.
Ellyn Marie Marsh: I'm a single mom, and I coparent with her dad. I get asked that a lot, and the two words that I always come back with are juggling and village, because it is quite a juggling act. Even though our schedule is fairly consistent with our shows at night, we often have rehearsals, brush-up, or events. When [Lola] was younger, it was a bit easier when she wasn't in school, because I would be with her all day long, and then I would go do the show at night. The challenge when she was younger was the sheer exhaustion of it all. The challenge now that she's older is making sure we get that good quality mommy-and-daughter time and work around my very nontraditional schedule.
Kelli O'Hara: I honestly have no simple answer, but I do have lots of help. We all just take it one day at a time. Every single day is different. Some days I have all the plates spinning in perfect rhythm only to have them crash down on me the next day. And with each crash, I learn something. The balance is not about perfection. It's about priorities. I know what they are, and I need to keep them straight.
Ashley Fitzgerald: It is very hard. As soon as the show [is over], you race home so that you can get to bed at a "reasonable" hour. Sometimes you have to make sacrifices and stay home with your little one. Which in my book isn't a sacrifice, it's just life. Luckily, I have a wonderful husband and a great group of babysitters! It really takes a village, but we make it work. I will say, mom's night out is a definite pipe dream.
Beth Leavel: The father of my children luckily became a stay-at-home dad for a while because I was working so much. [When] I got a job Off-Broadway doing a show called Broadway Jukebox, T.J. would go with me to the theatre. Each time I had a show, my husband and I would just reinvent the wheel of how to make our family a priority, how to pay the bills, and how to take care of everyone.  Still, to this day, even though they are 23 and 28, it's still like, "Everyone OK?" I'll always be their mom. They'll always be my babies.
What is a typical day like for you with your kids?
Kelli: On a school day, I wake up with them. My husband and I get them ready for school and get them to the bus. I meet their bus when it comes in the afternoon and spend some time with them, taking them to activities or doing homework. Then I get the train to come in for my show. Bedtimes are few and far between during the run of a show, so Sunday and Monday nights are very precious.
Sherisse: I wake up at 6 a.m. I'll take a shower, and then I get [Jackson] up at 7 a.m. and feed him and again at 8 a.m. Then I leave because I'm doing a workshop during the day for another show. Today, I'm doing a presentation of this workshop. From here, I will go straight to the show. Because I'm working day and night, I have a nanny who we adore very much. Soon, I'll just be doing one show and will have days off. I'll be taking care of Jackson during the day. My husband will take care of him at night and we'll get babysitters on double-show days.
Ellyn: We usually have mother and daughter time in the early afternoon when she gets out of school like 3 p.m. My Sundays and Mondays are really precious. Saturdays are my mark-tactic days because we have two shows. We have our morning routine and then she goes to a sitter or friend, and then I have her for dinner. I take her home and she has a sitter at night. It's not normal to the some of the rest of the world, but it's always been her normal.
Ashley: I'm up at 8 a.m. We eat breakfast and I drop [Eden] off at school for two hours. In those two hours, I usually run back home to walk the dog or I have a voice lesson. At 11 a.m., I pick her up. We usually spend some quality time together before lunch, like reading books, playing with toys, or watching cartoons and snuggling. Lunch is at 12 p.m., [followed by] nap time at 1 p.m. During this time I eat, clean up, and try to food prep for the week. Eden usually wakes up at 3 or 3:30 p.m. If it's nice outside, we'll take a walk with the dog. At 4:30 p.m., I leave for the show. I get to work 90 minutes before showtime [to put on my] makeup and warm up, which includes a ballet barre, a Pilates mat, and some physical therapy exercises. I do the show, run home, [and] chat with my husband for a bit. [Then] go to bed!
Beth: They were my priority, and we would always try to have family nights on my day off. When they were little I was able to read stories and put them to bed Sunday and Monday nights depending on the schedule of [my] show. I remember [some of] the soccer games would be around 9 a.m. on a Saturday, so we would get up and watch them play. When I was unemployed or in between gigs, I would cram in every event I could. If it was really important, I would take a show off. When I was playing Dorothy Brock in the revival of 42nd Street, T.J. was in his school production of The Music Man. I had to see it Saturday night, so I called out of the show and took a personal day. [That was his] one and only musical endeavor. I had to do my homework [for each show I was in] so they just got used to Mom yelling or vocalizing around the house. Again, that's just our norm. When T.J. was old enough to read well, he would work on scripts with me.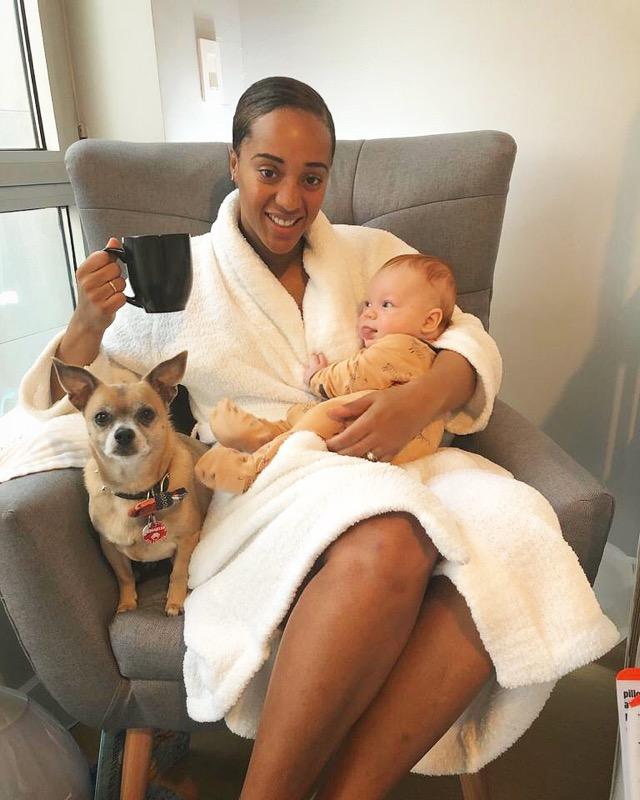 Were you ever pregnant during a show? What was it like?
Beth: I got pregnant during Crazy for You. They kept waiting until they couldn't let out my costume any farther. There was no more spandex to attach to that little pink outfit. I stayed in the show until I could no longer lie on my stomach and do Susan Stroman's choreography. You can't jump around like that at six months pregnant. About three weeks before Sam was born, I got a call from Susan Stroman's office asking me if I would want to go in as a replacement in Showboat. I said, "I would love to. However, I am due in three weeks." At Showboat, T.J. was in preschool, and by then we had moved to New Jersey. I had a C-section, went to a costume fitting in Toronto two weeks later, and then started the show when Sam was 4 weeks old. That was one of the most challenging times of my life.
Ashley: I was pregnant during Trip of Love — a super-high-cardio dance show. We closed when I was eight weeks pregnant, so I hadn't really gotten to the hard part. But there were days that my energy level was nonexistent. I was amazed that my body kept going at the same level. One thing the doctor told me was, whatever your body is used to doing, you should be able to safely continue that level of exercise. I was kind of sad I didn't get to have more time performing pregnant.
Ellyn: When I was doing Enron, I was still pumping in the dressing room. That was very hard. I shared a room with Lusia Strus. When I first met her, I said, "Sorry, this is the sound of my pump," and she could not have been lovelier. We had a laugh about it. Luckily, Enron was a play, so we weren't dancing. [Breast-feeding] is challenging for any woman, but especially when you're trying to fit into costumes and trying to look a certain way and feel a certain way.
Do the kids ever come backstage to watch while you're performing?
Sherisse: [Jackson] did come when we were in tech rehearsals and doing previews. I didn't have a lot of time to be with him. So my husband brought him in on a Saturday in between a rehearsal and a show. Our director, Scott Ellis, brought him onto the stage. [Jackson] was fussing a bit, and as soon as he went on that Broadway stage, at center, he stopped crying. I think he felt at home, so that was amazing.
Kelli: They come to the theatre with me every weekend. They play in my dressing room, do art projects, play hide-and-seek in the empty theatre between shows, and hang out with cast and crew. It's a tradition I started with my son seven years ago [because] I want them to be part of it all. They see everything I do — if it's appropriate for them.
Ellyn: [Lola] loves to swing by the theatre and say hi to the girls. She loves being there. It's really special. I don't think she realized how special it was when she was younger. But now that she's older, I think she thinks it's really cool.
Beth: [My husband] would bring the kids in on Wednesdays and Saturdays in between shows. Showboat and Crazy for You became their playground. In Showboat, T.J. was able to ride on the boat, and in Crazy for You, he could ride in the car. Do you know how many kids would get the opportunity to run around the Gershwin Theatre as a playtime? That was their playground with Mommy. We would all be in my dressing room and spend as much time as we could [together], and then they would go back home. [As teenagers] it wasn't as cool.
Ashley: She's a little too young to come backstage. I can't wait until she starts to understand what Mama does. It really will be awesome! I recently had to take her to a costume fitting that couldn't be rescheduled. She loved all of the mirrors. She just kept staring at herself and chatting with her reflection.
What advice do you have for other moms or aspiring moms in theater?
Beth: Take care of yourself one day to time. It gets better, easier, and it's all worth it.
Kelli: Try to trust yourself. Try to be confident in your parenting. Don't apologize for your work, but celebrate it with them. Observe how the work and schedule affect your kids and make changes when necessary.
Sherisse: Be kind to yourself. As performers, we're also perfectionists. You're not going to be successful every day at every minute about everything. It's the most wonderful experience. As performers, if that's our choice, we're capable of it, and to not let anyone think that we can't.
Ellyn: There is a Broadway mom–based [Facebook] group. It's a very supportive place, but the numbers show there's just not many of us.
Ashley: Like most women, but especially women in theater, we are always waiting for the "right" time to present itself to start a family. There is never going to be a right time. If you have a yearning to be a mom, listen to yourself and your heart. My career is thriving more than ever in motherhood, and I think I can owe all of that to my little one.