Whether you're ending your long workday and getting ready for a nighttime Broadway show or just passing through Times Square and taking in the hustle and bustle, try these great spots for your next delicious cup of coffee.
---
Best Coffee Shop for a Work Meeting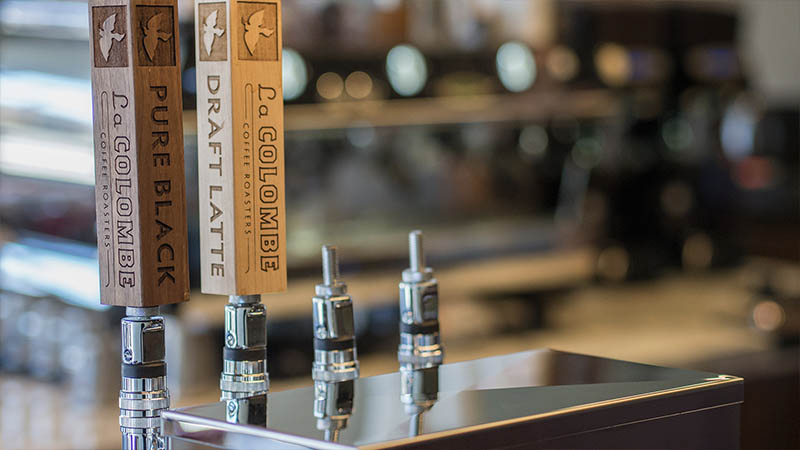 La Colombe
If you are from the New York City area or another big city that has this special chain, it's very possible that you already know of this place. La Colombe is a huge NYC favorite for coffee and it's the perfect place to take a meeting with your coworkers outside of the office. Try their well-known draft lattes; they're delicious, foamy, and the perfect complement to your day if you want a milkshake-like drink.
Closest theatres: Nederlander Theatre, Stephen Sondheim Theatre
1045 6th Avenue (at West 40th Street), lacolombe.com
---
Best Coffee Shop With Trendy Snacks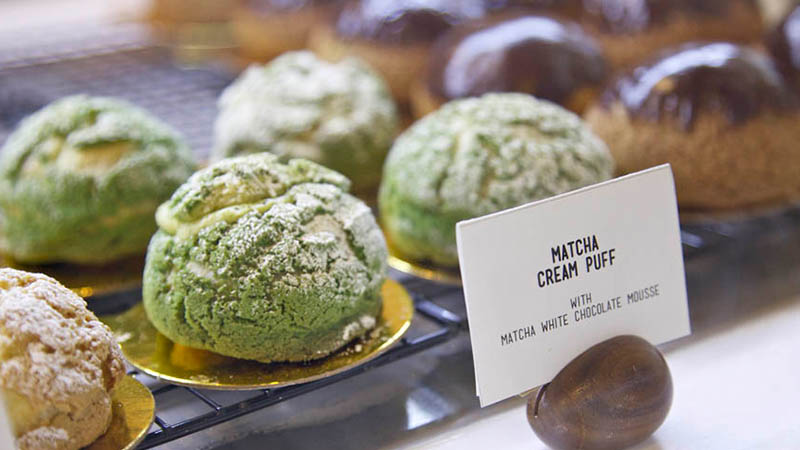 Bibble & Sip
This cute place has been featured all over the Web for its gorgeous matcha cream puffs, and it's sure to be a delight for times when you need a delicious snack. From the infamous cream puffs to savory scones and delightful puddings and parfaits, the menu draws inspiration from French and Asian cuisine. The cream puffs are made fresh daily, along with the other delicious pastries, and they all perfectly complement that fresh cup of of specialty coffee.
Closest theatres: August Wilson Theatre, Neil Simon Theatre, Gershwin Theatre, Circle in the Square Theatre
253 West 51st Street (near 8th Avenue), bibbleandsip.com
---
Best Coffee Shop for When You Have a Sweet Tooth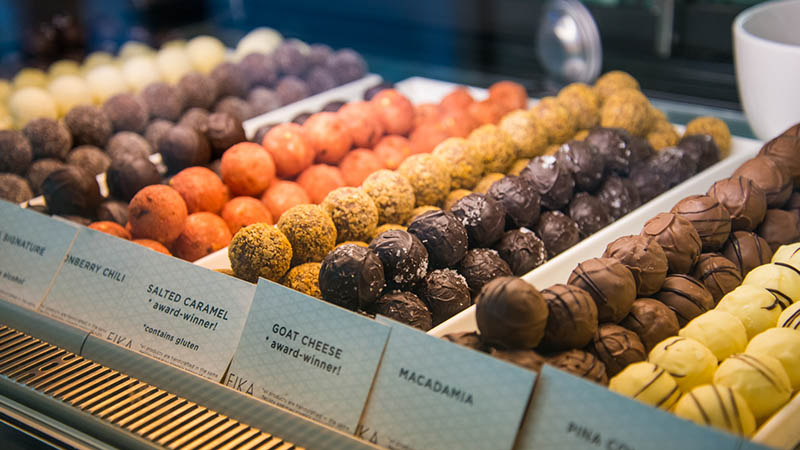 FIKA
If you're ever around the Theatre District and have a craving for something decadent, try this coffee spot to satisfy your sweet tooth along with a jolt of caffeine. Not only are there delicious brews, there's a great menu for any breakfast or lunch savory food items you may be craving as well. FIKA also features handcrafted chocolates, perfect for a pairing with your coffee. This cafe is inspired by Swedish influences, and although this spot is close to Times Square and Bryant Park, it's not too crowded.
Closest theatres: Nederlander Theatre, Stephen Sondheim Theatre
824 10th Avenue (between 54th and 55th Streets), fikanyc.com
---
Best Coffee Shop for Convenience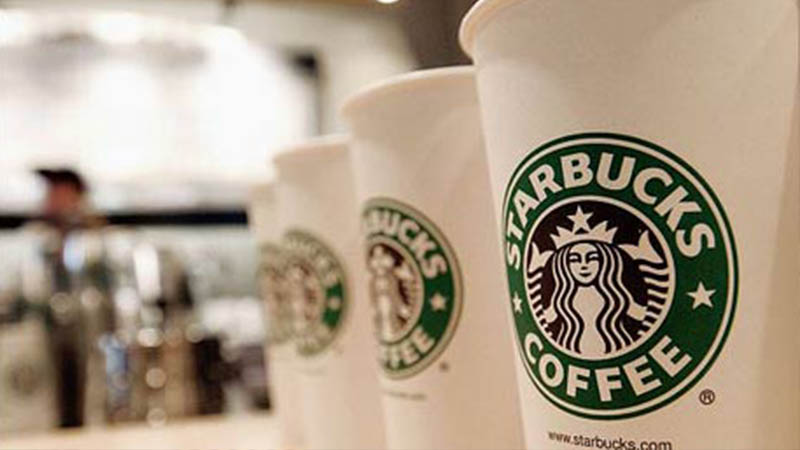 Starbucks
Not too much has to be said for how convenient Starbucks is; everyone knows about this beloved brand. Sure, it may not have the most "specialty" coffee around, but there is a sort of comfort with a brand you recognize. Grab your normal cup of joe here; there are so many locations, you won't have to look far for one at all. Maybe try a new flavor or drink if you want to switch it up a bit while still being able to grab and go.
Closest theatres: There's a Starbucks on almost every block in NYC — what more could you ask for for convenience? starbucks.com
---
Honorable Mentions: Best Coffee Shops for Groups
Starbucks
Times Square is a crowded place, and sometimes you just need some space for a breather. Everyone's been to Starbucks, but these specific spots are a little special. The 325 West 49th Street spot is right next to a plaza, so when the weather's nice, you'll be able to sit outside and people-watch while enjoying your daily cup. The 600 8th Avenue spot might look small on the outside, but take a step inside and find the staircase leading you upstairs — there's always an ample amount of seating available and you're able to have more of a bird's-eye view looking out onto the street as well.
325 West 49th Street (near 8th Avenue)
Closest theatres: Eugene O'Neill Theatre, Ambassador Theatre, Gershwin Theatre
600 8th Avenue (at West 39th Street)
Closest theatres: Nederlander Theatre, New Amsterdam Theatre
---
Best Coffee Shop for Non-Coffee Drinkers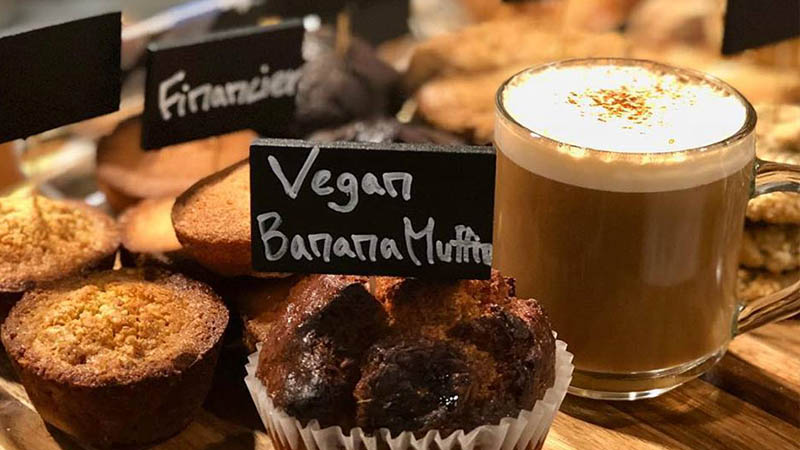 UT47
Not in the mood for some of that delicious brew? Out with friends who want coffee but you don't take part in the obsession? Try this coffee shop: It has great teas for those who prefer the other caffeinated drink. There is Wi-Fi available, as well as delicious food for those who are looking to sit and relax with friends rather than grab-and-go. Honorable mention to their doughnuts; definitely try these fresh-baked goods when you're here. Come by for a calm getaway from the hustle and bustle of Times Square.
Closest theatres: Brooks Atkinson Theatre, Samuel J. Friedman Theatre
358 West 47th Street (near 9th Avenue), ut47manhattan.business.site
---
Best Coffee Shop for a Date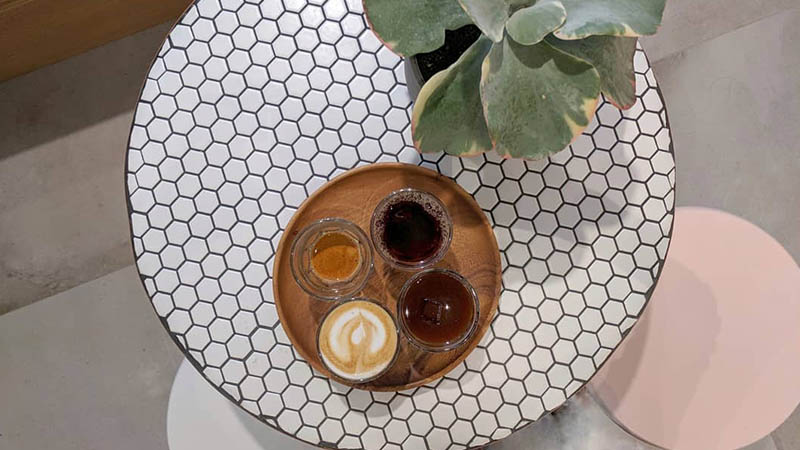 Bird & Branch
If you can snag a seat here, try this cozy coffee shop known for its signature drinks, such as the almond macadamia milk latte, which features the shop's homemade milk. A cute find in Hell's Kitchen, only an avenue away from many theatres, it's the perfect place to spend some time hanging out with someone before a show. If you're feeling picky, Bird & Branch offers a "coffee flight" that allows you to sample a few of their coffees if you'd like to branch out from your normal daily cup.
Closest theatres: Al Hirschfeld Theatre, John Golden Theatre
359 West 45th Street (near 9th Avenue), birdandbranchnyc.com
---
Bonus for a Complement to Your Coffee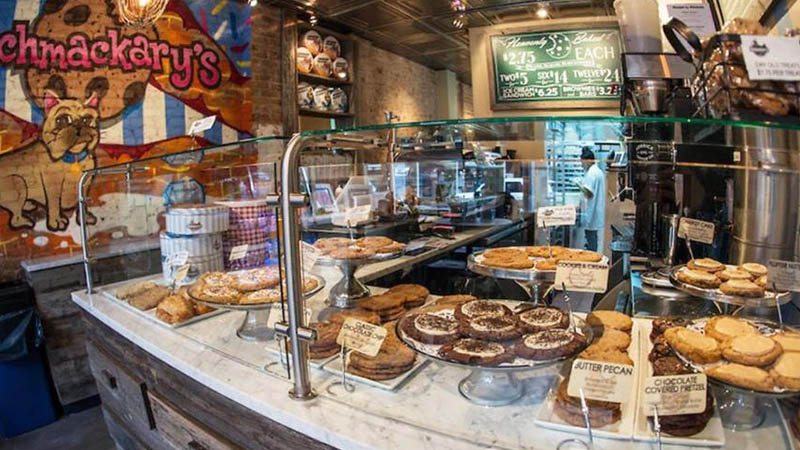 Schmackary's
If you haven't yet tried Schmackary's, you're in for a treat. This delicious cookie shop is a Hell's Kitchen–only outpost, so make sure you grab something while you're in the area. They have delicious classics, from basic chocolate chip and cookies and cream, to more unique flavors like sweet corn, piña colada and Lucky Charmed. They offer vegan-friendly flavors and are constantly changing the rotation of cookies available. Schmackary's does offer scrumptious coffee, but you'll want to come for the cookies to pair with your brew.
Closest theatres: Al Hirschfeld Theatre, John Golden Theatre
362 West 45th Street (between 8th and 9th Avenues), schmackarys.com