Shoshana Bean and Jeremy Jordan return to the Broadway musical  together in Waitress. Jordan, who plays love interest Dr. Pomatter, was last seen on Broadway this past fall in the new drama American Son — but it was in Newsies six years ago when he uttered his last Broadway belt. As for Bean, the green makeup she wore in Wicked 13 years ago has finally washed off. Instead, she's covered in flour every night as Jenna, a waitress who makes scrumptious pies as she dreams for a way out of her unhappy marriage.
In Shoshana's dressing room at the Brooks Atkinson Theatre, she boils water for green tea as she begins to get ready for her 7 p.m. performance. When asked if there's a keepsake or tradition held by all the actresses who have played Jenna, Bean says it's a sign outside the dressing room door that each actress has signed. Bean grabs her handy Sharpie and adds her autograph to the roster.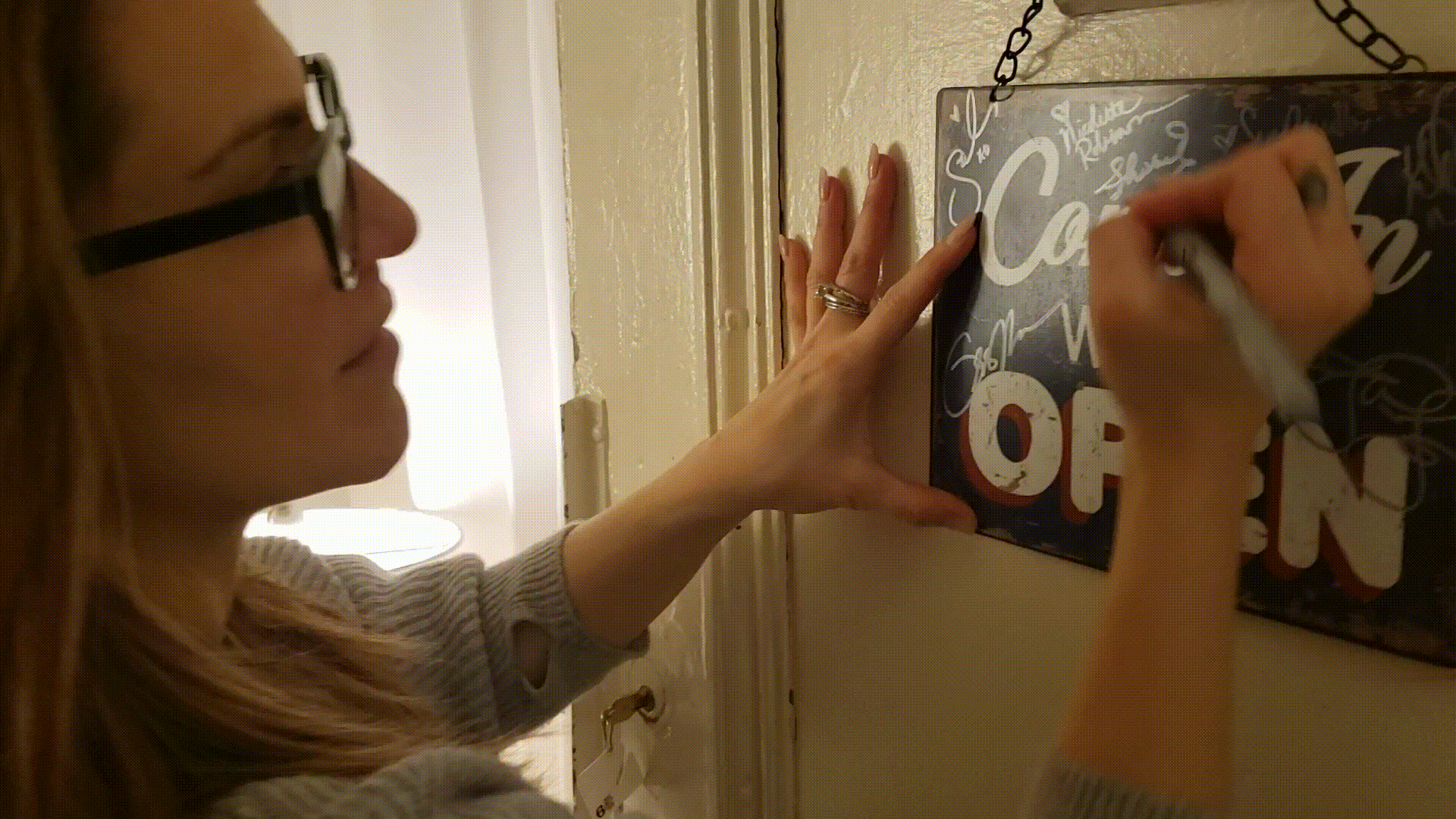 Not only is Bean starring in a hit Broadway musical, she's planning the second annual fundraising concert for her high school in Beaverton, Oregon, later this month. The goal is to raise more than $30,000 for the performing arts program. "I really do believe, whether I was doing it for my alma mater or any school, it's a cause worth fighting for. It's up to us as a community to rally and make that happen."
Jordan soon arrives straight from his rehearsal and sits on the couch. Bean has her hair pin-curled at the mirror while doing her stage makeup. Our chat about their journey in Waitress begins.
---
What's it like to step into these roles together?
JEREMY JORDAN: She's been here a minute.
SHOSHANA BEAN: Barely two weeks.
JORDAN:  It makes sense that she starts first and then I come in and catch up, because she's got a little bit more to do in the show than I do. Shoshana and I don't know each other super-well but we bonded quickly. If we get more time together, we're going to be unstoppable in life. I don't think we had thought that this was going to happen. There was just, like, a nice energy between us. So it's going to be really exciting.
Did you think you'd have the opportunity to work together?
BEAN: We did a little thing together.
JORDAN: The first time we met, we just did one song together for a benefit. It was a concentrated chunk of time we spent together in a matter of days. I would have thought that maybe we'd work together in the music business more so than theater because she has not done theater in a hot minute. But when [the producers] came to me with the idea of doing the show, I was like, "Who's playing Jenna?" they said Shoshana, and I'm like, "Yep, I'm in!"
BEAN: Aww, that makes me want to cry.
What were both of your first interactions with the show?
BEAN: I hadn't seen it. I saw the movie, of course, 100 years ago, but I had no knowledge of the piece. When I teach, a lot of girls want to sing "She Used to Be Mine" and "When He Sees Me," so I knew certain material from the show. So when I got the offer, I was like, "Well, I got to read it and listen to it. I know nothing about it." It was a no-brainer once I knew the material.
JORDAN: I know the movie a little bit. I saw the show with the majority of the original cast, and I fell in love with it immediately. I remember at intermission, I turned to my wife [Ashley Spencer], who was next to me, and said, "This is amazing. This is my new favorite show. Just letting you know." I saw it again when Kat McPhee was in the show because she's a friend of mine. So, I've seen it twice.
Do you remember who played the doctor?
JORDAN: It was Drew [Gehling] both times.
At this point, the roles of Jenna and Dr. Pomatter have been long established. Now that you're both stepping into them, are you trying to bring anything new to them or just continue with what's been done before?
BEAN: I don't think you can help but bring something to it.
JORDAN: Yeah, that is what I was going to say.
BEAN: The only thing I know how to do is bring myself to meet a character halfway. No matter who you're playing, I think the human experience is such a shared one. We're not all that different from one another. I think it's just the way we respond and react to things. [Jenna's] not far from me. It may not be the face that I present to the world, but her experiences, her feelings, her fears, and her insecurities are not wildly different. Ultimately, the goal is for me to disappear and [the audience] to experience her. I've obviously heard Jessie [Mueller, who originated the role], which is exquisite. But again, I'm a different type of musician and a different vocalist, so I can't help but to be different.
JORDAN: It's kind of a blessing to not know the show before going into it because you don't have to battle against that sort of preconceived notion. My first instinct was let me sort of come around to what my version of this is. Like Shoshana, my version of this character is very clear. The first day I was in rehearsal — just me being my weird, insecure self — was the exact energy of the doctor. I don't think it's going to change the show in a big way, but I do feel like that's one of the exciting things about Broadway and long-running shows. People develop these affinities for these characters. Then they come back to see different interpretations of them and fall in love with the show in a different kind of way.
What numbers are you most excited or nervous about performing?
JORDAN: Well, I'm only in numbers with Shoshana. So is there one that is not with her? Because that would be the one [I am most excited about]! I'm just kidding. "Bad Idea," for me, is probably the toughest one, so that makes me a little bit nervous sometimes.
What's your favorite song that you sing together?
BEAN: "You Matter to Me."
You both haven't sung on a Broadway stage in quite a few years. What is that like to pick it back up?
BEAN: Doesn't feel like 13 years.
JORDAN: Doesn't look like 13 years.
BEAN: God bless. What does it feel like? I forgot how much energy comes at you eight times a week. It's crazy. It's different than the concert world that I've been living in.
JORDAN: I've been only living in the concert world for last six years. The concert world is giving in a different way. But this is giving in a soul-feeling, life-affirming kind of thing. With Broadway, it just feels like you're just there for the passion and for the passion of everyone else. It takes a lot of self-hatred that is inherent in actors and it kind of strips that away. An audience that loves the show gives you so much more for yourself, and [I] of course return that to them. I am a part of something that excites people and makes them happy, fulfilled, and inspired, unless you fall flat on your face — which is hard to do when you've had so much rehearsal.
BEAN: I'm fascinated by that answer because I feel the complete opposite.
Really?
BEAN: Yes. This world is terrifying. For me, the concert world is where I feel at home. The concert world for me is like sprints. I'm a sprinter. So I can give you everything I have for two hours and then I'm fine tomorrow. This is showing up eight times a week. Every day is different. The body feels different every day of the show. Every audience responds differently. I know how to tell my story and do my show. To come here and tell [Jenna's] story — it's a crapshoot for me every day.
JORDAN: You don't think that every audience has given you something positive to leave with?
BEAN: Well, yes.
JORDAN: But regardless of how I have given them something, they give you something back. Then that means you gave them something.
BEAN: You'll remember, I didn't get as big of a laugh on that line.
JORDAN: Sure.
BEAN: So then you're like: Am I doing it right? For me, the theater is a reflection of black and white, right and wrong. So I'm very much trying to find the same freedom I have found in my concert world back on the stage in musical theater.
JORDAN: Girl, I'm never going to give you black and white, right or wrong. So get ready.
BEAN: I don't want that for me. Good.
JORDAN: I don't expect it from you. I expect all the shades of gray in between and living imperfect excitement. That is live theater, because I do concerts too and I screw up in concerts all the time. But that's what's so exciting about it, and people love it when you screw up. They do. I love seeing you show people that stuff.
BEAN: I do have to tell you, though: We knew Joey [McIntyre] was leaving [the show] and I was actually on FaceTime with Gavin Creel. We were talking about who could come in and replace [McIntyre as Dr. Pomatter]. We started throwing names around and I kept thinking about it. I was like: Jeremy Jordan. Oh, my God. No — he [would] never. Three hours later, Jeremy texted me: What's up? I was like: I was just thinking about you. And then I was like, Wait a minute. Why are you texting me? They did offer [the role to] him like I'm psychic.
JORDAN: I thought you knew about it and that's why you thought I was texting you. I had known about it for a week at that point. I figured somebody would include you in on it.
BEAN: No, but it's so exciting.
JORDAN: I'm glad I'm the one who told you that.
BEAN: We have a very feisty, brotherly-sisterly divide between us. The second we met it was zero to a hundred.
JORDAN: I don't have that energy anywhere else.
Catch Shoshana Bean and Jeremy Jordan in Waitress through June 2.